Gotham Is The Best, And Cancelling It Would Be A Huge Mistake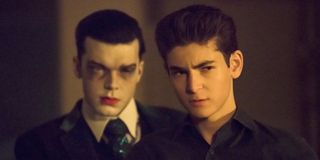 Gotham is swiftly hurtling toward the finale of its fourth season, and the stakes are higher than ever for the good (and bad) guys of Gotham City. The great news for fans is that the show is more fun than ever; the bad news is that the show has not yet been renewed for a fifth season. Now that Fox has started renewing series, the time has come to start crossing fingers and hoping that Gotham scores another season on the airwaves. Why? Because Gotham is the best and cancelling it after four seasons would be a huge mistake.
Superheroes are all the rage on the large and small screens nowadays, and Gotham is truly unlike any other comics-based project on the market. In fact, it doesn't even feature any conventional superheroes. Rather, Gotham is an origin story for some of the most notorious and beloved characters of DC Comics fame. Since it's unconnected to the DC Extended Universe, the Arrow-verse on The CW, or any other movies or series based on DC Comics, Gotham isn't beholden to the continuity other projects. Gotham has its own Bruce Wayne and its own Jim Gordon and its own Joker...maybe. Superhero fatigue doesn't apply with a show that is so outside of the box as Gotham.
The fact that Gotham isn't connected to the DCEU or the Arrow-verse or any other DC Universe has given it the freedom to borrow from a variety of DC projects to create something truly unique. The trailer for the next couple of episodes points toward Gotham adapting elements of the notorious Killing Joke story for Bruce Wayne, and all signs point toward Gotham adapting aspects of the unforgettable "No Man's Land" comic arc. A Season 3 episode staged a scene for Selina that looked like a glorious homage to Michelle Pfeiffer's Catwoman in Batman Returns.
The new Jeremiah looks like the Joker walked right off the page of a comic but his origin story on the show couldn't be more different than any Joker in any other adaptation. The show can pull aspects from other Batman stories and create entirely unique arcs that are fun for longtime DC fans and newbies alike. Thanks to Gotham's ability to go in a whole bunch of different directions with different characters, the show has produced stories that might have been ridiculous if they weren't handled so expertly. Gotham not only pulled off an evil twin scenario with the Valeska brothers, but it used the evil twin scenario to keep its promise that Jerome isn't the Joker while introducing Jeremiah as an even more dangerous Joker-esque villain.
Solomon Grundy's introduction was straight out of the pages of DC Comics, but who could have seen Penguin falling in love with Riddler, jealously killing the doppelganger of Riddler's dead ex-girlfriend, and then engaging in an elaborate back-and-forth battle for revenge? And then there was the transformation of art gallery owner Barbara Kean into a crazy Babs who received the powers of the Demon's Head! Bruce Wayne is fighting crime before he's out of his teens, just got a proto-Batmobile, and is a couple of weeks away from what looks an awful lot like the first Bat-Signal. It's impossible to guess what exactly is going to happen from week to week, and that's not something you can say about every TV show.
Gotham is also able to tackle a variety of genres and tones within episodes. It can be silly and it can be scary. It can be totally bonkers and brutal and complicated by an ensemble of characters with shifting motivations. This is a show that is never boring, especially considering a big chunk of the main characters are villains whose loyalties shift as quickly as their goals. There's mysticism, realism, and resurrections. Gotham is never dull because you never know what mood the characters are going to be in per episode, and hilarity often ensues. Viewers aren't asked to take the show entirely seriously, which makes the show an awful lot of fun.
The cast of Gotham is also fantastic. Cameron Monaghan is always dependably psychotic as the Valeska brothers, and we can be sure that nobody on television can laugh quite as maniacally as he can. Robin Lord Taylor as Penguin and Cory Michael Smith as Riddler are never more hilarious than when they're bouncing off of each other, and Drew Powell as Butch Gilzean/Solomon Grundy has gone through all manner of changes. Ben McKenzie has been a rock from the very beginning, and young David Mazouz and Camren Bicondova turned out to be great fits for their roles. Casting Bruce Wayne and Selina Kyle as kids who would grow up to become Batman and Catwoman had to be tricky, given that there was no guarantee that they would fit their roles as they got older. Who could possibly argue that Gotham didn't nail it?
If all of these aren't enough reasons why Gotham needs to be renewed, we have to take into account the fact that a fifth season of Gotham would allow it to hit the 100 episode milestone. 100 episodes is a big deal for any show and could potentially lead to syndication in the future; surely Fox could let Gotham reach that milestone with a Season 5, right? Yes, the ratings aren't exactly the best on television, and Fox would undoubtedly like a bigger audience, but Gotham has so much going for it that elements beyond ratings should be taken into account.
We can only wait and see if Fox does give the renewal order for Season 5 of Gotham. Given that my only complaint about the series is that nobody has yet produced a web series of Penguin and Riddler in pseudo-marriage counseling with guest appearances from the rest of Gotham's rogues, I know I'm crossing my fingers for more Gotham. Be sure to stay tuned to CinemaBlend for the latest in Gotham news, and definitely check out Fox on Thursdays at 8 p.m. ET for new episodes. For what you can watch once Gotham comes to an end for Season 4, take a look at our summer TV premiere guide.
Your Daily Blend of Entertainment News
Laura turned a lifelong love of television into a valid reason to write and think about TV on a daily basis. She's not a doctor, lawyer, or detective, but watches a lot of them in primetime. Resident of One Chicago, the galaxy far, far away, and Northeast Ohio. Will not time travel, but will sneak references to The X-Files into daily conversation.
Your Daily Blend of Entertainment News
Thank you for signing up to CinemaBlend. You will receive a verification email shortly.
There was a problem. Please refresh the page and try again.