History's Evel Knievel Tribute Did Not Crash In The Ratings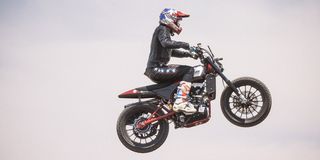 (Image credit: Image courtesy of History)
History took live television to dangerous heights -- quite literally -- with recent TV special Evel Live. The special was a tribute to legendary daredevil Evel Knievel, who died back in 2007 but has a legacy that lives on. Knievel has name recognition among people who couldn't name another professional daredevil if their lives depended on it, and the odds were pretty good that a fair amount of folks would tune in to see motorsports icon Travis Pastrana attempt three of Knievel's most unforgettable and risky stunts. Now the numbers are in for Evel Live, and they prove that History definitely did not crash and burn with the special.
Evel Live aired on Sunday, July 8 at 8 p.m. ET, and a whole lot of people evidently made time in their schedules for it. The live event ran for three hours and attracted 3.5 million viewers during its Sunday night broadcast. Of that 3.5 million, 1.6 million are part of the valuable 25-54 age demographic. Deadline reports that, with the exceptions of news and sports broadcasts, the 3.5 million overall and 1.6 million in the 25-54 demo makes Evel Live the top cable special of 2018 so far.
The special was a hit in the all-important 18-49 age demographic as well. 1.2 million viewers in the 18-49 demo watched Evel Live, boosting History to heights not reached since the Civil War documentary Gettysburg back in 2011. Evel Live can now boast that it was History's most-viewed premiere in key demos since Gettysburg.
If that's not enough, Evel Live now ranks as the top cable special of 2018 with men 25-54 and and men 18-49. Throw in its performance on social media that boosted it to the program with the second-most social media interactions on the night, with more than one million engagements and 12 million views of video clips, and Sunday night was a success for History. Basically, History would have had a hit with Evel Live even if Travis Pastrana had been a disappointment in paying tribute to Evel Knievel!
Fortunately, Travis Pastrana was not a disappointment and he did not suffer any horrifying injuries on live TV to millions of viewers. Pastrana tackled three of the feats for which Evel Knievel was most known during his daredevil career, honoring the legend by making his jumps on the back of a modern motorcycle inspired by Knievel's vehicle of choice.
By the end of the three-hour special, Travis Pastrana beat Knievel's record of jumping 50 cars, with Pastrana making it over 52 without traumatizing viewers with a crash. He also became the first person to jump the Caesars Palace fountain on a motorcycle like that favored by Knievel. He even broke another record by jumping over 16 buses.
The success of Evel Live leads me to wonder if History will attempt another special in the same vein. Perhaps Travis Pastrana could come back next year with a few more Evel Knievel records to try and break. History is currently airing its second annual Car Week, which got off to a very strong start thanks to the Evel Knievel tribute. Why shouldn't History just air updated versions of the same special every year? If Shark Week can do it on Discovery, surely Car Week can do it for History!
Car Week continues on History throughout the next several days. For some other viewing options now and in the not-too-distant future, swing by our summer TV premiere guide. If you're now in the mood for some more daredevil (no, not that Daredevil) action, check out America's Got Talent in case another promising daredevil pulls off an incredible stunt to wow the judges.
Resident of One Chicago, Bachelor Nation, and Cleveland. Has opinions about crossovers, Star Wars, and superheroes. Will not time travel.
Your Daily Blend of Entertainment News
Thank you for signing up to CinemaBlend. You will receive a verification email shortly.
There was a problem. Please refresh the page and try again.