The Walking Dead's Negan May Look Very Different In Season 9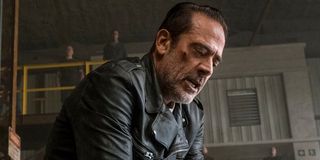 The Walking Dead introduced one of the scariest villains on TV back at the end of Season 6 with Negan, played by Jeffrey Dean Morgan. As of the end of Season 8, fan opinions are mixed on the role Negan should continue to play on the show, not least because Rick's decision to spare Negan in the finale led to the break of his relationship with Maggie and Daryl, and that falling out could result in Rick's death. Details about the upcoming ninth season will likely remain scarce until San Diego Comic-Con, but social media may have given a big clue about how Negan will be different when the show returns. Take a look!
In this photo of Jeffrey Dean Morgan, he looks about as different from Negan as can be, and not just because he's smiling a smile that probably doesn't have anything to do with murder. This is not a behind-the-scenes look at The Walking Dead production; in fact, Jeffrey Dean Morgan was the first to share the pic with his son in a post on Instagram. The official Walking Dead Twitter account reposted the photo, bringing Jeffrey Dean Morgan's mostly shaved head and lack of bushy beard to the attention of its 1.65 million followers.
Now, since this is just a picture of Jeffrey Dean Morgan, we can't say for sure that Negan will be sporting shorter hair and a cleaner shave in Season 9. It's entirely possible that Morgan wrapped filming on The Walking Dead and celebrated by chopping off all that extra hair, which social media proves he was still sporting as of June 24. Still, TV shows regularly film out of order, and we shouldn't rule out Negan showing up with a lot less hair on his head at some point in Season 9. Considering that he ended Season 8 in captivity, it's possible that Negan doesn't appear in all that much of at least the first half of the next season.
It would make sense if The Walking Dead changed up Negan's look for Season 9. The show is going with a time jump between Seasons 8 and 9, and the first promo image shows both Rick and Maggie with some different hairdos. Maggie is also conspicuously lacking in a baby bump, so she may have given birth during the time jump. Of course, the image proves Michonne and Carol still look more or less the same and Daryl, despite my pleas for him to get a haircut for the past five or so seasons, seems to have just as much of a mop on his head as the last couple of years. Still, The Walking Dead totally could have chopped off some of Negan's hair for the sake of the time jump.
If the shave and haircut don't play a part in Negan's look on screen, we may want to start speculating that he bites the dust in the first half of Season 9. Andrew Lincoln and Norman Reedus kept their long hair over hiatuses in the past for the sake of filming; Jeffrey Dean Morgan cutting his hair could be a sign that Negan is going to die sooner rather than later. Who knows? Maybe Negan and Rick could die together and the show will be able to move on to a wholly new era, starring Daryl. If I'm very lucky, the era starring Daryl will start with the new leading man getting a haircut.
Only time will tell. Stay tuned to CinemaBlend for the latest in zombie apocalypse news, and check out our summer TV premiere schedule. For some zombie apocalypse action sooner than The Walking Dead's return in the fall, tune in to Fear the Walking Dead for its midseason premiere on Sunday, August 12 at 9 p.m. ET on AMC. Don't forget to swing by our picks for awesome Walking Dead theories about Rick's final episodes.
Resident of One Chicago, Bachelor Nation, and Cleveland. Has opinions about crossovers, Star Wars, and superheroes. Will not time travel.
Your Daily Blend of Entertainment News
Thank you for signing up to CinemaBlend. You will receive a verification email shortly.
There was a problem. Please refresh the page and try again.