The Bachelorette Fantasy Suite Episode Did Not Go As Expected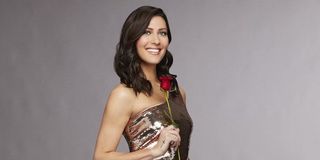 (Image credit: Image courtesy of NBC)
Spoilers ahead for the July 23 episode of The Bachelorette on ABC.
Becca Kufrin had narrowed down the field of suitors on The Bachelorette to three men heading into the latest episode, and the whole gang headed to beautiful Chaing Mai, Thailand for the latest round of romance. As everybody was aware, this was the round that would send some of the suitors to the Fantasy Suite with Becca, and although there was less awkwardness regarding the Fantasy Suite than there would have been if Colton was still around, Becca still had some uncomfortable decisions to make, and the episode did not go as everybody probably expected. Only two of the final three actually made it to the rose ceremony.
After the end of last week's episode, Becca seemed pretty smitten with her final three guys, and she appeared to pass muster with their families. The romances felt like they were all going swimmingly enough that it was difficult to gauge where exactly Becca's most passionate feelings lay. When Becca's date with Jason kicked off, there was no reason not to believe that he had a shot at a rose by the end of the hour. Their date for the day saw them strolling through a Sunday market, enjoying each other's company and sampling a local dish of crickets, which is just reason #9347 that I would not do well in the Bachelor franchise. No crickets for me.
Anyway, while checking out a temple, Becca made a harmless joke about bringing some Thai decor to their home together, but she immediately regretted it. The all-smiles Becca was replaced by an upset Becca, to the point that a woman on the production team took Becca to get some shade, leaving Jason sitting alone. Becca admitted that she suddenly realized that she couldn't see a future with Jason, and Arie was clearly on her mind as she contemplated letting Jason know that she wasn't feeling their relationship anymore.
Well, Becca didn't waste much time. Before the end of their dinner that night, she tearfully dropped the bombshell that she couldn't see a future for them the way she could for her other two suitors. Before Jason even got to see what the Fantasy Suite letter said, Becca gave him the boot as sensitively as she could and walked him out. Alas, poor Jason! We hardly knew thee.
Yes, Becca knocked one of her final three out of the running well before the rose ceremony, which meant that the stakes weren't terribly high for her final outing of the episode. Her first date of this week's episode saw her go on a hike to an ancient temple grounds with Blake, and the duo had to follow the local custom that required that they not touch or kiss each other once they pass a certain threshold. The journey resulted in the two having a frank conversation about honesty, and Becca clearly (and understandably) had Arie on the brain.
Nevertheless, things went well, and Becca invited him up to the Fantasy Suite, where the two spent the night together. This wasn't altogether unexpected; they were close after last week, Becca was enthusiastic throughout their hike, and their dinner went well. Love was in the air for them in Thailand, and it took them to the Fantasy Suite. The odds were looking good for Blake, and this was before the Jason situation! The low-stakes date with Garrett got off to a sticky start after they inadvertently went rafting on what turned out to be a Thai holiday. Still, Garrett handled himself well and dropped the big L word, and he ultimately made his way to the Fantasy Suite -- or in this case, the Fantasy Tent -- with his lady love. It's down to Blake and Garrett, which could be kind of unfortunate for Becca, depending on whether or not Garrett wins in the big finale.
In a surprise twist, Jason gave his relationship with Becca a final go, citing a lack of closure and the desire to give her a gift. He dropped by her hotel room, and she let him in comfortably enough, probably because he didn't spend the episode being super creepy a la Chris a few weeks ago. He gave her a scrapbook of their time together. Becca was clearly touched, but it didn't change her mind that he wasn't the one for her. Jason got a second goodbye, and both Blake and Garrett got a rose. Which man is she already engaged to?
Next week's episode of The Bachelorette will be the traditional tell-all episode with the eliminated suitors sharing their feelings about their experiences, with the big finale airing the week after. For some other viewing options, check out our summer TV premiere guide.
Resident of One Chicago, Bachelor Nation, and Cleveland. Has opinions about crossovers, Star Wars, and superheroes. Will not time travel.
Your Daily Blend of Entertainment News
Thank you for signing up to CinemaBlend. You will receive a verification email shortly.
There was a problem. Please refresh the page and try again.