Wait, Is Frank Randall Going To Be In Outlander Season 4?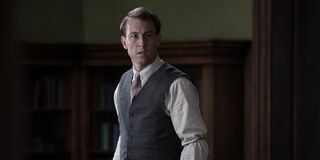 (Image credit: Image courtesy of Starz)
Outlander has killed off a fair share of people over the years. Sure, there's the occasional reprieve for a character that died in the books, but it tends to be safer not to get too attached to characters other than Claire and Jamie. Frank Randall was one of those to die in Season 3, with his 18th century doppelganger Black Jack Randall biting the dust as well, which naturally led many fans to assume that Tobias Menzies would be absent from the upcoming fourth season. Now that a full-length trailer has released, however, we have to wonder: will Frank have a part to play in Season 4?
Frank doesn't actually appear in the flesh in the new trailer, which is full of all the danger and romance fans have come to expect from Outlander. He can be heard, however, saying the final line of the trailer:
Well, "sometimes life takes unexpected turns" can basically sum up Outlander from the very beginning! Frank's life was definitely turned upside down when his beloved wife disappeared on their second honeymoon, only to return in clothes from centuries past, pregnant, and in love with another man. He wasn't a perfect man and certainly not a perfect husband, but he was a loving father to Brianna, and his death via sudden car crash devastated his daughter. Now, if Frank does appear in Season 4 as the trailer may have hinted, we have to assume that it won't be via resurrection. Although Outlander has crossed some pretty bizarre lines, bringing somebody back from the dead isn't one of them.
The more likely ways for Frank to appear are via scenes set in the past, a character flashing back, and/or via dream or hallucination. Outlander has played with timelines from the very beginning, and Claire's flashbacks to Frank's history lessons in the first season impacted her actions in the past. Season 3 also featured Jamie hallucinating Claire in the aftermath of Culloden; could one of Frank's loved ones hallucinate or dream him after a particularly difficult trial? Brianna is certainly going to go through a disorienting ordeal, and both Bree and Claire will face some losses in Season 4 that could have them thinking back on Frank. Take a look at the trailer for yourself!
A big question is just how much of Frank we can expect, if he is indeed going to appear. Outlander has seemingly entered a new era with the switch from Scotland to America, so Frank may fade from relevance in the not-too-distant future. It's also worth noting that Tobias Menzies has kept busy with non-Outlander projects over the past year. Although we probably don't want to count on him reprising his Game of Thrones role for that show's final season, he did land a significant role in The Crown Season 3, not too long after he had a starring role on AMC's The Terror.
We'll find out if Frank has a future on Outlander when the show joins the fall TV lineup with its Season 4 premiere on Sunday, November 4 at 8 p.m. ET on Starz.
Resident of One Chicago, Bachelor Nation, and Cleveland. Has opinions about crossovers, Star Wars, and superheroes. Will not time travel.
Your Daily Blend of Entertainment News
Thank you for signing up to CinemaBlend. You will receive a verification email shortly.
There was a problem. Please refresh the page and try again.