Single Parents Review: ABC's Latest Is Standard Sitcom Fare, But Shows Hint Of Promise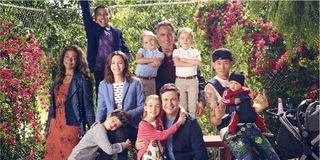 ABC has become known for its comedies in the past decade or so, but many of the shows that the network has are getting quite long in the tooth. Multiple Emmy winner Modern Family is heading into its 10th season this fall, with no clear word yet on whether or not the show will continue into Season 11. The Middle shuffled off the board at the end of the 2017-2018 season, and other current comedy staples such as The Goldbergs, Fresh Off the Boat and black-ish will all be beyond the five season point when they return this season. So, it makes sense that we would begin to see some newer efforts from the network, in the hopes of setting up its next long-running family-oriented sitcom. Well, Single Parents does indeed check those two boxes, but it doesn't start with as intriguing of a bang as any of its predecessors. But, there is still something about the show that feels like it could go into more interesting directions if given time to grow.
Single Parents focuses on Will Cooper (Taran Killam), single dad to daughter Sophie (Marlow Barkley) who has, in his understandable effort to provide a good life for his child, gone deep into what the other single parents at his daughter's new school call "the vortex." Will is so committed to his young daughter that he's completely forgotten the parts of his life that don't involve caring for Sophie. When Will, who's eagerly become a room parent at Sophie's school, is confronted by the other single parents in her class after he tries to demand 100% parental participation in school activities from them, the other parents decide to try to help him claw his way out of his dad vortex for his (and everyone's) own good.
Leading this group of single parents is paralegal Angie D'Amato (Leighton Meester), whose son Graham (Tyler Wladis) is desperate for an item of hers to keep on the first day of school so her scent can comfort him. She's joined by free-thinking bookstore owner Poppy Banks (Kimrie Lewis) and her velvet blazer-wearing son Rory (Devin Trey Campbell); 20-year-old first time dad Miggy Park (Jake Choi), who still dreams that his baby isn't real; and salty, older widowed father Douglas Fogerty (Brad Garrett), who dresses his twin girls, Emma and Amy (Mia and Ella Allan), in polo shirts and teaches them to detail cars. Together, these single parents are (hopefully) destined to show Will just what he's been missing since dedicating his life to Sophie.
For a show that's created and executive produced by JJ Philbin and Elizabeth Meriwether, a team that's best known for their combined work on the FOX hit New Girl, Single Parents is, in the one episode I was able to preview, largely devoid of the weirdo humor that made that comedy so beloved for seven seasons. But, while the show doesn't exactly feel fresh, it does have heart and what feels like the bones of a show that could go bolder and nuttier if it gets a chance to find its way over a full season.
Each parent has a pretty distinct personality or situation that I hope becomes even more apparent as the show grows. Of particular interest are Choi's Miggy, who clearly wasn't ready to be a dad, much less prepared to take on the duties alone, but who is honestly trying to do the best he can; and Garrett's Douglas, who seems to have been a lifelong childless bachelor before marrying a much younger hottie whom he thought he could pawn most of the parenting duties off on until she unexpectedly died when his daughters where infants. These characters, especially, could lead the show to address some weird elements of parenthood that don't usually get brought up on TV or in comedies in general.
For his part, Killam does a good job of being the far-too-straight-laced, child-obsessed parent who's gone so far into the vortex that he has a bouncy house inside his living room and nothing but bean bag chairs everywhere. And, Meester does a reliable job as the single parent who seems to have only recently come out of the vortex, and can give Will a reasonable push back toward a more normal, adult life.
And, while I'm looking forward to seeing how these characters can grow as Single Parents goes on, one area that I already wish they would pull back on is the characterizations for the kids. With the exception of Sophie (and Miggy's drooling baby, obviously) all the kids are precocious or wise beyond their years to a fault. No one begs to eat ice cream for every meal, only wants to wear their favorite Halloween costume to school or tries to get out of bathing before bed. It's all a bit too much, like the show feels for these parents to be interesting none of them could have a regular kid who brings them joy, but also complains about really stupid shit a lot.
You can check out Single Parents for yourself when the show debuts on ABC, Wednesday, September 26 at 9:30 p.m. EST. For more on what's hitting the small screen this week, be sure to bookmark our 2018 fall premiere guide.
Your Daily Blend of Entertainment News
Yennefer's apprentice, Gilmore Girl; will Vulcan nerve pinch pretty much anyone if prompted with cheese...Yes, even Jamie Fraser.