Deleted Gotham Image Is Possible Sign Of Jeremiah's Joker Transformation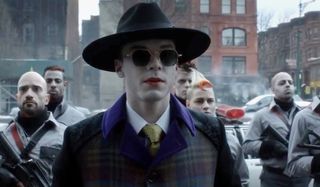 Gotham's Jeremiah Valeska may not be the actual Joker, but fans have been inclined to think otherwise for Season 5, and even more so after seeing a deleted set photo. The below pic was uploaded by Alfred portrayer Sean Pertwee, and was then deleted soon after for mysterious reasons. Check it out.
Fortunately, nothing is ever truly gone from the Internet. Sean Pertwee's photo was saved for posterity, and others are now sharing a picture with the thought that it may be a possible sign of Jeremiah's transformation into a legitimate Joker in Season 5.
There's no denying it: that's a classic Joker look. The purple gloves and the striped pants cacklingly indicate Gotham's intentions to recreate the villain's ensemble. Joker has donned a lot of different outfits across multiple recreations of the villain, of course, so it's hard to pin down what version this new look is inspired by.
In all honesty, it could be a style all on its own with that touch of red mixed in there with his shirt. Unless that's somehow an homage to Joaquin Phoenix's Joker, which almost definitely isn't the case. (Unless it is, because Gotham.)
To be sure, Jeremiah's Joker look isn't worlds different from his Clown Prince-esque garb in Season 4. But what makes this photo even more interesting is the fact that it was deleted. There must be a reason Sean Pertwee took this photo down so quickly, and I'm speculating it was due to someone on the Gotham production team requesting it for security reasons.
One would imagine Pertwee wouldn't be asked to pull a fun photo like that unless the image actually revealed some sort of spoiler for the final season. That would mean seeing this costume early may tip fans off that Jeremiah is going full Joker. Perhaps an earlier episode drops a major hint like "Whoever wears a red shirt this season is definitely The Joker."
That news wouldn't be entirely surprising, especially in light of the news that Jeremiah will be getting a Harley Quinn-like girlfriend in Season 5. Gotham producers can deny Jeremiah is Joker all they want, whether it's for creative or legal reasons. They're telling a different story, however, with this picture, the character's previous actions on the show, and other small tidbits that have come up about Season 5. After all, if Jeremiah walks, talks, and acts like The Joker,...then wouldn't that make him The Joker?
Perhaps blatant confusion is the purpose behind Gotham constantly inching toward Joker territory without ever arriving. If Warner Bros. is discouraging the series from using the villain's name due to films it has in the works, the next best thing is to create a new villain who is similar in every way beyond the moniker. Still, it would be great if this is all just a bizarre front, and we finally do hear Jeremiah (or some other Cameron Monaghan character) referred to as Joker in the final season.
Fans will have to wait and see what happens, as Fox is gearing up to air the final season of Gotham in 2019. There are lots of great things coming to television ahead of its return, so be sure to visit and bookmark our fall premiere guide to see what all is on the way.
Your Daily Blend of Entertainment News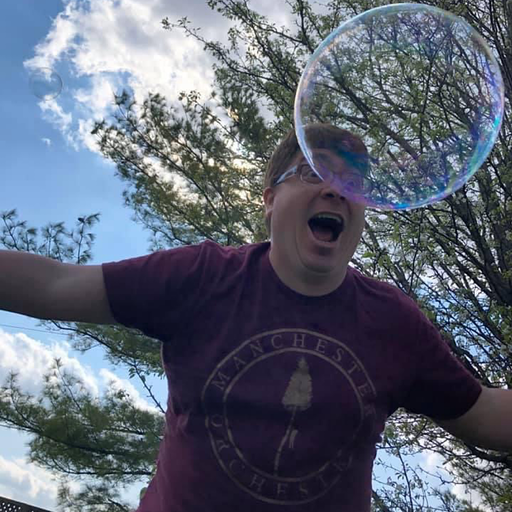 Mick contains multitudes and balances his time reporting on big happenings in the world of Star Trek, the WWE, reality television, and other sci-fi shows.