How Arrow's Black Canary Can Help Take Down Diaz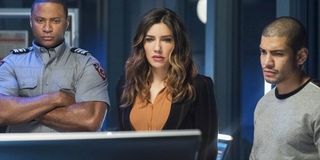 (Image credit: Image courtesy of The CW)
Arrow kicked off its seventh season with its previous supervillain still alive, kicking, and working to take out the good guys of Star City. Despite his lack of superpowers and/or magic, Ricardo Diaz has proven to be a formidable foe whose actions resulted in Oliver behind bars, Team Arrow disbanded, and Felicity starting out in witness protection. Juliana Harkavy, who plays Dinah Drake (a.k.a. Black Canary), recently weighed in on how her character can help take down Diaz, saying this:
Although Dinah has been part of law enforcement on Arrow for a while, it was previously a way for her to help Star City's vigilantes with her inside access. Now, Dinah has given up the mask to combat crime with a badge and a gun, but that's not to say that she can't see that capturing Diaz is of paramount importance. According to Juliana Harkavy's comments to CinemaBlend and other press outlets on a recent set visit, Dinah is open to anything if it means taking him down.
Despite her openness, Dinah has shown a preference for operating within the law in Season 7 in a stark contrast to her beliefs prior to the passage of anti-vigilante laws. Her status as captain of the SCPD means that she has resources she never could have taken advantage of when she primarily fought crime behind her Black Canary mask, but it has meant friction with some of her former teammates.
Diggle has understood Dinah's devotion to her new role, as he too has dedicated himself to fighting the good fight in a way that doesn't involve illegal vigilantism. Rene and Felicity have been less understanding. Rene's support of allowing the new Green Arrow to enact his (or her?) own brand of justice put him at odds with Dinah, and he wound up behind bars because of it. She did release him, but that doesn't mean she's 100% on board with the new Green Arrow's activities... for now, at least.
As for Felicity, she has turned to none other than Earth-2's Laurel Lance for help in fighting Diaz and getting Oliver out of the clink. The two have formed an unlikely bond, and Dinah shows signs of at least somewhat accepting Laurel as an ally, if not quite a friend.
Basically, the remnants of Team Arrow will be quite different than what they were once Oliver is out of prison. That likely won't happen until Diaz is caught, and Dinah is open to helping out however she can to make sure that happens. Of course, given that Kirk Acevedo was promoted to series regular status for Season 7, we can probably count on Diaz sticking around for a while, even if the good guys get their hands on him sooner rather than later.
Diaz certainly is a slippery villain; he can surely continue to make life difficult for our heroes, whether he's behind bars or at large on the streets. Find out more with new episodes of Arrow on Mondays at 8 p.m. ET on The CW. The good news is that we can count on seeing Oliver outside the walls of Slabside in the not-too-distant future, even if the circumstances are still a mystery.
Oliver will be out and about (looking very different) for the upcoming "Elseworlds" crossover that will take our heroes to Gotham -- no, not that Gotham -- and introduce them to Batwoman. The crossover promises to mix up the characters in ways ranging from their relationships to their costumes to their abilities. One of the four Arrow-verse series will be absent from this year's crossover, but it promises to be an adventure of massive scale even without the Legends.
"Elseworlds" kicks off on Sunday, December 9 with an episode of The Flash, to be followed by an episode of Arrow on Monday night and then concludes with Supergirl on Tuesday.
Resident of One Chicago, Bachelor Nation, and Cleveland. Has opinions about crossovers, Star Wars, and superheroes. Will not time travel.
Your Daily Blend of Entertainment News
Thank you for signing up to CinemaBlend. You will receive a verification email shortly.
There was a problem. Please refresh the page and try again.