The Arrow-verse Crossover's Premiere Introduced Elseworlds' Villains Without Many Explanations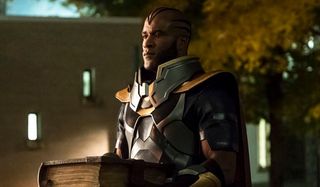 Warning! The following contains spoilers for Part 1 of the "Elseworlds" crossover. Read at your own risk!
The "Elseworlds" crossover started off with a bang, and in between all the jokes and amazing references in the premiere episode, fans saw some pretty crazy things. We also were treated some quality time with the crossover's big villains, although we know very little about them. We did learn a little, however, and it sounds like Team Arrow-verse is in for a hell of a ride regardless of whether or not it has Batwoman's help.
The Monitor
The Monitor officially appeared on the scene, and as expected, he handed over a book capable of re-writing reality to professor John Deegan. For whatever reason, he thinks Deegan has the ideal vision to reshape Earth-1 and is more than capable of having the power "of a God." I'm not sure what gave Monitor that impression, especially considering Deegan could barely hold a competent lecture without losing an audience!
Of course, The Monitor probably seems to jive with the radical ideologies of John Deegan. "Elseworlds" showed the villain seemingly destroying Earth-90 as The Flash of that universe made an escape at the last possible moment. It's safe to assume that Flash may have more answers on The Monitor, and why he's so keen to give world-altering books over to psychopaths.
John Deegan
The book holder and the man responsible for Barry and Oliver's role reversal got an introduction, and it turns out John Deegan is more than just some goofball looking to shake things up. Deegan was first seen giving a lecture on the importance of Eugenics to a dismissive audience disinterested in his controversial remarks. Deegan appeared frustrated by how things went, but his luck soon changed when The Monitor confronted him in the parking lot.
It only took the car behind him being obliterated for John Deegan to get on board with what The Monitor was asking, but to be fair, he didn't ask much. Monitor simply handed the book over to Deegan with the trust that he could shape the world in a way he saw fit. Apparently, that means switching the lives of The Flash and Green Arrow. Is that all he changed?
Amazo
In a rather unexpected appearance, "Elseworlds" viewers were treated to the appearance of iconic DC villain Amazo. The Arrow-verse iteration was similar to the one traditionally shown in the comics and quickly showed how big a problem his power mimicry can be for an ensemble list of heroes. Superman learned quicker than most, as his punches immediately proved useless against Amazo's mimicked abilities powers.
Amazo went down quicker than some may have expected, as Barry and Oliver seemingly managed to gain solid control of their powers around the same time. This allowed them to get a plan in motion that stunned the android just long enough for Barry to use his new Green Arrow abilities to put an arrow right through his eye and blow him up.
The destruction of Amazo, while quick, was probably for the best as "Elseworlds" teased a couple other villains for its part 2. Both villains appeared in a fresh trailer promoting the Monday episode, which will feature the official introduction of Batwoman.
From those quick scenes it looks like "Elseworlds" part 2 will bring in Nora Fries as well as a gold-masked criminal who could be Psycho Pirate. Nora Fries hasn't typically been portrayed as a villain but is in a prison jumpsuit, and Psycho Pirate is supposed to play a role in the events that lead to The Flash's disappearance. Clearly, the Arrow-verse has interesting plans for these two, so viewers will do well to keep an eye on them.
The "Elseworlds" action continues with a special episode of Arrow Monday, December 10 at 8:00 p.m. For a look at what else is on television in the coming weeks, check out our fall and midseason premiere guide.
Mick likes good television, but also reality television. He grew up on Star Wars, DC, Marvel, and pro wrestling and loves to discuss and dissect most of it. He's been writing online for over a decade and never dreamed he'd be in the position he is today.
Your Daily Blend of Entertainment News
Thank you for signing up to CinemaBlend. You will receive a verification email shortly.
There was a problem. Please refresh the page and try again.