Brooklyn Nine-Nine Gets The Law And Order: SVU Treatment In Hilarious New Trailer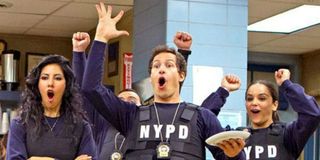 It's been a tumultuous year for fans of Fox's Brooklyn Nine-Nine. After the comedy was axed by the network in a live-action sitcom bloodbath just a few days before its Season 5 finale, it was saved soon after and given a chance to continue at NBC. Of course, this sudden save meant that its new network would need to shuffle things around to make room for the half-hour, so Brooklyn Nine-Nine was held until mid-season, meaning that we'd have a longer wait for Season 6 to hit the small screen. Well, that time is almost here, and now a new trailer just dropped that pays hilarious homage to that other long-running cop show on NBC: Law & Order: SVU. Take a look!
Come on, people. If you aren't watching Brooklyn Nine-Nine, can't you at least tell now that you've been wasting the last several years of your life? I mean, this promotional video is perfection. From the distinctive font with blue and red shadows, to the voice over, the familiar strains of that theme song and black and white images of the, admittedly ridiculous, activities of the (fictional) 99th Precinct of the NYPD, you can't beat this ad for it's commitment to reminding you why Brooklyn Nine-Nine is the best cop comedy there is.
They've also chosen some of the funniest and weirdest scenes form recent seasons to showcase in the clip. Jake and Charles carrying way too much gear in an attempt to be badasses and having to admit they may have over prepared? Check. Scully and Hitchcock actually catching a criminal during one of their many bathroom breaks? Check. Captain Holt and Amy accidentally trapping Charles' head in a plaster cast for five days? Check. Last season's amazing episode with Sterling K. Brown as a criminal who was almost too clever to get caught? Quadruple check. The only thing really missing was the all too familiar DUN-DUN that has punctuated the acts of every Law & Order drama since the dawn of time. But, with so much Brooklyn Nine-Nine and SVU goodness is in this video, I'm not even mad at them for that obvious oversight.
When Brooklyn Nine-Nine got cancelled back in early May, it was quickly under consideration to be picked up by several other outlets, including Hulu, Netflix and TBS. And, even though the show had limped along for several years without strong ratings, it's not really a surprise that others were willing to take a chance on it for at least one season. First, while it is yet another in a very long line of never ending police procedurals, how many shows can you name in that vein that were actually hysterical comedies? That's right, probably none. At least of the attempts that lasted any significant amount of time, anyway.
One of the many things to love about Brooklyn Nine-Nine is the fact that, while the show is certainly laugh out loud funny on a weekly basis, most of the wacky characters are truly very good at their jobs and love what they do. If the cast was filled with mostly lazy folks like Hitchcock, Scully and the incredibly ambivalent Gina, it just wouldn't be as much fun. Most of the shenanigans Jake, Amy, Terry, Rosa and the rest of the gang get up to are in the service of solving crimes, and they usually manage to do just that even with all the nuttiness that ensues.
Speaking of Jake and his cop cohorts, Brooklyn Nine-Nine boasts an ensemble cast that's right up there with the best and most-beloved sitcoms. Led by Andy Samberg (Jake), Andre Braugher (Captain Holt), Melissa Fumero (Amy), Terry Crews (Terry), Stephanie Beatriz (Rosa), Joe Lo Truglio (Charles), Chelsea Peretti (Gina), Dirk Blocker (Hitchcock) and Joel McKinnon Miller (Scully), everyone is perfectly cast, funny and they've all had plenty of times to shine over the past five seasons. Braugher and Samberg have received several award nominations for their roles over the years, with aforementioned guest star Sterling K. Brown also getting an Emmy nomination for his work on the show this year. Plus, the show, overall, has received an impressive 77 award nominations and won 12 across a wide variety of categories since it began in 2013.
And, Sterling K. Brown is not alone in his guest work on the show. Brooklyn Nine-Nine has seen some of the best in the business pop by for appearances over the years, and they always bring odd, funny and intriguing characters with them. Guest stars have included Jimmy Smits, Gina Gershon, Katey Sagal, Bradley Whitford, Bill Hader, Eva Longoria, Kyra Sedgwick and Craig Robinson. I don't doubt that, as this is likely the last season, Brooklyn Nine-Nine will have some great guest stars on tap for fans in the coming weeks.
While Brooklyn Nine-Nine will probably come nowhere near the longevity of Law & Order: SVU, despite the hopes of its extremely dedicated fanbase, you can't blame NBC for using one of its biggest hits to help promote its newest show. Obviously, they share the police procedural aspect in common, as well as strong performances, but veer strongly off course when other potential comparisons come up. But, you can bet that NBC hopes the cop comedy manages to get the kind of viewership and ratings numbers that might keep it on the air for 20 seasons. Not to mention the fact that the shows will return to the airwaves on the same night, which kind of makes them teammates, right?
All we really need now is a crossover between Brooklyn Nine-Nine and Law & Order: SVU. I think the best plan would be to move a couple of characters from SVU (say Benson and Tutuola) over to the 99 for a bit. Let's face it, those guys never get to have any fun, and while they might be shocked at what would appear to be incompetence in this strange precinct, they'd at least get some levity added to their lives for a bit and have something they could laugh about later after staring at dead bodies or talking to inconsolable victims and whatnot.
Brooklyn Nine-Nine will hit NBC on January 10 at 9 p.m. EST, while Law & Order: SVU will return for more of Season 20 later the same night, at 10 p.m. EST.
Bachelor Nation, Gilmore Girl; will Vulcan nerve pinch pretty much anyone if prompted with cheese...Yes, even Jamie Fraser.
Your Daily Blend of Entertainment News
Thank you for signing up to CinemaBlend. You will receive a verification email shortly.
There was a problem. Please refresh the page and try again.