16 Great TV Shows That Are Ending In 2019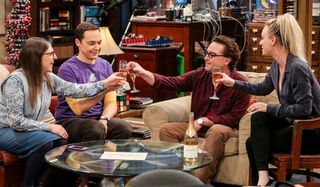 "All good things must come to an end" wouldn't be such a popular saying if it wasn't true, and this list of shows ending in 2019 is proof of that statement in spades. The year has already seen shows like A Series Of Unfortunate Events reach a conclusion, and Marvel's Jessica Jones and The Punisher will likely be cancelled in time. With that said, here are great shows we know are ending, whether they were cancelled or are ending on their own terms, when they may end, and whether they'll return at any point in the future.
Broad City
Cancelled Or Not? Ilana Glazer and Abbi Jacobson mutually decided to end Broad City after Season 5 and inked a first-look television deal with Viacom to help create future programming on Comedy Central. Basically, Broad City may be over, but audiences will surely be saying "yas" to future programs the two help develop.
When Is It Ending? Spring 2019
Any Chance For More? While there will certainly be more content from both of these talented actresses, the duo's statement on Broad City's end makes it sound as though they're good moving on to other things following its end.
Crazy Ex-Girlfriend
Cancelled Or Not? Crazy Ex-Girlfriend was renewed by The CW for a final season, which gave the musical comedy a chance to conclude its wild story. It was a gracious move by the network, as the show's ratings weren't the best for a while.
When Is It Ending? Winter to early Spring 2019
Any Chance For More? Rachel Bloom and Aline Brosh McKenna have reportedly always viewed Crazy Ex-Girlfriend as a story with an end, and with neither making plights for another network to pick it up, it feels as though they're sticking with that idea.
Elementary
Cancelled Or Not? Alas, CBS gave Elementary the axe after 6 seasons on the network, but there was a spot of good news. The show's Season 7 renewal still stood, which means 2019 will give fans another chance to spend time with Sherlock and Joan.
When Is It Ending? TBA
Any Chance For More? CBS' Season 7 renewal seemed uncertain enough (hence the shocking Season 6 ending), so the odds of Season 8 happening elsewhere feels very slim. Additionally, it doesn't appear as though any plans are in place for the series to continue, which likely means it will reach a conclusion in the coming season.
Game Of Thrones
Cancelled Or Not? Game Of Thrones has finally reached its endgame, and there's absolutely no chance HBO told one of the biggest shows in television's modern era it was time to wrap things up.
When Is It Ending? Spring or Early Summer 2019
Any Chance For More? While no adventures directly related to Game of Thrones are on the way, there is the prequel in development that may very well get ordered to series. There are also multiple other spinoffs in development that, if ordered, will ensure we don't go without shows in Westeros for quite a while.
Gotham
Cancelled or Not? Gotham was on the bubble for quite some time, and eventually, Fox renewed the Batman prequel series for a final and shortened Season 5. It may not be ideal, but it should allow the show to finish its bonkers story of legendary DC Comics characters... with a twist.
When Is It Ending? Winter or early spring 2019
Any Chance For More? Gotham's saga is done, but creator Bruno Heller has another Batman-esque prequel on the horizon. Granted, the Alfred-centric series Pennyworth doesn't have an established connection to Gotham; still, the fact that the men who made the show are behind this new project could mean Gotham will live on vicariously through this.
Homeland
Cancelled Or No? After ongoing speculation and rumors that Homeland would end after Season 8, star Clare Danes finally confirmed that it was. Danes admitted that while she's ready for a break from playing the intense Carrie Mathison, ending a show that's been the longest thing she's ever been a part of is bittersweet.
When Is It Ending? TBA
Any Chance For More? Clare Danes' statements make it seem very likely Carrie Mathison's adventure is over, but fans have long clamored for a spinoff of some kind. Those words have fallen upon deaf ears, unfortunately, as no news has yet to surface regarding any continuation of Homeland in any way.
iZombie
Cancelled or Not? iZombie wasn't cancelled, but its season renewal alongside Crazy Ex-Girlfriend and Jane The Virgin make it seem as though a return beyond Season 5 wasn't going to happen. Season 5 is to premiere on The CW Thursday, May 2.
When Is It Ending? Summer 2019
Any Chance For More? So far there's been no word what the future of the franchise is, but surely more questions about that will be asked as iZombie wraps on its final season.
Jane The Virgin
Cancelled or Not? As was the case with iZombie and Crazy Ex-Girlfriend, Jane The Virgin's renewal was The CW granting the dramedy another season to wrap up its show. It's possible the show would've continued beyond Season 5 if given the opportunity, but fans are left to wonder in the meantime.
When Is It Ending? Spring or Summer 2019
Any Chance For More? There doesn't appear to be any news of Jane The Virgin continuing at this time. With that said, the show might've hoped for more time to explain that crazy cliffhanger at the end of last season!
Killjoys
Cancelled or Not? The announcement that Killjoys was coming to an end was far from bad news for fans, as it was coupled with the news that it would be around for two more seasons. Unfortunately the year of that final season has finally come, and it's time to say goodbye to Syfy's space drama. No premiere date has been set for Season 5, although the show has historically aired in either June or July.
When Is It Ending? Most likely summer 2019
Any Chance For More? Nothing to talk about just yet, and with the show's endgame being announced two seasons ahead of time, it doesn't feel like an immediate followup or revival is likely.
Mr. Robot
Cancelled or Not? Mr. Robot was cancelled by USA Network, but its Season 4 that was announced back in 2017 was still planned to happen. If the final season is anywhere close to as crazy as seasons past, expect this finale to be one viewers talk about in 2019.
When Is It Ending? TBA
Any Chance For More? There doesn't appear to be any plans for Mr. Robot post-cancellation and Rami Malek's increased celebrity and award show recognition may ensure plans are never made. Still, we'd be down to see a spinoff where Elliot learns he has a bearded twin brother like the actor has in real life.
Orange Is The New Black
Cancelled or Not? Netflix (opens in new tab)'s Orange is the New Black confirmed its exit via a heartwarming video of the cast revealing that Season 7 would be the program's final season. The details behind why the show is ending aren't known beyond that, and if the ending came as a result of the series reaching a conclusive end, or internal or external pressure from other forces.
When Is It Ending? TBA
Any Chance For More? No plans as of yet, but with a dedicated fanbase, it isn't hard to imagine a spinoff that follows one of the ladies of Litchfield on the inside or out in the real world.
Shadowhunters
Cancelled or Not? Freeform cancelled Shadowhunters in the midst of Season 3, but was gracious and announced the second half of the season would air in its entirety in 2019. Although fans have been petitioning for a Season 4 renewal since then, their plights have been ignored by Freeform and other networks.
When Is It Ending? Spring 2019
Any Chance For More? It's not looking good for Shadowhunters, especially given recent tensions between the fanbase and Freeform. The network's supposed mocking of fan petitions and efforts to renew the program upset many and seemingly made it more likely the folks at Freeform aren't changing their mind about that cancellation.
The Big Bang Theory
Cancelled or Not? The Big Bang Theory wasn't necessarily cancelled, but one actor announcing he was done with the series more or less sealed the deal. Sheldon actor Jim Parsons has since explained his reasoning for the decision, citing it felt as though it was time to move on.
When Is It Ending? Spring 2019
Any Chance For More? No solid plans are in place, but Kaley Cuoco's recent comments that not everyone is looking to get out of the show are promising. No solid plans for a reboot or revival have been teased or announced yet, so fans should resign themselves to watching Young Sheldon while waiting for updates.
Unbreakable Kimmy Schmidt
Cancelled or Not? Unbreakable Kimmy Schmidt was renewed for Season 4, and showrunner Robert Carlock has said it wasn't immediately apparent this would be the final season. With that said, the team realized there was an organic opportunity to wrap things up, and the decision was made to make the upcoming season the final run of the comedy.
When Is It Ending? (barring a film) Friday, January 25
Any Chance For More? Showrunner Robert Carlock seems positive Unbreakable Kimmy Schmidt isn't going to have another season, but he is hopeful for a film that will close out the show completely.
Veep
Cancelled or Not? After six wonderful seasons, HBO's multi-award-winning political comedy Veep is coming to a close. It's led to some emotional days on set for star Julia Louis-Dreyfus, and it will probably be an emotional time for fans when this great show finally ends.
When Is It Ending? TBA
Any Chance For More? No plans for a Veep sequel series or spinoff have been announced, unfortunately.
You're The Worst
Cancelled Or Not? FX and creator Stephen Falk mutually agreed to end You're The Worst after Season 5, and he's expressed an eagerness to be given the opportunity to "stick the landing" in wrapping up the program.
When Is It Ending? Winter or early spring 2019
Any Chance For More? Judging by Stephen Falk's intention to "stick the landing," it doesn't sound as though fans should be hopeful any secret spinoffs, revivals, or reboots are in the works.
There are a lot of great shows ending in 2019, but also plenty of great ones returning and new shows with the potential to become great. Check out what the first half of the year has to offer with our handy midseason premiere guide.
Your Daily Blend of Entertainment News
Mick likes good television, but also reality television. He grew up on Star Wars, DC, Marvel, and pro wrestling and loves to discuss and dissect most of it. He's been writing online for over a decade and never dreamed he'd be in the position he is today.
Your Daily Blend of Entertainment News
Thank you for signing up to CinemaBlend. You will receive a verification email shortly.
There was a problem. Please refresh the page and try again.