Will Avengers 4 Introduce The Young Avengers?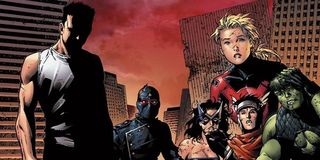 There have been many rumors floating around about Avengers 4, and it's led to some wild theories from fans trying to unravel the secrets of the film ahead of its release. With so many heroes gone at the film's beginning, Marvel will have to dig deep to find others capable of saving the day. One group of heroes called upon could be the Young Avengers, and we're seriously wondering if the upcoming feature could highlight the young Marvel heroes.
First, who are the Young Avengers? No, this isn't the current lineup of MCU heroes in their younger years, but an entirely different team comprised of young super-powered individuals. Some of these super people are even children of famous Marvel heroes currently around in the MCU. Basically, they're the next generation of Marvel heroes, and while they may not be the A-squad of Marvel's lineup, could be of aid in the fight against Thanos and others.
The 'younger and related to heroes' part is key because of the news that Katherine Langford was added to Avengers 4, as the former 13 Reasons Why star's role isn't officially known. Some have speculated she's the future daughter of Tony Stark and Pepper Potts, while others believe Langford bears a resemblance to Kate Bishop's Hawkeye in the comics. Bishop is a noted member of the Young Avengers, but would one member necessarily mean the up-and-coming teens "assemble" in the film?
No, although it's worth mentioning another rumor mentioned a second member of the Young Avengers. Reports about Emma Fuhrmann playing an older Cassie Lang are still in the air, but if the rumor is true, Avengers 4 would have two card-carrying members of the Young Avengers. Even Katherine Langford appearing as Tony Stark's daughter wouldn't throw a wrench in things completely, because if Pepper Potts has Iron Man armor, a future Tony almost definitely designed one for his future child.
This brings us to the big elephant in the room, which is that Tony Stark doesn't have a daughter and Cassie Lang is still pretty young last we checked. Of course, Avengers 4 theorists are already well aware of the Time Stone and the leaked set photos, which have some thinking Avengers 4 takes place over different time periods. It's certainly a possibility and would allow the film to hop into the future where previously unknown heroes or people may exist.
So now that it's been established there is a way for the Young Avengers find their way into this story, who else could be involved? That's hard to say as comic book rosters of hero teams rarely sync up with the lineups on the big screen. Even so, there's one potential member of the team who's inclusion would make total sense, and Avengers: Infinity War may have already laid the groundwork for it with one of its key deaths.
Fans were skeptical when Thanos killed Loki early on in the film and have thought he could return in Avengers 4. It's possible that return could happen in a truly unexpected way, as the deity was once resurrected in the body of a boy who works with the Young Avengers. Loki's death in Avengers: Infinity War may have paved the way for a new Kid Loki, who could vouch for the old Avengers when they appear in the Young Avengers' future.
Granted, this is a shaky theory, especially considering that the Disney streaming service intends to give Loki a series. Furthermore, Tom Hiddleston is believed to be reprising his role for that, which would point to the fact that he survived Thanos some other way that didn't involve reincarnation. Of course, time manipulation could cause for all sorts of scenarios that make both Lokis possible, so folks shouldn't rule out this potential introduction to a member of the Young Avengers just yet.
A young Loki isn't the only feasible member of Young Avengers who could be introduced though, as many other heroes may exist in some distant future. Captain Marvel's son Hulkling (whose father isn't Hulk) would be a candidate, and there's also Patriot, the grandson of super-soldier serum guinea pig Isaiah Bradley. There's also a lineup of young mutants that could find their way into the fray, which could make sense considering the snap apparently excluded some mutants owned by Fox.
Jokes aside, there are some Young Avengers that would be out of the mix due to Avengers: Infinity War. For example, Vision's death and Scarlet Witch's disintegration would stand to reason that their sons Speed and Wiccan would not exist. Unless the Time Stone is used to rewind the Snappening and then jump into all this time traveling business in the future, it would appear these two won't be joining the fight in Avengers 4.
Of course, should every hero get brought back by the time the credits roll, it's always possible the two brothers appear in another Young Avengers adventure. After all, Marvel has another decade of films to entertain audiences worldwide with, and they'll need to branch out with new heroes with exciting stories. Avengers 4 would be a way of pushing these somewhat obscure characters into the mainstream and lay the groundwork for more to be introduced in a later film.
It's also worth mentioning that Marvel Studios president Kevin Feige has been his usual cryptic self when asked about questions related to the Young Avengers. Feige wouldn't confirm or deny anything regarding Katherine Langford, Cassie Lang, or Young Avengers when asked about it by Screen Rant. It's the typical non-response that has optimists thinking the rumors are true and pessimists convinced the rumors are false. We're not sure where we fall in the argument, but it definitely feels like a possibility.
Avengers 4 is in theaters on May 3, 2019 and all the world's questions about the film will be answered then. Keep it here with CinemaBlend for any and all updates regarding Marvel's highly anticipated film, and any more possible clues about if the Young Avengers might make an appearance.
This poll is no longer available.
Your Daily Blend of Entertainment News
Mick likes good television, but also reality television. He grew up on Star Wars, DC, Marvel, and pro wrestling and loves to discuss and dissect most of it. He's been writing online for over a decade and never dreamed he'd be in the position he is today.