Where Was Vikings' Lagertha, And What Happened To Her?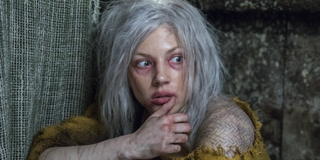 (Image credit: Jonathan Hession/History)
Warning: Spoilers for the latest episode of Vikings Season 5B -- "Baldur" -- are discussed below.
Finally! After several episodes away, Lagertha returned to Vikings. She did not do so as many may have expected. Judith discovered Lagertha in an area inside the place of the herbalist Judith has been seeing.
A shocked Judith had her brought back to Wessex headquarters. Lagertha was incoherent and out of sorts, far removed from how Vikings last saw her. After having a vision of her witnessing Ragnar's execution from various viewpoints, Lagertha seemed to come around.
From that point on, Lagertha seemed stoic and not forthcoming regarding where she had been all this time. She appeared to be wounded and did not elaborate on how that came to be. All told, Vikings left viewers with a lot of unanswered questions. These are some of them.
Where has Lagertha been?
Lagertha did not explain how and why she had been gone for so long. Whether she was lost or taken against her will is not a question that was cleared up in this episode, and the state she was in when Judith found her did not offer any clarity. Could her absence and subsequent condition be due to a combination of unfortunate factors?
Lagertha could have left the battlefield in shock. Having steadied herself, she may have realized she was lost, and then been captured by someone. Her injuries do not appear to be the result of something self-inflicted or accidental. Could some villain have taken Lagertha and hurt her? Vikings did not appear to discount it as a possibility.
What shattered Lagertha?
When she initially went missing, Vikings seemed to intimate it was the shock of losing Heahmund that drove Lagertha away. That may have been her breaking point. However, Lagertha's vision seemed to hint her trauma stems further back with the loss of Ragnar. It was not Heahmund's death she was hallucinating, after all. Vikings hinted at the impact of her former husband's loss by showing a flashback to when she and he were in the midst of happier times.
Perhaps it was how much that pairing meant to me as a viewer that played a role in how I perceived it. However, Vikings seemed to back up that it was losing Ragnar that has gradually worn away at Lagertha. He was a pivotal person in her life.
A possible acknowledgment of Lagertha's lingering feelings for Ragnar is refreshing. It never really made sense that Lagertha would become so dependent over losing Heahmund alone. He was a paramour she'd had a far lesser-explored connection with compared to her first husband and father of her children.
How and when did the herbalist find her?
The circumstances that led to Lagertha's place with the herbalist remain a mystery. The woman did not offer an explanation, and it was not clear how long Lagertha had been in the abode. Did she recently discover Lagertha? Or had she been taking care of her for a long time? Has Lagertha been with the herbalist ever since Bjorn looked for her and could not find her?
Furthermore, why did she not want Judith to know she had Lagertha and did she truly not know who Lagertha was? Or was she lying to keep her? If so, to what end? There are many more questions than answers.
Is Lagertha changed?
After Lagertha recovered, she kept insinuating she was not who she used to be. Whether this is true or something she is saying because she feels vulnerable in Wessex is unclear. With Torvi and Ubbe away and Bjorn having left a while ago, Lagertha is all alone.
It makes sense that she would not want to assert herself too much. That Lagertha took the blue paint and drew it down Judith's face in a ceremonial way is telling. Could it be her way of allying herself with the king's mother?
How did she get injured?
There are still a lot of questions at play regarding what happened to Lagertha, including how she sustained the injuries and why her hair had been shorn. Based on what was shown of what Lagertha endured in the battle against Harald's forces, it does not fit that she got them there.
Only a couple of episodes of Vikings' current season remain. Whether viewers will learn the entire backstory of Lagertha's absence before the season ends remains to be seen for now.
Find out how Lagertha's story plays out when Season 5B continues airing Wednesdays at 9 p.m. ET on History. Vikings is among many shows that will continue airing new episodes during the midseason.
Your Daily Blend of Entertainment News
Like a contented Hallmark movie character, Britt happily lives in the same city she grew up in. Along with movies and television, she is passionate about competitive figure skating. She has been writing about entertainment for 5 years, and as you may suspect, still finds it as entertaining to do as when she began.