To Catch A Predator's Chris Hansen Got Arrested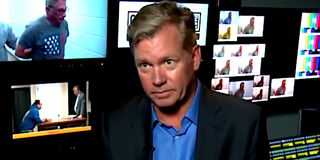 For years, TV host Chris Hansen made a name for himself as the unflappable face of To Catch a Predator, which shined a light on quite a few disturbing acts and the people intent on committing them. This week, though, Hansen was on the other end of the legal spectrum when he was arrested for writing bad checks. It's more complicated than that, though.
On Monday, January 14, Chris Hansen turned himself into police after months of being accused of using bad checks to pay for nearly $13,000 worth of goods and materials that he'd already received shipment on. Hansen did not spend a long time in police custody, however. He was released without bond after signing a written promise to appear in court, according to Connecticut's Stamford Advocate.
The Stamford company that went after Chris Hansen is called Promotional Sales Limited, whose owner Peter Psichopaidas claims the TV host had put in a large order for 288 t-shirts, 355 ceramic mugs, and 650 decals. The purchases were all meant to be used for promotional marketing for the then-potential TV project Hansen vs. Predator, which he'd partially crowdfunded through Kickstarter.
Though Chris Hansen allegedly agreed to make a full payment before receiving the delivery, he still hadn't paid anything off three months after getting his packages in. In September 2017, one of Hansen's employees sent Promotional Sales Limited a check for the full amount, but the check bounced.
When police later contacted Chris Hansen, it was said that he apologized and agreed to make a partial payment, although Peter Psichopaidas still had to file a police complaint against Hansen in April 2018. At that point, a police investigator spoke with Hansen, who agreed to give a statement at the station, but he never actually showed up for it.
At this point, Peter Psichopaidas claimed that Chris Hansen offered to pay him in four partial payments, which the former declined. Hansen reportedly then stated his wife would bring a check, which never happened. After a police investigator warned Hansen that he was in danger of being arrested for larceny, the host allegedly sent a personal check to Psichopaidas for $13,200. To be expected from a story like this, that check also bounced a few days later.
According to an email that Hansen reportedly sent to Psichopaidas, the former claimed that he'd recently sold a boat in order to handle the payment, and that he was going to pick up the money. He never sent in any other money, though, and after that, an arrest warrant went out for Hansen, who turned himself into the local station and was later released.
According to TMZ, clues about Chris Hansen's financial problems could have been gleaned from his Kickstarter campaign's aftermath. The project raised $89,000, with donors expecting to receive all of the promised gifts for the money supplied. However, the campaign's page is full of comments from disgruntled donors who received only some or none of their pledge prizes.
It might not have been such a noteworthy loss for fans had the Hansen vs. Predator project not ever come to light in any capacity, but a year after the Kickstarter campaign had mostly wrapped up, Chris Hansen landed a job with the syndicated series Crime Watch Daily.
The second season of that show featured the legitimate premiere of Hansen vs. Predator, with the first installment resulting in a sting that got ten people arrested for crimes such as criminal attempt, first-degree sexual assault for though that debut didn't spark any renewed interest in giving back to the Kickstarter community.
Not that he completely ignored all the donors. Some fans did indeed get their packages, but the more time that passed between then and now, the less time he seemed to spend shipping things out. The Stamford Advocate reports that Pittsburgh, Pennsylvania native Zaq Rizer actually got his Hansen vs. Predator mug a full two and a half years after he'd dropped a $20 on Chris Hansen's cause. His reaction:
I had written off the mug entirely. I was pleased, but also I was like shocked.
Crime Watch Daily had been a modest success in its syndicated run, and one that was boosted when Hansen vs. Predator became part of it. However, it ended its run in June 2018, and whatever positivity it inspired apparently did not influence Hansen to take care of his financial woes, which were discovered to be more than just the disgruntled Kickstarter donors.
The 59-year-old Hansen was reportedly hit with a lawsuit from American Express in 2015, with the credit card company seeking $57,000. The complaint stated Hansen had refused to make any payments on the platinum card's balance. He hadn't shown up in court for that incident.
In the spring of 2018, the company Ally Financial also sued Chris Hansen on the claim that he'd stopped making car payments on a 2014 Corvette. According to the suit, Hansen stopped paying them back in November 2017, even though there was still $65,000 left to pay off on the vehicle. Ally was given a court order in June that allowed it to repossess the vehicle.
Finally, Chris Hansen's living situation is also seemingly in a difficult state of flux. it appears the marvelous Shippan home that he'd previously owned is now in the possession of the US Bank Trust, which took over in July 2018. The house is listed at $963,000, though it hasn't been confirmed one way or another what actually happened there.
Most recently, Chris Hansen had been living in a Manhattan apartment, although that situation is also in major jeopardy now. The apartment's owner slapped Hansen with an eviction notice in the past week or so, claiming that he hadn't every paid any rent since August 2018. In the eviction notice, it's stated that Hansen owns them $400 in backpay for August, and then another $3,600 for September payments. The final day of the eviction notice was Friday, January 1i8.
Even though Chris Hansen's public persona and consistent dedication to catching all the predators didn't imply that a difficult financial situation was happening behind the scenes, it looks like that may have been the case in recent years.
While waiting to hear more about Chris Hansen's mildly disturbing recent past, head to our midseason premiere schedule to see all the new and returning shows that are on the way to streaming, broadcast and cable.
Your Daily Blend of Entertainment News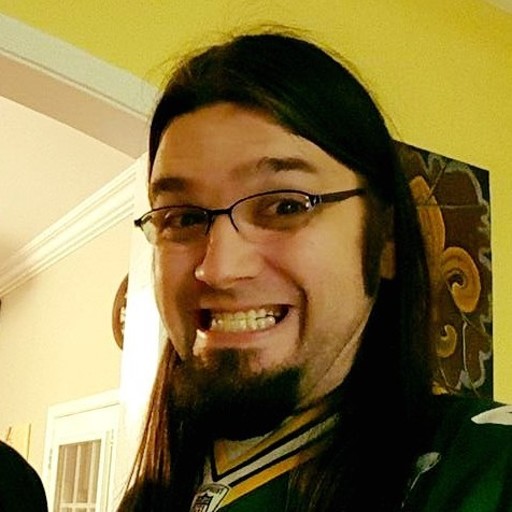 Assistant Managing Editor
Nick is a Cajun Country native, and is often asked why he doesn't sound like that's the case. His love for his wife and daughters is almost equaled by his love of gasp-for-breath laughter and gasp-for-breath horror. A lifetime spent in the vicinity of a television screen led to his current dream job, as well as his knowledge of too many TV themes and ad jingles.