Pearson Trailer: Jessica Pearson Is Fierce And Ready To Fight In The Suits Spinoff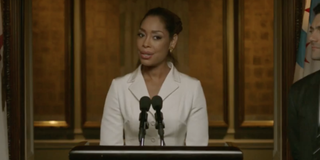 Suits fans were dismayed back in Season 6 when Gina Torres left the series after spending years as one of the most formidable forces in the legal firm, with "Pearson" remaining in the name despite the many other changes in name partner. Well, the good news is that Torres is returning to USA as star of her own series, aptly-titled Pearson.
The Jessica Pearson-centric Suits spinoff has finally released its first trailer, and it shows off the leading lady as fierce and ready to fight legal (and perhaps some illegal) battles in Chicago as she was in New York:
As Suits fans will recall, Jessica left the parent show after being disbarred, finally losing her name from the firm's title. The former powerhouse lawyer went for a change of scenery, relocating to Chicago. She didn't move to the Windy City for a quiet life of retirement, however, and she'll find herself immersed in dirty Chicago politics. She's on board as Mayor Bobby Novak's right hand and "fixer," and the trailer makes it clear that she won't be able to do her job and keep her hands clean.
When has the prospect of getting her handy dirty stopped Jessica from doing something if it's truly important? The dangers of her role in the Chicago government are certainly different than those she faced as a lawyer in New York, however. Life and limb could be threatened, as well as those of people she cares about.
Throw in Jessica's need to come out on top whenever she enters a fight -- legal or off-the-books -- and she may find herself in hot water on a regular basis on Pearson. She will still feel the drive to always do the right thing and help Chicago, so it should be interesting to see what kind of balance Jessica strikes in her new role. Can she help advance her boss' cause and do the right thing? Will she pick the route that will allow her to come out on top no matter what, or will her principles guide her direction?
Only time will tell. The trailer doesn't reveal a precise premiere date for Pearson, but it does promise that the show is "coming soon," which we can hopefully take to mean the first quarter or at least half of 2019. The spinoff was set up in some intriguing ways in a backdoor pilot episode of Suits, which also happened to be Meghan Markle and Patrick J. Adams' final episode.
We can only hope that the spinoff delivers on fans' hopes for the beloved character. They've had plenty of time to speculate about what the show could deliver since rumblings of the backdoor pilot first hit the web. A lot may depend on the strength of the cast. There can be little doubt that Gina Torres can carry a series as the star, but no show can succeed without a solid supporting cast. Suits' ensemble was strong from the beginning; will the same be true for Pearson?
Find out for yourself when Pearson premieres on USA, presumably later this year. Suits recently returned with new episodes, and there are plenty of premieres to look forward to this midseason. News also recently broke that Suits is ending after the upcoming Season 9, so perhaps there's a chance that some of the Suits actors could reprise their roles, if Pearson outlasts Suits.
Resident of One Chicago, Bachelor Nation, and Cleveland. Has opinions about crossovers, Star Wars, and superheroes. Will not time travel.
Your Daily Blend of Entertainment News
Thank you for signing up to CinemaBlend. You will receive a verification email shortly.
There was a problem. Please refresh the page and try again.