One Reason Stana Katic May Have Been Fired From Castle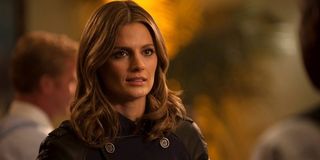 Yesterday, Forbes released its annual list of highest paid TV actresses. Of course, a lot of the usual suspects were on there, from Modern Family's Sofia Vergara to The Big Bang Theory's Kaley Cuoco, but there was one name that stood out a whole lot more. Surprisingly, Castle's Stana Katic made the list for the very first time, and her inclusion may help to unravel the mystery behind her swift firing from the former ABC drama last spring. Here's what we know.
Actors and actresses have traditionally gotten more and more pay the longer a TV series has gone on, which is why the highest paid TV actresses list frequently includes women on shows that have been on the air for an extremely long time. We would expect to see women like Bones' Emily Deschanel and NCIS' Pauley Perrette on this list. Likewise, it makes sense that in its eighth season, Stana Katic would start making some real money. In fact, it seems that when Katic's contract was renewed for Season 8, she got a salary increase, but also negotiated for a large amount of what the show earns on the backend, bumping her overall salary up to $12 million. That's an awful lot of money for one person to be accruing each season, plus since Katic only signed a one-year contract, she would have renegotiated again for Season 9.
For a long time, it seemed as if Castle would probably be returning for a ninth season on the network, only with a few changes to help its massive budget. However, the deal the production team was trying to work out did disadvantageously affect some of the cast members. At one point, we learned that while deals were being worked out for Nathan Fillion and a few other cast members, Stana Katic and Tamala Jones were given no choice but to leave the show. If Stana Katic hadn't made such a lucrative deal for Season 8, perhaps the show would have been able to afford her for a ninth season. And if the show had been able to keep her for Season 9, perhaps ABC would have been more excited about working out a renewal order with the series...
As it stands, it is all happenstance, and there are clearly other reasons the series ultimately got the axe. Regardless, it is interesting to think about the nature of contracts, how those contracts can affect budgets and how a show decides which players are more key than others. Sadly, Castle was ultimately cancelled by ABC and will not be returning this fall, which means that at this point Nathan Fillion, Jon Huertas, Molly C. Quinn, Susan Sullivan and Seamus Dever are all out of regular gigs. The good news? Stana Katic already has a movie heading to Lifetime, Huertas is going to be on This Is Us and Nathan Fillion has landed a role on Modern Family. All's well that ends unexpectedly, I guess.
ABC has a few new dramas taking the places of shows like Castle, Agent Carter, Galavant and Wicked City. You can find out what is heading to TV and when with our fall TV premiere schedule. Plus, you can check out the full highest paid TV actresses list here.
Reality TV fan with a pinch of Disney fairy dust thrown in. Theme park junkie. If you've created a rom-com I've probably watched it.
Your Daily Blend of Entertainment News
Thank you for signing up to CinemaBlend. You will receive a verification email shortly.
There was a problem. Please refresh the page and try again.