How Penny Will Try To Interfere With Leonard's Baby Plans On The Big Bang Theory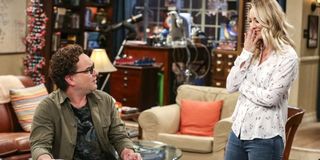 Warning: Spoilers ahead for Season 12 Episode 15 of The Big Bang Theory! Be sure to head over to one of our other articles if you don't want details on the episode.
Everyone's favorite mixed couple (nerd and non-nerd), Leonard and Penny, started Season 12 of The Big Bang Theory realizing (way too late) that he wants kids and she never has. While the conflict has been in the background of the final season, things heated up again when Leonard was asked to donate his sperm to Penny's ex-boyfriend, Zack, and his new wife Marissa. After not being cool with the idea, Penny came around, but now it looks like she's changed her mind again and is going to try to sabotage Leonard's plans to donate by trying to seduce him. Take a look at the promo for next week's episode below!
Man, Penny is playing dirty. Not only is she pulling out the ridiculously hot undies, but she's also torturing her husband by wearing those undies while reading a comic book. But, as we can see from the above clip, Leonard, being the smart guy that he is, clearly gets wise to her plan at some point and tries to shut it down by sleeping across the hall at Amy and Sheldon's place. So, just how does Penny trying to seduce Leonard interfere with his plans to donate his sperm? Well, putting it as delicately as possible, if Leonard is, shall we say, spent all day and every day because of having sex with Penny, he won't be much good when it comes time to head to the baby factory and make friends with a sterile cup.
And, knowing this, Leonard is actually trying to abstain from sex, so that he can give the best possible sample when he heads in. He's a scientist, remember, so because he's decided to do this it makes perfect since that he'd take it seriously and go about it in the most logical way in order to get the best results for Zack and Marissa. Really, if you think about it, this makes what Penny's doing doubly dirty.
Let's take you back to a few weeks ago when Penny and Leonard had dinner with Zack and Marissa and Leonard got asked to donate his sperm. Penny was none to pleased. She doesn't want to have kids, so it would seem that would mean Leonard was just out of luck, and Penny was fine with that. But, the idea that he might be able to procreate without her didn't sit well and brought up a lot of fears and anger on both sides. After arguing over it, though, Penny talked to Amy and Bernadette and eventually seemed to realize that since Leonard doesn't get a say in her decision to not have kids, maybe she shouldn't get a say in whether or not he donates his sperm.
And, to Penny's credit, she told him that. So, while it was clear she wasn't on board with the possibility, she had decided not to stand in his way. Here's where we get to the doubly dirty part: not only is Penny obviously going back on her word, but instead of just being honest and saying she really doesn't like the idea of him doing this and asking him not to, she's trying to take the easy way out and trick him into being ineffective when he goes to give him sample. You would think that Penny would be secure enough in her relationship with Leonard to at least be open with him here, but obviously that's not the case. This is some truly juvenile and underhanded behavior that I doubt will be forgiven by Leonard easily.
I can imagine that this baby / no baby stuff will play a pretty big part in the last new episodes that The Big Bang Theory will give us, so be sure to tune in to CBS on Thursdays at 8 p.m. EST to see how Penny and Leonard deal with one of life's ultimate questions.
This poll is no longer available.
Your Daily Blend of Entertainment News
Yennefer's apprentice, Gilmore Girl; will Vulcan nerve pinch pretty much anyone if prompted with cheese...Yes, even Jamie Fraser.
Your Daily Blend of Entertainment News
Thank you for signing up to CinemaBlend. You will receive a verification email shortly.
There was a problem. Please refresh the page and try again.