The Big Bang Theory Spoilers: How Amy And Sheldon's Marriage May Have Just Gotten A Lot Stronger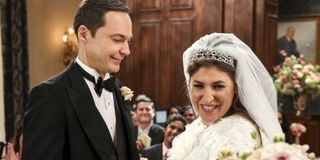 Warning: Spoilers ahead for the most recent episode of The Big Bang Theory. Look away until you catch up!
Amy and Sheldon have already come up against some trials as newlyweds, but the latest episode of The Big Bang Theory may have just made them an even stronger couple. The super smart twosome has hit on a major roadblock that could actually help them bond even more. Here's what happened.
As the show opened, Amy and Sheldon let us in on the fact that the bulk of the research for their theory of super asymmetry is done, now they just have to put the finishing touches on their paper so they can publish. Sheldon suggests that Amy work on going through all the citations they'd need for the work, while he offers to roll up his sleeves and decide on...a font.
Obviously, Amy is not OK with this idea of her having way more work to do and asks if they can just get a grad student to do the tedious and time consuming citation work. Sheldon is not cool with the thought of a millennial getting his or her hands on their cherished work, though, because he thinks they might try to steal it or leak it before it's fully ready. Amy then suggests getting one of their friends, like Leonard, to do it. Sheldon asks if she thinks they can really trust him, and when she notes that he's his best friend in the whole world, Sheldon says that Leonard still seems like the guy in the plane crash who wouldn't wait long enough before he started to eat you, so, we all now have that image in our heads.
In order to test Leonard's secret keeping ability, Sheldon tells him that he's having an affair with one of the lunch ladies at work and the he can't tell anyone about it. It's clear that Leonard not only doesn't believe him, but knows this is a ruse to test his ability to keep things to himself for some reason. But, when Penny asks what lie Sheldon told him, he won't divulge the info, saying that just because the test is stupid that doesn't mean he doesn't want to win.
At work the next day, Leonard, Amy and Sheldon sit down and talk about him doing the citations for their paper, and after Amy tells him the work is too important to them for them to trust it to a grad student they don't know, he agrees to help. Later, though, when Leonard and Raj, whom he drafted to come along with him to the empty library to help him get started, are doing their citation research, Raj stumbles upon something in Russian that they need to look into. When they have Howard, who knows the language well enough to translate, take a look at it, they realize that there's bad news to tell Amy and Sheldon.
It turns out that what Raj found is a paper published in 1978 that not only proves that Amy and Sheldon were not the first ones to come up with a theory for super asymmetry, but that the idea is disproven altogether. Howard, Raj and Leonard immediately realize that Sheldon will be very unhappy at this news, and after spending some time arguing over who will have the difficult task of telling him, Raj and Howard basically force Leonard to do it. The trials of being the best friend of a temperamental genius, amirite?
When we next see Leonard, he's standing outside Sheldon and Amy's door, but he just can't make himself knock; going to begin the process but then turning away multiple times. When Penny sees him go through this for a bit, she notes that she wished she hadn't seen this indecision, but also suggests he just leave an anonymous note, because, in her experience, it's actually worse getting bad news from a friend instead of it softening the blow. But, Leonard toughens up and finally knocks.
As you might expect, Sheldon did not take the information well. He was shell shocked for a few moments, then went over to erase the white board that he and Amy had been putting ideas on since they came up with the thought of taking on this project together. As he's erasing, though, he gets more and more forceful, eventually destroying the white board, screaming and storming off to hide in the bedroom. When Amy calmly goes in later and offers him tea or says she can sing him soft kitty, he wonders aloud angrily why she isn't upset, because this was her work, too.
Amy tells Sheldon that she was trying to be strong for him, but he says it's actually making things worse. Well, that's when Amy lets it all hang out and tells Sheldon, in a voice that gets louder and angrier as she goes, that she is absolutely devastated because they put so much hard work and time into the project (not to mention Sheldon getting her pulled off some brain research that was also very important to her). They've made a lot of sacrifices for this, and now it means nothing. Of course, by this time Sheldon has changed his mind, and tells Amy that showing her true feelings is actually making things worse, and he asks her to go back to pretending to be happy.
The next day, Leonard reveals to Penny that Amy and Sheldon didn't show up for work, and he also sent a text asking when they wanted to see the new Fantastic Beasts movie but heard nothing from them. When they go across the hall to check on them, they are both sitting on the couch in their pajamas looking disheveled and depressed. Penny and Leonard both try to give them pep talks about picking themselves up, moving on and finding a way through this set back because they're so smart, but neither of them are having it.
So, what does this mean for Amy and Sheldon? I'm choosing to believe that this most major of professional setbacks will, eventually, make the newlyweds stronger as a couple. Finding out that the theory they worked on together for so long is worthless will likely be a sticking point for both of them for weeks or maybe even months to come. But, weathering this disappointment can only bring them closer if they allow it to. Considering the fact that they were wallowing together, it looks like that process has started.
Plus, if you think about it, everything else they've been through has made them grow and get stronger as a couple. Amy is putting up with having sex once a year on her birthday, for heaven's sake, if she can do that, they can make it through this. Usually, only one of them has a big problem (either Sheldon with something that has nothing to do with Amy, or Amy with something that has everything to do with Sheldon), but this time they have the same exact thing bumming them out, so it should be a source of bonding that will make them better together in the long run.
We can all see how Amy and Sheldon pull through this professional setback when The Big Bang Theory (opens in new tab) continues on CBS Thursdays at 8 p.m. EST.
Bachelor Nation, Gilmore Girl; will Vulcan nerve pinch pretty much anyone if prompted with cheese...Yes, even Jamie Fraser.
Your Daily Blend of Entertainment News
Thank you for signing up to CinemaBlend. You will receive a verification email shortly.
There was a problem. Please refresh the page and try again.