7 Exciting Netflix TV Shows Premiering In March 2019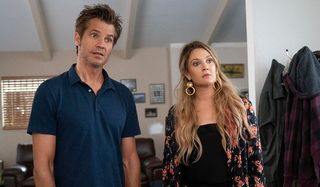 Netflix is frequently updating its offerings, and while looking at the full gamut is a helpful way to see what's coming, a title only says so much. Subscribers may miss out on a a great show simply because its name didn't sound appealing. For that reason, we're highlighting seven of the most exciting shows arriving in March, so those interested can skip the searching for something to watch and dive right into these on premiere day.
Losers - 3/1
Everyone loves an underdog story, or when a team defines insurmountable odds to come out on top as champions of the world. This is a docuseries about the people those folks beat, and those who stood on a competitive stage and, unfortunately, faltered when it came time to perform. This docu-series will detail different "losers" and show how they managed to come out on top despite their losses.
There's definitely some potential for some great stories to be told here, and should this series become a hit, there's a chance even more high profile stories of failure will be highlighted. With that said, the first batch of stories are plenty entertaining and full of plenty of great anecdotes worth checking out. Hopefully, this series gets enough viewers to justify future installments down the road.
Shadow - 3/8
Shadow follows the adventures of ex-cop Shadrach 'Shadow' Khumalo, who can't feel pain, as he hunts the streets of Johannesburg in search of criminals the police cannot track down. That doesn't mean he can't take damage, as the trailer for the South African produced drama shows him take a knife right through the leg. He doesn't react of course, which is badass, but has to be just a little bit dangerous, right?
After all, it would be handy not to feel getting shot five times, but a person will probably bleed out all the same! No doubt that may play to his detriment in future episodes, but for now the streets of Johannesburg better watch their back. Shadrich better as well, because he'll basically have no way of knowing if there's a knife sticking out of it if he misses the initial poke.
Arrested Development (Season 5 Part 2) - 3/15
Less than a year after releasing the first batch of Season 5 episodes, Arrested Development is back with Part 2 of the new season. The season picks up on the ongoing saga of the Bluth family, the mystery behind what's happening with Lucille 2 and what they're going to do about the other various hijinks they're involved in. Will the family get what's coming to them?
Wherever this season ends up, it's looking like it could be the final chapter for Arrested Development. That's what actor David Cross hinted anyway, and while he doesn't speak for Netflix of the rest of the cast and crew, it's hard not to agree with him. It took so long to get Season 5 together after Season 4, and everyone on the cast is up to other things these days. Oh well, it had a better run than The Cornballer!
Queer Eye (Season 3) - 3/15
The Fab 5 are back again, and this time, it's personal. Okay, it's not that crazy, but there is one major change in this new season of Queer Eye than in the past two. The boys are shipping out of Atlanta, Georgia, and are setting up shop in Kansas City, Missouri, for a fresh batch of makeovers. Is the Show-Me state ready for these guys?
As for other changes that will happen in Queer Eye Season 3, Tan France confirmed on The Patriot Act With Hasan Minhaj the gang will makeover a lesbian candidate. One thing that won't change, apparently, is the emotion, as the guys promised the show and changes are just as emotional as ever. That's good to hear, although it'll be hard to top some of the tear-jerking moments from Season 2!
Turn Up Charlie - 3/15
Charlie is a struggling DJ looking for to re-launch his career by any means necessary. This includes being a nanny to the daughter of a famous best friend and caring for the 11-year-old in the process. It's not an easy job, but who wouldn't babysit the worst of children for a shot at super stardom?
For those that didn't notice in the picture above, this is Idris Elba taking another dive into the world of comedy. Elba's had some solid runs on television, so folks should be excited to see what the actor will bring to this show. No disrespect to his run on The Office, but here's hoping that wasn't the best of what he has to offer the genre!
Love, Death & Robots - 3/15
If there was an award for the wildest thing to arrive on Netflix in March, Love, Death & Robots would certainly win the prize. This anthology animation series that hails from producers David Fincher, Joshua Donen, and Jennifer and Tim Miller looks absolutely bonkers. Basically, imagine the future, but with everything mentioned in the title in the wildest way imaginable.
There's probably some normalcy to be found in these 18 animated shorts, but one would have a hard time spotting it in this trailer. This is definitely the type of thing one puts on late night when they're looking to get weird, or during the day because they're still curious, but don't want to have hellacious and trippy nightmares. This is definitely a title that isn't for anyone, but for those that dig highly stylized animation, this is a godsend.
Santa Clarita Diet (Season 3) - 3/29
The bad news, fans, is Santa Clarita Diet Season 3 is arriving at the end of March. The good news, for anyone who hasn't taken a chance on the Drew Barrymore and Timothy Olyphant-led series, is that there's a full month to start and be caught up in plenty of time for what should be a very exciting story.
For those who don't remember, Sheila and Joel's life just got more complicated in Season 2 as the zom-mom learned she wasn't alone and the audience learned about The Hammonds. Then there's the whole clam thing and pictures of medieval knights, so needless to say this story is just getting started. This season is sure to be a wild ride, and well worth a re-watch for those who haven't seen it in a while.
As mentioned, one can find all these titles on Netflix (opens in new tab) at various points throughout the month of March. For a look at what else is coming to television around that time. Be sure to head on over to our midseason premiere guide and see what's coming to cable.
Mick likes good television, but also reality television. He grew up on Star Wars, DC, Marvel, and pro wrestling and loves to discuss and dissect most of it. He's been writing online for over a decade and never dreamed he'd be in the position he is today.
Your Daily Blend of Entertainment News
Thank you for signing up to CinemaBlend. You will receive a verification email shortly.
There was a problem. Please refresh the page and try again.