How Riverdale Should End Fred Andrews' Story After Luke Perry's Death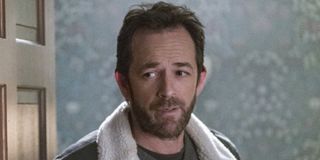 The death of Luke Perry has, unsurprisingly, affected many in the Riverdale family as both the cast and crew have mourned his passing, and production was suspended on set. Meanwhile, the decision makers have to figure out the show's next move, and how the character of Fred Andrews will move forward from this point on. Will Fred continue on through another actor, or will the show find a way to write him off?
I'm not sure which option Riverdale will pick, but I can say that I don't think the show should continue Fred's story without Luke Perry. The man has been the show's most wholesome character since the very beginning, and to bring anyone else to replicate what he's done thus far would be a mistake. This is especially true given Roberto Aguirre Sacasa's recent update, which confirmed Perry's Fred will appear in an upcoming episode.
At the moment, Season 3 of Riverdale has yet to wrap production. This means there's still episodes to film, and with the Roberto Aguirre Sacasa stating Luke Perry will be featured in an episode post-passing, an actor change midseason would just be jarring. That's especially true if Perry has other scenes going forward, and there's a possibility the character would change from one actor to the other without a long gap in between performances.
Regardless of the casting, it would be even more jarring because Luke Perry and KJ Apa really had the father-son dynamic down pat. The two vibed like few other actors on Riverdale can, and fans will certainly miss the heart-to-hearts they've shared over the past few seasons. Even if an actor was found who really replicated that relationship, it'd be hard to get behind because Perry and Apa did their collaborative scenes so incredibly well.
That dynamic and relationship Riverdale has painstakingly established complicates this exit, unfortunately, and makes a scenario where Fred gets to ride off into the sunset less than ideal. While shows have gotten away with sending characters whose actors can't return far away and forgetting about them, it doesn't really work in this instance.
Sure, Fred has spent time away from Archie, but only when the situation was absolutely necessary. He's not the type to leave Riverdale and make his son face down the various criminals and killers that are all out to get him. No, Fred would stick it out until the bitter end, and changing that part to write him out with a happy ending would be contradictory to the character.
Which is why Riverdale would be best served with writing Fred off by having him die. It may sound insensitive given real life events, but most fans recognize that death is more or less The CW series' brand. Many characters have been killed off in this show, and Luke Perry's character wouldn't be the last. Plus, given the context of Season 3, there's actually a way for it to happen with as little interruption to the season as possible.
Riverdale is in the throes of the Gargoyle King mystery, and with Fred Andrews a member of The Midnight Club, he could end up being a target of this twisted game. Granted, a recent episode seemed to show the kids were more at risk, but it wouldn't be crazy to think some event happens that inevitably ends in Fred being killed. New scenes would be shot if that wasn't the original plan, and a body double could do the scenes.
Of course, this all only works if Riverdale hasn't already shot all of Luke Perry's scenes, and he's technically wrapped on Season 3 even if episodes are still filming. That isn't necessarily a deal-breaker for killing off Fred, but it does mean he can't just be randomly offed by the Gargoyle King unless his future filmed scenes were cut to shape the story in that way. Again, we're not sure what Riverdale is planning, so we can't definitively say.
In the case that Fred's story is all plotted out and he's featured in the rest of Season 3, Fred could still be killed off. Saving his exit for Season 4 would buy Riverdale's writing staff some time to properly plot out a story, and also work through all the story nuances that come with the death of such a significant character.
Which is something that needs to happen, because Archie can't just lose his dad and trudge on. His dad means too much to him for that to happen, so if Fred is gone, Archie needs to be impacted in a major way. As easy as it may be to write Fred off via the Gargoyle King, perhaps the last half of Season 3 isn't the best time to do that if the show can't properly address it.
Because let's face it, Riverdale will be a different place without Fred Andrews. Provided there's no recasting, the town will have lost one of its best men, and one of the few always ready to rise up on the right side of an argument and fight. His exit won't just affect Archie, but also those on Riverdale who counted on him to be that person, and another character will likely need to fill that role.
To be honest I'm not sure any character currently can, but it would be nice to see Molly Ringwald have a stronger recurring presence if Fred is gone. Mary Andrews doesn't have quite the same parenting skills that Fred does, and her and Archie don't have that same dynamic. Perhaps there's an opportunity in this situation to have them figure that whole thing out, and have Mary step in and try to be Fred as opposed to recasting Fred.
All these suggestions are coming from someone who doesn't have the full picture, and can only speak from a fan's perspective. The reality is that the cast and crew have an obligation to the story, and will have to pick a way of moving forward that does as little as possible to delay the rest of the season. Judging from the love and respect everyone involved has shown towards Luke Perry, it seems they'll make the best call they can.
Riverdale airs on The CW Wednesdays at 8:00 p.m. ET. For a look at what else is on television now or in the coming weeks, head on over to our midseason premiere guide.
Mick likes good television, but also reality television. He grew up on Star Wars, DC, Marvel, and pro wrestling and loves to discuss and dissect most of it. He's been writing online for over a decade and never dreamed he'd be in the position he is today.
Your Daily Blend of Entertainment News
Thank you for signing up to CinemaBlend. You will receive a verification email shortly.
There was a problem. Please refresh the page and try again.