Kaley Cuoco Was Originally Rejected From The Big Bang Theory Due To Her Age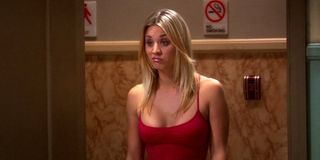 When Kaley Cuoco was signed on to The Big Bang Theory back in 2007, the actress was in her early twenties, whereas her co-stars were a little older. In fact, Cuoco recently revealed she actually tried out for the sitcom when it was casting for its original pilot. If she had gotten the role, she would have played a later-cut character named Katie, but she wasn't hired early on and youth was allegedly to blame.
In a recent profile of the history of The Big Bang Theory, Kaley Cuoco admitted she didn't get the role mostly because of her young age at the time the original pilot was filming. She noted:
Kaley Cuoco admitted that a year later her age wasn't so much of a problem. In fact, the character of "Katie" had been retooled to a character that more fit her personality. She got The Big Bang Theory gig and the rest is history.
If you are a big fan of The Big Bang Theory, you may already know the CBS sitcom produced two pilots. The original featured Leonard and Sheldon, but also two female characters named Katie and Gilda. The former was described as "tough as nails" while the latter was a colleague of the two male leads.
Speaking in the same profile to TV Insider, Warner Bros. Television Group President Peter Roth explained why a second pilot was needed before The Big Bang Theory could make it to the air on CBS. Per Roth:
Therefore "Katie" became Penny, an aspiring actress. The character was definitely different than the original in the pilot version. In addition, over time, Penny herself has changed. For the first seven seasons, Penny worked as an actress while she tried to get her acting career off of the ground.
However, in Season 8 she really moved forward and got on track, landing a huge job as a salesperson at a pharmaceutical company, something she excelled at and has helped her finances to get in order. She's also earned more nerd cred over time, having spent a lot of time with Leonard, Sheldon and the gang. Plus she married Leonard! So that's a change as well. As she grew as a character, the show also grew in popularity, becoming the #1 show during its 11th season on the air.
She wasn't the only addition to the retooled pilot. That's when The Big Bang Theory added Simon Helberg and Kunal Nayyar as well. The two characters didn't even pop in until partway through the pilot, and that's when Helberg says the "audience erupted."
All in all, retooling seems to have been the right call, as it led to a tight-knit cast and hundreds of episodes of a hit sitcom that has resonated with fans around the world. Kaley Cuoco has seemed pretty devastated to be leaving the role of Penny behind. She's been in the character's shoes for 12 seasons, now, and after CBS made the announcement that The Big Bang Theory would be ending this spring, she openly discussed her feelings, promising fans the ending will be satisfying:
She also reported to Ellen DeGeneres that she and some of the crew on the set shared a moment when they burst into tears while filming a scene. Plus, she's also gotten nostalgic ahead of recent episodes and has been sharing a lot on social media, including the post below as well as posts from recent Season 12 episodes that give fans a view onto the set.
For now, there are still a few episodes of The Big Bang Theory left to film. Kunal Nayyar revealed a short while back that the last episode is expected to wrap on April 30, after which the finale of The Big Bang Theory will air in May. Kaley Cuoco will be 33 at that time—a far cry from the woman who was "too young" to star in the original pilot, but still younger than her male co-stars. She's spent a good chunk of her career on The Big Bang Theory and we're excited to see where she lands next.
Although, Cuoco has said she'll be spending a lot of time doing work for her production company as well as spending time with her animals in the future. She's also set to voice Harley Quinn for a DC Universe project.
For now, you can catch her on Thursday nights at 8 p.m. ET, only on CBS -- at least until May 16 when the finale airs. Next TV season, Young Sheldon will be back, although it's still up in the air whether or not the spinoff will be the show kicking off the night in CBS' Thursday night lineup. See what else is returning to the schedule at midseason with our full guide and stay tuned as the 2018-2019 season starts wrapping up this spring!
Your Daily Blend of Entertainment News
Reality TV fan with a pinch of Disney fairy dust thrown in. Theme park junkie. If you've created a rom-com I've probably watched it.