CBS Boss Is Not Happy The Big Bang Theory Is Ending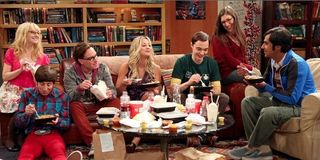 Fans of The Big Bang Theory have had some time now to get used to the fact that one of their favorite shows is about to wrap its 12 season run in May, and while some of them are probably still upset about losing a show they've loved for so long, it turns out that they aren't the only ones dealing with dismay over the end of the long-running sitcom. While we've heard that that many of the stars are sad to leave their roles behind, CBS Entertainment president Kelly Kahl is also deep in his feelings about it. Here's what he had to say:
Well, that was blunt. To be fair, though, Kelly Kahl was certainly telling the truth when he mentioned to The Wrap that The Big Bang Theory has had "an amazing and consistent run." After a wonky start that saw the cast and crew wonder if a second season was even possible for them, the writer's strike of the 2007 through 2008 fall season, oddly enough, saw the series get a new lease on life. According to co-creator Chuck Lorre:
By the time San Diego Comic-Con came around in the summer of 2008, it was clear by the number of fans waiting to watch the cast and creators talk about the show that they'd finally managed to strike a chord with people, and might be on to something that would turn out to be pretty big. And, in the seasons since that summer, The Big Bang Theory has been such a boon for CBS that anyone can see why Kelly Kahl would be sad to see it go in just a few short weeks.
The Big Bang Theory went from pulling in 8.3 million viewers in its first season, to averaging over 20 million viewers by Season 7, and it's been the top scripted show for two seasons now, while being among the top three most-watched shows for the past seven years. The comedy has also racked up 10 Emmy wins during its run, which include an impressive four consecutive wins for star Jim Parsons. Beyond that, The Big Bang Theory is estimated to have brought in between $125 million to $150 million in advertising revenue for the network and Warner Bros., the studio behind the comedy, as well as bringing in over $1 billion in syndication profits for Warner Bros.
The beloved sitcom will also end its run as the longest-running multi-camera show in TV history, going out with 279 episodes under its belt. While Kelly Kahl and other CBS executives had been hoping to keep the series going beyond Season 12 as of early August 2018, their hopes were dashed by stars like Jim Parsons, who wanted to move on, and the show's ending was announced before that month was out.
Beyond what the show has meant to CBS and Warner Bros., The Big Bang Theory has made its stars (Johnny Galecki, Jim Parsons, Kaley Cuoco, Kunal Nayyar, Simon Helberg, Melissa Rauch and Mayim Bialik) some of the highest paid actors on television. This, in addition to the fact that they've all been able to stay reliably employed for several years, may be why some of them are having a difficult time letting the show go. While Nayyar and Cuoco have been openly nostalgic and talked about the trouble they're having with moving on from a job that's meant so much to them for so long, Bialik has gone even deeper with her feelings, and discussed how the show's ending is actually reminding her of other major losses she's had in her life.
Wow. Even though there would certainly be a lot of people eager to let go of the sensible shoes-dowdy skirt-sweater-button down shirt combo that Mayim Bialik has had to rock for a little over nine seasons as Amy Farrah Fowler, it's pretty clear that this experience is one she's having a hard time preparing to put aside. It sounds a lot like the cast and crew have really become a family over the years, so it's incredibly likely that they'll continue to rely on each other after The Big Bang Theory ends to help them deal with the massive life changes that will come from not having this steady gig anymore. Maybe they can invite Kelly Kahl to their post-finale hang sessions? It sure sounds like he could use some comfort in a few weeks.
Luckily for fans (and Kelly Kahl) The Big Bang Theory doesn't wrap up its final season until sometime in May, and there are surely still a lot of surprises on the way. Will Raj and Anu decide to get married after all? Are Sheldon and Amy really on the way to procreation? Is not having children going to be a deal breaker for Penny and Leonard? Will Bernadette ever talk to Howard about his horrible hairstyle? You can keep up with all the revelations that are sure to come down the pike through then by watching when The Big Bang Theory airs every Thursday at 8 p.m. on CBS.
Bachelor Nation, Gilmore Girl; will Vulcan nerve pinch pretty much anyone if prompted with cheese...Yes, even Jamie Fraser.
Your Daily Blend of Entertainment News
Thank you for signing up to CinemaBlend. You will receive a verification email shortly.
There was a problem. Please refresh the page and try again.