Big Bang Theory's Kaley Cuoco Shares Story About Crying With The Crew Over Series Ending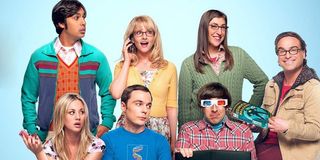 It's hard to believe there are only nine episodes left of The Big Bang Theory before the show finally wraps its final episode. However, it's starting to hit home for the cast and series lead Kaley Cuoco has especially had trouble with the series wrapping. In fact, she says she's been a hot mess – especially compared to the rest of the cast—on the set of the comedy. She revealed on Ellen she's been getting super emotional in recent weeks, noting,
What a touching story. Reports have indicated the decision to end the series has come from lead Jim Parsons wanting to move on and CBS deciding it was time to throw in the towel. Still, the series has been on the air since 2007 and has maintained its principle players through the show's entire run, adding characters like Bernadette and Amy later on. The cast and crew should know each other very well at this point and this story in particular, which also includes lead Johnny Galecki, really highlights how much people can bond over 12 years on a TV show.
However, crying seems to be pretty common for the actress, who really got famous thanks to signing on to play Penny more than a decade ago. She also revealed to Ellen and the audience that if anyone tries to hug her at all in relation to the fact the show is ending, immediately the tears begin to flow. And when asked who was the most emotional person on set when it came to the show ending, everyone quickly pointed out it was Kaley Cuoco.
It's not surprising in the least that Kaley Cuoco might be the most emotional personality on set as she's already said plenty of touching stuff about the impending end. Judging by how some of the other characters have handled the news—the likes of Simon Helberg and Kunal Nayyar spend time cracking jokes—it's unsurprising she'd be the one to bust out the tears.
In fact, while many of the series' leads are funny in real life, even about emotional endings, Jim Parsons did admit he's fully expecting to cry at some point down the line even if he's stuck with being humorous about the end so far. He also said on Ellen,
We'll have to wait and see whether or not Jim Parsons gets emotional before the end. We do know he'll in particular miss Simon Helberg, with whom the actor has shared a lot over the past 12 years. The actor has also already expressed why he felt it was time to let go of the long-running CBS sitcom. He said previously:
There are two schools of thought when it comes to shows ending on network TV. The first is that a show should go out while it is still on a high note, which is arguably why the likes of Seinfeld and other shows ended when they did. Then there's the school of thought that shows should go on as long as the leads are happy and people are still watching, which is how shows like Criminal Minds or Supernatural have been on the air for so long.
Honestly, The Big Bang Theory has had a great run. Twelve seasons is nothing to regret or to be sad about. However, it's likely because the cast has been together for so long and spent so much time together that the fact life will be changing is overwhelming and emotional for cast members like Kaley Cuoco.
Change can be good, but it can also be bittersweet. That's what we are seeing right now as The Big Bang Theory slowly makes its way to the end. Still it's not the first long-running show and it won't be the last to do so.
Luckily, it's not something the cast has to face just yet. The end can be something that is considered in the abstract for a little longer as the series approaches the end of filming and the last round of press before its final bow. The same is true for the audience, which can continue to tune in on Thursday nights at 8 p.m. ET, only on CBS.
And hey, even when it's all over, at least there should be more Young Sheldon to look forward to.
Amazing Race & Top Chef superfan with a pinch of Disney fairy dust thrown in. If you've created a rom-com I've probably watched it.
Your Daily Blend of Entertainment News
Thank you for signing up to CinemaBlend. You will receive a verification email shortly.
There was a problem. Please refresh the page and try again.