Sean Astin Is Returning To The Big Bang Theory, Here's What He Told Us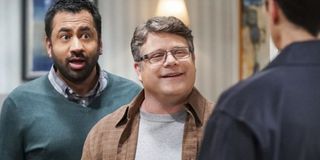 The end is nigh for The Big Bang Theory as the twelfth and final season presses on, but fans of the smash hit sitcom shouldn't despair that it's going to end on a whimper. One of the most memorable guest stars from Season 12 is reprising his role not once but twice more before the final credits roll. Yes, Sean Astin is returning to The Big Bang Theory, and he recently chatted with CinemaBlend about what to expect:
A fan of The Big Bang Theory himself, Sean Astin plays physicist Dr. Pemberton, who along with his Fermi-Lab colleague Dr. Campbell (played by Kal Penn) accidentally confirmed a bold new "Super Asymmetry" theory. The theory was presented in a paper penned by Sheldon and Amy, and the data from Pemberton and Campbell meant that Super Asymmetry could lead to a Novel Prize win. Unfortunately, there was a catch. Nobel Prizes can only be shared by three people, and the Fermi-Lab folks wanted to cut Amy out of the running.
Basically, Big Bang Theory viewers who might have thought Sean Astin would play another lovable character like Bob from Stranger Things must have been surprised when Dr. Pemberton proved himself more than willing to cast Amy aside and focus on getting the Nobel for himself, Campbell, and Sheldon. His first episode, called "The Confirmation Polarization," ended with Sheldon declaring that he wouldn't ask his university to endorse him for the Nobel without Amy's name on it, but that clearly didn't mean the story was over.
Sean Astin's first return to The Big Bang Theory Season 12 will be an episode called "The Laureate Accumulation" and hit the airwaves on Thursday, April 4 at 8 p.m. ET on CBS. No footage of the episode has released just yet, but CBS has shared some photos of what's to come. Take a look at Pemberton and Campbell mixing it up with the Big Bang Theory regulars, among others!
Well, at least it looks like everybody will be civil enough to attend an event together! Sean Astin's first episode didn't end with Sheldon seeming like he wanted to be back with Pemberton any Campell any time soon, but winning a Nobel Prize has been a dream of Sheldon's for a long time, and just because he didn't want to win it without his wife getting credit doesn't mean he doesn't want to win for Super Asymmetry!
Of course, Sean Astin couldn't spoil precisely what's in store for fans when he returns to The Big Bang Theory for the first of his two remaining episodes, but he did drop some tantalizing details about what to expect based on how his previous episode ended:
The Big Bang Theory didn't just pull out all the stops for Sean Astin and Kal Penn to play the two Fermi-Lab physicists. The show also recruited three real-life Nobel laureates to appear in the episode. According to the episode description, those laureates will be Kip Thorne, George Smoot, and Frances Arnold. Thorne is a theoretical physicist, Smoot is an astrophysicist, and Arnold is a chemical engineer. Fans can add them to the list of real-life scientists to have contributed to The Big Bang Theory!
The goal in "The Laureate Accumulation" for Sheldon and Amy will be to recruit the previous laureates to their side rather than allow Pemberton and Campbell to get all the positive attention and support. Do they stand a chance of winning the Nobel Prize with both of their names attached, or will only one of them get credit and have to share the acclaim with two physicists who want to win through shady means? Or worse, will neither get credit?
Only time will tell. Given that Sean Astin is slated to appear in two more episodes, fans may not want to count on the question of who does and doesn't win a Nobel being conclusively resolved by the end of "The Laureate Accumulation." Still, everyone will just have to wait and see.
Although Sean Astin is only slated for two episodes of what remains of The Big Bang Theory, he's not leaving the sitcom circuit, although his new project promises to deliver more than just laughs. He stars in the upcoming multi-camera sitcom No Good Nick for Netflix, which premieres its first batch of episodes on Monday, April 15 at 12:01 a.m. PT.
Sean Astin shares the screen with Melissa Joan Hart of Sabrina the Teenage Witch fame, and they play the parents of two teenage kids who have an unexpected twist thrown their way when a 13-year-old by the name of Nick (short for Nicole) joins the family, not knowing that she's a "street-smart con artist."
All things considered, his No Good Nick character sounds a lot more wholesome than his Big Bang Theory character. Perhaps he'll be a little bit more like Stranger Things' Bob than Big Bang's Dr. Pemberton! At least we can be pretty confident that Pemberton's fate won't involve demo-dogs like good old Bob.
Check out Sean Astin's first return to The Big Bang Theory (opens in new tab) with "The Laureate Accumulation" on April 4 at 8 p.m. ET. Don't forget to swing by our 2019 Netflix premiere rundown to see all the shows in addition to No Good Nick that are on the way.
Resident of One Chicago, Bachelor Nation, and Cleveland. Has opinions about crossovers, Star Wars, and superheroes. Will not time travel.
Your Daily Blend of Entertainment News
Thank you for signing up to CinemaBlend. You will receive a verification email shortly.
There was a problem. Please refresh the page and try again.