Will Empire's 'Trust' Tour Be The End Of The Lyon Family?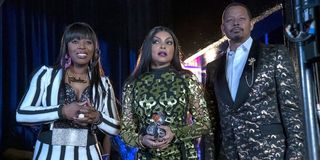 Spoilers ahead for the latest episode of Empire Season 5, called "Hot Blood, Hot Thoughts, Hot Deeds."
Empire has spent Season 5 building to the reveal of a big death, and we now know that the person who winds up in the coffin will indeed be a member of the Lyon family. It's a waiting game now that the flash-forwards are finished. After the events of "Hot Blood, Hot Thoughts, Hot Deeds," the question is whether everything could go sideways for the Lyon family well before somebody bites the dust.
A whole lot went wrong with the beginning of the "Trust" tour, and it could be the end for the Lyons as a family. The tour would be free of charge for attendees, feature Empire's biggest and best artists, and ideally generate the kind of positive press that could save Empire. Unfortunately, a whole lot backfired on several fronts. Can the Lyons recover? Here's what went down.
Lucious May Have Killed A Guy
In case you thought Lucious' days of violence beyond the occasional roughing-up to get his way, "Hot Blood, Hot Thoughts, Hot Deeds" proved you very wrong. He was approached in a back alley by Treasure's manager, who was trying to extort Empire for money due to Treasure blowing up with her Tiana duet. Lucious originally agreed to pay him $30,000, but when that payment didn't happen, the manager showed up to demand $50,000... a month.
Unfortunately for Treasure's manager, he picked the wrong place and the wrong time to make demands of Lucious Lyon. Although the first night of the "Trust" tour was a success, Lucious was caught in what appeared to be a compromising position and got some bad news (more on both of those later). Basically, he was not to be trifled with, but Treasure's manager showed up to do some trifling.
When the manager grabbed Lucious by the shoulder, Lucious snapped and attacked. He brutally beat the manager into submission, and although the episode technically didn't confirm that the guy is dead, he looked pretty dead. Lucious came to his senses and looked appalled at what he'd done... understandably, since he'd learned from Thirsty that the feds were looking at Damon Cross, and there was every reason to suspect that eyes were the Lyons as well.
If Lucious killed a guy, he's in deep trouble and could get caught. We do know that the feds will be involved by the time the funeral rolls around. Could Lucious wind up in prison? Or on the run? Or alienating his family so much that they want nothing to do with him? If the guy isn't dead, what kind of trouble is in store from him after the brutal beating?
Cookie Went To Damon Cross
Empire has made it pretty clear that something is going to go down between Cookie and Damon Cross, as sparks were flying between them from their first meeting, and the Panama trip just fanned the flames. By this episode, Cookie was having steamy dreams about him. Still, he stuck with his statement that he wouldn't go after her; she would have to go to him if she wanted him.
For most of the episode, it seemed unlikely that Cookie would do more than dream about elevator hookups and throw dirty looks as Giselle for cuddling up to him. Then, she walked in on Lucious with Treasure on his lap.
Now, viewers knew that Lucious wasn't up to his old tricks. He'd given Treasure a pep talk earlier in the hour, and Treasure decided to thank him by straddling him in his chair while alone in a room with him. He firmly rebuffed her and was in the process of getting her off of him, but he clearly didn't want to manhandle her. Cookie walked in at the wrong time.
That said, it's easy to understand why Cookie would assume the worst after walking in on Lucious and Treasure. She's put up with a lot from him, and she stormed away from him, flashing back on moments when he was with other women, as well as when he divorced her while she sat in prison for his sake. Lucious tried to catch up to her, but she had enough of a head start that she made it up to Damon's hotel room.
He opened the door, she walked in and dropped her coat, and the scene cut away before we could see what happened. If they did hook up, then Cookie may feel very guilty when she finds out that nothing happened between Lucious and Cookie, especially in light of the news Lucious received about Andre.
The Truth Is Out About Andre
The bombshell reveal that Andre is dealing with Stage 4 advanced lymphoma was elaborated upon this week, but not everything is doom and gloom for him. Teri had connections to get Andre into a chemotherapy program. Unfortunately, the chemo program is going to be brutal on him, and there's no guarantee that it will halt the progression of his cancer.
Andre didn't want his family to know about his diagnosis, and he even intended to go back to work and get the money for Lucious to pay off Treasure's manager. Before he could, he doubled over with nausea, and he wound up all but unconscious in Teri's bed. Teri took matters into her own hands and called Lucious from Andre's phone to break the terrible truth.
Lucious learning that Andre is sick and bringing the rest of the family is could be good for Andre, although the timing of the call meant that Lucious was on edge when it came to the confrontation with the manager. Andre's illness could be bad for the family, however, as they need to focus on the "Trust" tour. Empire could fall apart even as the Lyon family struggles to stick together. Is this further proof that there will be more than one big death in Season 5?
Kai Came Back
The seemingly-solid relationship between Kai and Jamal fractured earlier this season when they couldn't agree about how the Lyon family handles business. Jamal declared that he was and would always be a Lyon, and Kai went back overseas, their engagement broken. Jamal has been moping around in his free time, but he rose to the occasion on the first night of the "Trust" tour and delivered a heartfelt performance.
As it turns out, Kai came back to see Jamal's big performance, as Jamal learned when Kai knocked on his hotel room door after the concert. They were kissing almost as soon as the door opened, and their relationship seems to be back on. Given one theory that Empire would write out Jussie Smollett after his scandal via his relationship with Kai, is this the first step toward one of the Lyon sons leaving?
The charges against Jussie Smollett have been dropped, with the Empire cast and crew divided over how it was handled, so any plans to write Smollett out may not be necessary anymore. Still, Smollett was cut from the final two episodes of the season back before the charges were dropped, so the end of Jamal's story could have already been in place by the time Smollett's case was dismissed.
Only time will tell. The next new episode of Empire airs on Wednesday, April 10 at 8 p.m. ET on Fox.
Laura turned a lifelong love of television into a valid reason to write and think about TV on a daily basis. She's not a doctor, lawyer, or detective, but watches a lot of them in primetime. Resident of One Chicago, the galaxy far, far away, and Northeast Ohio. Will not time travel, but will sneak references to The X-Files into daily conversation.
Your Daily Blend of Entertainment News
Thank you for signing up to CinemaBlend. You will receive a verification email shortly.
There was a problem. Please refresh the page and try again.