Ouch! One Of Kit Harington's Balls Got Stuck While Filming The Premiere's Dragon Scene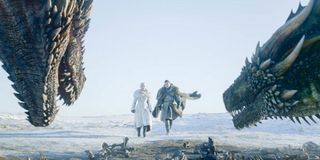 We all know that there are certain potential hazards that come with filming a show or movie that's filled with fighting, stunt work, fake weapons and the like. Maybe someone lands a punch right to your kisser when they were supposed to pull that punch. Maybe you fall off of a galloping horse during a scene. Or, you know, maybe you get one of your delicate man parts trapped in a stunt rig while filming a scene where you're supposed to be riding a dragon.
That, unfortunately, is exactly what happened to Kit Harington as he was shooting his dragon riding scene for Game of Thrones' Season 8 premiere. Man, let's just give this dude an Emmy, already.
So, this painful (and, yes, painfully funny) story takes a bit of set up. As you can probably imagine, Harington was not on a real dragon (Or, wyvern. Fine!), he was actually riding a stunt rig known as a "buck." This is a robotic motion base that's place in front of a green screen, and, in the case of Game of Thrones, it's used to simulate the motion of a dragon, along with camera work that actually flies around the base as it moves and bucks, sort of like a mechanical bull.
Well, if you saw the Game of Thrones premiere a couple of nights ago, you know that our half Targaryen friend Jon Snow got his first ride on one of Dany's dragons, meaning that Kit Harington had to take a ride on the buck to film all his flying scenes. And, this is where all the trouble for Harington's poor groin was. Apparently, that rough ride that Jon took led to Harington having an experience most men would never enjoy. Here's what he had to say:
Ugh. Have mercy! Talk about yowzers in the trousers, amirite? I appreciate that Kit Harington felt the need to apologize after giving out this tasty tidbit of information when he was interviewed about the making of the Season 8 premiere for the behind the scenes feature Game Revealed, which was posted to the official YouTube channel, but I am, honestly, more pleased that he was brave enough to share such a delicate and potentially embarrassing story with Game of Thrones fans everywhere. Try to stop thinking about Harington's sensitive area now.
I have to say, though, as someone who has never had balls, I am a bit confused. So, I understand that the male undercarriage is easily damaged on the best day, and that things can do a lot of flipping and flopping if not properly looked after and / or restrained. But...Kit Harington was clearly wearing pants in the scene where he's riding the dragon. This was no half or fully naked love scene on dragon back. Why did his clothing not provide enough of a barrier against ball confinement?
Really, how does one's ball get caught in anything external from the pants when one is wearing trousers? Also, was he not wearing underwear for extra protection from the elements? Did the buck throw Kit Harington around so much that one ball, and no other intimate parts, got loosed from his costume and was then left vulnerable enough so that it could become trapped in a part of the motion base? Why are cracks large enough for a man's ball to become ensnared even allowed on the top of this device? Anything could fall through there! An unfortunate animal! A small child! Who do we talk to about this?!
Well, seeing as how Kit Harington was able to continue filming and even laugh about his experience on the buck, I'd hazard a guess that any damage done wasn't permanent. I mean, those mental scars will likely never go away and he'll probably have sweaty flashbacks the next time he's forced to ride a buck while filming, but I can imagine that there are plenty of therapists who can help him through the trauma when that time comes. For now, you can watch Game Revealed, including Harington's testicle trap confession, which begins at the 14 minute mark:
We can see if Jon (and Kit Harington) ever rides a dragon again when Game of Thrones continues Sundays on HBO at 9 p.m. EST.
Yennefer's apprentice, Gilmore Girl; will Vulcan nerve pinch pretty much anyone if prompted with cheese...Yes, even Jamie Fraser.
Your Daily Blend of Entertainment News
Thank you for signing up to CinemaBlend. You will receive a verification email shortly.
There was a problem. Please refresh the page and try again.