How Empire Ended Jamal's Story In Jussie Smollett's Final Season 5 Episode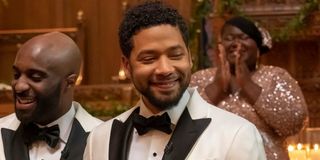 Spoilers ahead for Episode 16 of Empire Season 5, called "Never Doubt I Love."
Empire Season 5 has been intense and engaging as it builds to the reveal of who was in the coffin from the premiere's flash-forward, but the story was overshadowed for a while due to the scandal surrounding actor Jussie Smollett, whose claim that he was attacked on the streets of Chicago resulted in an investigation into Smollett and his subsequent arrest under the felony criminal charge of disorderly conduct. Though the charges have since been dropped, Smollett had already been cut from the final two episodes of the season.
The April 24 episode, called "Never Doubt I Love," was Jussie Smollett's final episode of Empire as Jamal in Season 5, and possibly forever, although no official decision about his future on the series has been announced. Here's how "Never Doubt I Love" ended Jamal's on-screen story in Season 5.
If this episode was indeed the end of Jussie Smollett on Empire, then at least he got to leave in an episode that was happy for his character. Despite a season full of setbacks and heartbreak, Kai and Jamal were preparing to finally tie the knot in "Never Doubt I Love." Due to the fame of the Lyon family, the upcoming nuptials were causing all kinds of stir in the press, and somebody leaked information to one outlet revealing Kai's HIV+ status.
Once upon a time, that might have been enough to derail the romance, but not in "Never Doubt I Love." The two men were determined to move forward with their wedding, although the leak to the press was not the only wrinkle in the affair.
Jamal's bachelor party wasn't the event of brotherly love (plus Becky) that he'd intended after Andre invited Kingsley, but everybody behaved well enough. No punches were thrown, anyway. That's something, right?
Compared to how he handled Jamal's sexuality back in the first season, Lucious was more or less behaving himself about the wedding, but he balked when Jamal nervously and excitedly asked his dad to join his mom in walking him down the aisle, citing how Lucious and Cookie's love story seems to outlast anything and everything. Lucious didn't want to, disappointing Jamal and angering Cookie.
Fortunately, Lucious came around by the time of the ceremony, but not before a scare from the feds and Cookie having a talk with him. Less fortunately, Damon Cross scored himself an invite to the wedding when he dropped off Lucious and Cookie's painting that he'd secretly had in his possession while the whole family was home, and he had a tense conversation with Cookie before the wedding about their relationship.
Jamal overheard and was looking more than a little upset that his parents' relationship might not be what he thought, but Cookie assured Jamal that she'd only gone to Damon because she needed somebody to lean on in light of Andre's prognosis and said that Damon had gotten the wrong idea. Unsurprisingly, she left out the little detail that she'd dropped by his hotel room with every intention of revenge hooking up with him before second thoughts stopped her.
Despite all of these things going wrong, the wedding went on with minimal hitches. Both Jamal and Kai were walked down the aisle by their parents, and Chaka Khan performed an opening number for the wedding. Kai's vows were lovely, and Jamal scared just about everybody in attendance -- including Kai -- when he said that he couldn't do this.
As it turns out, the "this" he was talking about was saying vows that he'd written ahead of time. Instead, he delivered vows that were unrehearsed and came straight from the heart. Rings were exchanged, new husbands kissed, petals rained down from the church ceiling, and the happy couple opened their reception with a sweet dance.
If this was indeed the last of Jamal on Empire, at least nobody can say that he got an unhappy ending. Honestly, it won't even be complicated for Empire to explain away his absence. Jamal can simply be said to be off on his honeymoon for the last two episodes. What may be more difficult to explain is where Jamal is when his brother is dying.
Andre revealed to his dad -- and only his dad -- by the end of the episode that although he had beaten the cancer, he was still going to die. The toxic chemicals that had been pumped into him to get rid of the cancer had weakened the muscle of his heart, and the only way he could survive is to get a new heart, and he would never be approved for a transplant due to the chemo. Andre told his dad that he intends to go out on his own terms.
So, the odds are pretty good that Jamal won't know that Andre is dying, unless Lucious spills the beans to the rest of the family. Andre could indeed be heading for the grave, with no misdirect at all that he's the Lyon lying dead in the coffin in the flash-forward. Of course, there's always the chance that more than one major character will die, and he may decide he wants to live as long as possible if Teri reveals her pregnancy.
At this point, only Cookie knows that Teri has a bun in the oven. Somewhat hilariously, Teri was clutching a flute of champagne when she confessed her pregnancy to Cookie at Jamal's wedding reception. Cookie had noticed that something was off when Teri balked at her overenthusiastic comments about possible future wedding bells for Teri and Andre.
It's not 100% clear if Teri knows that Andre is dying, but it's pretty likely. She has been his confidante throughout his whole ordeal, and she is the medical professional. Her decision not to tell him about the pregnancy could complicate things down the road, especially if he goes through with killing himself.
Would Teri blame herself, if she hadn't told him the truth? Or would she understand that he simply didn't want to waste away, as he wouldn't have survived to see the child born anyway? When Lucious asked Andre how much time he had left, Andre could only say "weeks" or "months."
We'll have to wait and see if Empire's future is without Jamal, Andre, and potentially another major character. The show technically hasn't been renewed for Season 6 just yet, so fans have a lot of questions to ponder moving forward. Tune in to Fox on Wednesday, May 1 at 8 p.m. ET for the penultimate episode of Empire Season 5.
Your Daily Blend of Entertainment News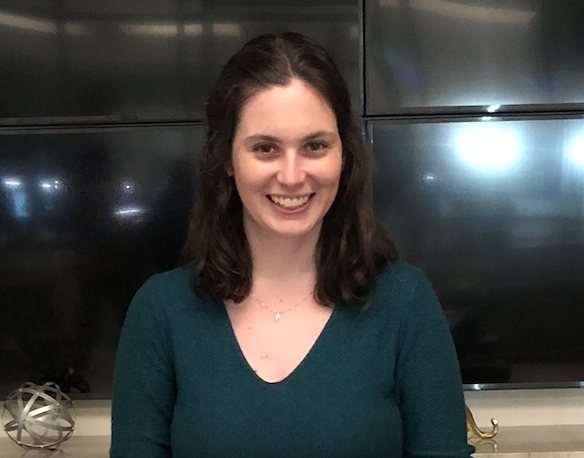 Laura turned a lifelong love of television into a valid reason to write and think about TV on a daily basis. She's not a doctor, lawyer, or detective, but watches a lot of them in primetime. Resident of One Chicago, the galaxy far, far away, and Northeast Ohio. Will not time travel and can cite multiple TV shows to explain why. She does, however, want to believe that she can sneak references to The X-Files into daily conversation (and author bios).