Sarah Paulson: What To Watch On Streaming If You Like The American Horror Story Star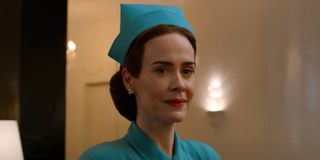 CinemaBlend participates in affiliate programs with various companies. We may earn a commission when you click on or make purchases via links.
I think many would agree at this point that the casting of Sarah Paulson is enough to assure you are in for a good thriller. One of the top reasons viewers of American Horror Story keep coming back each season is to see what character she will play next and what she will bring to the role. Those very fans are probably the same people who made Run, her latest feature-length effort, the most watched movie on Hulu to date.
While film and TV projects of a spookier and more suspenseful variety certainly make up the bulk of the Tampa native's filmography, you can not forget about her comparatively more positive credits, such as criminally fun comedies like Ocean's 8, lavish throwbacks to romantic '60s cinema like Down with Love, or even more historical period dramas like The Post, from director Steven Spielberg. None of these movies are currently available to stream, however, but there are plenty of other titles within a similar tone starring Sarah Paulson that you can still find at the moment on most of your favorite digital platforms.
In fact, I sifted through all the best-known streaming services I could think of and managed to conjure a list of 12 movies and TV shows every person who considers themselves a fan of Sarah Paulson should see. As you will probably expect, there are a good deal of thrillers among the following selection, such as this more recent flick that has acquired some killer ratings and killer reviews thanks a particularly killer premise, so to speak.
Run (Hulu)
A wheelchair bound and homeschooled teenager makes a discovery about her mother's protective instincts that gives her longtime ambition to flee the nest a more dire purpose.
Why It's A Good Option for Sarah Paulson Fans: Originally intended for a fitting Mother's Day weekend release before Hulu's acquirement, Run is a relatively simple and familiar escape thriller elevated by Sarah Paulson's reliably chilling performance as a mom from hell and especially actress Kiera Allen in a shockingly brilliant debut.
Stream Run on Hulu here (opens in new tab).
Ratched (Netflix)
A woman is hired as a nurse at a widely respected insane asylum for a supposedly personable appearance and committed disposition that hides her darker true nature in 1940s California.
Why It's A Good Option for Sarah Paulson Fans: Co-creator Ryan Murphy knew from working with her on American Horror Story that Sarah Paulson was perfect for the title character of Ratched, a twisted Netflix original series profiling the earlier life of Louise Fletcher's Oscar-winning, blood-curdling role in One Flew Over the Cuckoo's Nest.
Stream Ratched on Netflix here (opens in new tab).
Glass (HBO Max)
A real-life superhero (Bruce Willis) meets a villain with Dissociative Identity Disorder (James McAvoy) and reunites with his disabled former ally turned arch enemy (Samuel L. Jackson) at mental hospital where they begin to question the reality of their unusual abilities.
Why It's A Good Option for Sarah Paulson Fans: While not quite the sadist that Mildred Ratched is, Sara Paulson is still an effective antagonist as a psychiatrist trying to convince the main characters they are delusional in Glass, the final chapter of M. Night Shyamalan's comic book-inspired trilogy first kicked off by Unbreakable in 2000 and followed by Split 17 years later.
Stream Glass on HBO Max here (opens in new tab).
The People V. O.J. Simpson: American Crime Story (Netflix)
Former NFL player and actor O.J. Simpson (Cuba Gooding Jr.) is put on trial for the June 1994 murders of his ex-wife and her friend.
Why It's A Good Option for Sarah Paulson Fans: Sarah Paulson won her first Emmy and her first Golden Globe for her performance in the first season of FX's historical anthology series American Crime Story as Marcia Clark, one of the struggling prosecuting attorneys of the infamous 1997 court case.
Stream The People v. O.J. Simpson: American Crime Story on Netflix here (opens in new tab).
Carol (Netflix)
A young retail clerk (Rooney Mara) an a middle-aged mother going through a divorce (Cate Blanchett) strike up a close friendship that begins to evolve into something more during the holiday season in 1950s New York City.
Why It's A Good Option for Sarah Paulson Fans: While Rooney Mara and Cate Blanchett are both a tour de force as the lead duo of Carol, Todd Haynes' gorgeous forbidden romance, Sarah Paulson is an undisputed scene-stealer as Carol's friend and possible former lover - a role that could be interpreted as especially personal for the openly lesbian actress.
Stream Carol on Netflix here (opens in new tab).
Bird Box (Netflix)
A woman (Sandra Bullock) struggles to bring her children to a potential safe haven years after the apocalyptic emergence of a deadly supernatural force that brings death to anyone who lays eyes on it.
Why It's A Good Option for Sarah Paulson Fans: Despite having very little screen time, Sarah Paulson makes a lasting impact as Jessica, the sister of Bullock's character Malorie, in Bird Box - an intriguing fantasy thriller based on the 2014 novel by Josh Malerman (despite assumptions of ripping off fellow 2018 sci-fi flick A Quiet Place) that was a huge hit for Netflix.
Stream Bird Box on Netflix here (opens in new tab).
The Goldfinch (Amazon Prime)
A young man (Ansel Elgort) begins to face the consequences of stealing a priceless painting from the rubble of museum which was destroyed in a terrorist bombing that also killed his mother when he was a child.
Why It's A Good Option for Sarah Paulson Fans: Once again, Sarah Paulson makes a big impression in yet another adaptation of a bestselling novel here, in this case the 2019 Amazon Prime original film The Goldfinch in which she plays Xandra, who is dating young Theo Decker's (Oakes Fegley) estranged father Larry (Luke Wilson) at the time of his mother's tragic death.
Stream The Goldfinch on Amazon Prime here (opens in new tab).
Mud (Hulu)
A teenage boy (Tye Sheridan) and his pal (Jacob Lofland) become friends and accomplices to a murderer (Matthew McConaughey) trying to outrun a Texas bounty hunter and reunite with his lover (Reese Witherspoon).
Why It's A Good Option for Sarah Paulson Fans: Playing Mary Lee, the mother of Tye Sheridan's character Ellis in writer and director Jeff Nichols' 2011 gothic crime thriller made Sarah Paulson a central figure in the history of the McConaissance as Mud, named after Matthew McConaughey's fugitive, is widely credited as the first major jumpstart to the future Oscar-winner's career.
Stream Mud on Hulu here (opens in new tab).
12 Years A Slave (Hulu)
A professional musician from New York (Chiwetel Ejiofor) travels to Washington, D.C., is abducted into the slave trade, and sold to a Louisiana plantation where he is held for more than a decade.
Why It's A Good Option for Sarah Paulson Fans: Arguably the most chilling antagonist that Sarah Paulson has played thus far is the the equally bigoted wife of Michael Fassbender's slave owner Edwin Epps in 12 Years a Slave, Steve McQueen's Oscar-winning adaptation of Solomon Northup's memoir recalling his long stretch without freedom in pre-Civil War America.
Stream 12 Years A Slave on Hulu here (opens in new tab).
American Gothic (Hulu)
A seemingly idyllic South Carolina town is ruled with an iron fist by the mystically powerful Sheriff Lucas Buck (Gary Cole), whose only threat to his reign is his own illegitimate son Caleb Temple (Lucas Black).
Why It's A Good Option for Sarah Paulson Fans: Before critically supernatural soap operas became a staple of her career, one of Sarah Paulson's earliest TV roles was Merlyn Temple, a ghost trying to protect her younger brother Caleb from the ruthless sheriff on American Gothic, which was cancelled after one season on CBS in 1996.
Stream American Gothic on Hulu here (opens in new tab).
American Horror Story (Netflix, Hulu, Amazon Prime)
A family falling prey to the sinister spirits of their new house, sideshow performers burdened by their unique "talents," and a group of psychotic clowns terrorizing innocents in the wake of political unrest are just three of the current total of nine twisted tales of this phenomenal, season anthology series.
Why It's A Good Option for Sarah Paulson Fans: American Gothic's Merlyn Temple was only the first ghostly figure whom Sarah Paulson would play on TV before creators Ryan Murphy and Brad Falchuk gave her that opportunity again in hotel-set fifth season of American Horror Story, which the actress is set to return to for the upcoming Season 10 in 2021.
Stream American Horror Story on Netflix here (opens in new tab), on Hulu here (opens in new tab), or on Amazon Prime here (opens in new tab).
Coastal Elites (HBO Max)
A civil rights activist (Issa Rae), a young nurse (Kaitlyn Dever), a gay actor (Dan Levy), and others make deep, personal confessions via webcam about how the Covid-19 pandemic has affected their lives.
Why It's A Good Option for Sarah Paulson Fans: Speaking of American horror stories, Sarah Paulson plays a meditation instructor whose weekly YouTube livestream is upended by her own political concerns in Coastal Elites, an HBO original satirical film shot remotely by its A-list cast that takes bold aim at the infamous events of 2020.
Stream Coastal Elites on HBO Max here (opens in new tab).
What do you think? Will your devotion to watching anything starring Sarah Paulson entice you to watch something that will only remind you of all the real world issues you are currently trying to forget, or will you settle for waiting until the premiere of Season 10 of American Horror Story? Let us know in the comments and be sure to check back for additional information and updates on the widely beloved actress, as well as even more recommendations of what to stream starring your favorite celebrities, here on CinemaBlend.
Jason has been writing since he was able to pick up a washable marker, with which he wrote his debut illustrated children's story, later transitioning to a short-lived comic book series and (very) amateur filmmaking before finally settling on pursuing a career in writing about movies in lieu of making them. Look for his name in just about any article related to Batman.
Your Daily Blend of Entertainment News
Thank you for signing up to CinemaBlend. You will receive a verification email shortly.
There was a problem. Please refresh the page and try again.