How Does 24: Legacy Compare To The Original 24?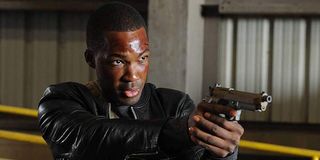 After making a name for himself in movies like The Lost Boys, Young Guns and Flatliners, Kiefer Sutherland took the TV world by storm when he was cast to play federal agent Jack Bauer in 24. For eight regular seasons, one revival season and a TV movie, viewers watched Jack thwart terrorist plots within a day, usually working for the Counter Terrorist Unit (CTU) and never hesitating to break the rules for the greater good.
But Kiefer Sutherland made his last appearance as Jack Bauer in 2014, and nowadays he's too busy playing Tom Kirkman on Designated Survivor, so it remains to be seen if he'll ever play Jack again. Regardless, in 2017, Fox embarked down the spinoff path with 24: Legacy, which starred Corey Hawkins as Eric Carter, who filled Jack's role as the skilled operative rushing to stop the bad guys.
Neither 24 nor 24: Legacy are on the air anymore, and while there's been talk of developing a prequel series centered around a young Jack Bauer, for now the franchise remains in limbo. Nevertheless, perhaps you're a 24 fan who missed out on 24: Legacy during its first airing and are interested in checking it out, or maybe you caught 24: Legacy and are now ready to see what all the fuss was behind its predecessor.
So how do 24 and 24: Legacy compare to one another? That's what we're here to give the rundown on, and naturally we'll start off delving into 24 proper and what it delivered during its run. And to be completely forthcoming, there will be some spoilers in play for both shows.
24 (2001 - 2010, 2014)
24 premiered on November 6, 2001 on Fox, and in with a title like that, all the seasons of 24's main run were 24 episodes long, with one episode corresponding to one hour of the day. 24: Live Another Day opted to only deliver 12 episodes long, and the final episode of that revival fast forwarded 12 hours in the final portion to properly wrap up the day.
If there's one thing you can say about 24, it's that it didn't provide a lot of opportunities for the characters or the viewers to catch their breath, as each hour in a season was packed with action. Jack Bauer and his allies would race against the clock to prevent various acts of terrorism from being completed, whether it was an assassination being carried out, a nuclear weapon being detonated, a deadly virus being unleashed, etc.
Often times the seasons would be divided into anywhere from two-four acts, with a new villain, either connected to the previous main antagonist or operating separately, taking over in the latter half of the season. Usually villains would be killed off during the seasons they were introduced, but there were a few baddies who antagonized Jack Bauer across multiple seasons, like Sarah Clarke's Nina Myers and Tzi Ma's Cheng Zhi.
Kiefer Sutherland was the only actor to appear in every season of 24, but Jack Bauer certainly wasn't without frequent allies. Other major characters who appeared across numerous seasons included Jack's daughter Kim, played by Elisha Cuthbert; fellow CTU agent Tony Almeida, played by Carols Bernard; President David Palmer, played by Dennis Haysbert; and CTU analyst Chloe O'Brian, played by Mary Lynn Rajskub.
As big of a badass as Jack Bauer was, he's also one of TV's most tragic characters. His efforts to save lives and stop widespread destruction came at great personal expense. At least once per season, you could count on someone close to him dying, and while Jack was generally good about keeping his emotions in check in the midst of a crisis, all those losses would keep weighing him down as the years progressed.
Critically-speaking, while not ever 24 season was a winner (Season 6 is especially rough to get through), for the most part it was a hit and won numerous awards, including the 2006 Emmy for Outstanding Drama Series. 24 also generated a lot of political talk through its use of torture, as Jack rarely hesitated to inflict pain on a captured villain if he knew they had information that could prevent another attack. This plot element drew more criticism in 24's later seasons and was toned down towards the end of the run.
24: Legacy (2017)
Three years after Jack Bauer made his final televised appearance (for now?), Fox gave the world 24: Legacy, which kept the format as its predecessor, with federal agents rushing to stop terrorist plots over the course of a single day. Like the old saying goes: if it ain't broke, don't fix it.
Filling Jack Bauer's role in 24: Legacy was Corey Hawkins' Eric Carter, an ex-Army Ranger who learns that he and his squad mates are being hunted down and killed because one of them stole a flash drive containing a list of U.S.-based terror cells and the means by which to activate them. Eric didn't have anywhere near the amount of baggage Jack had, but he was going through his own personal struggles, like getting used to civilian life and dealing with marital problems.
All of 24: Legacy's main cast was comprised of new characters, including Eric's wife Nicole, played by Anna Diop; former head of CTU Rebecca Ingram, played by Miranda Otto; current CTU head Keith Mullinsm played by Teddy Sears and presidential candidate John Donovan, Jimmy Smits. The only character from 24 to return for 24: Legacy was Carlos Bernard's Tony Almeida, and hardly any of his history the original show was touched upon. Coral Peña's Mariana Stiles was also the cousin of Edgar Stiles, a CTU analyst from 24 Seasons 4 and 5, but that's where 24: Legacy's ties to 24 ended; it was very much a standalone show.
Like 24: Live Another Day, 24: Legacy only consisted of 12 episodes, and Fox premiered the first episode after the Super Bowl. While it was the highest-viewed episode in 24 franchise history, it was the lowest-viewed post-Super Bowl program since 2003's Alias.
The show's ratings significantly dwindled from there, and the season as a whole earned a mixed critical reception. Although there were seeds planted for a Season 2, 24: Legacy was cancelled in June 2017, two months after the last episode aired.
24: Legacy Compared To 24
If you're simply looking for one season of counterterrorism-themed action, 24: Legacy is an okay pick. There are enough exciting and enjoyable moments sprinkled throughout the season, and even with some loose plot threads lingering at the end, the main story story wraps up decently enough.
However, in comparison to the original 24, 24: Legacy just doesn't measure up. Had it been the first show to come out, its premise would be been much more novel, but when lined up to to the collective decade of stories 24 delivered, 24: Legacy barely brings anything new to the table, instead relying on rehashing the same old tropes from its predecessor: the main protagonist circumventing authority and barely suffering any consequences for it later, a mole within a government agency, etc.
Granted, some of these tropes are present in a lot of spy and action stories, and there's nothing with 24: Legacy relying on a few of them. That said, the point of a spinoff is to deliver something different compared to what came before and, in many cases, be accessible to folks who never caught the previous show. 24: Legacy fulfills the latter requirement, but regarding the former, aside from the different cast, it just feels like one of the earlier seasons of 24 with better technology.
So if you have to choose between the two shows, 24 is unquestionably the one to pick. As mentioned earlier, not all of the seasons were exceptional, but the saga of Jack Bauer, from Season 1 to the Redemption TV movie to the Live Another Day revival, makes for a thrilling watch. Maybe 24: Legacy could have turned things around in Season 2, but judging it on just the one season, it shows off more of 24's flaws than it does what made the original appealing.
You can stream both 24 and 24: Legacy on Hulu now, and if there's any news about the 24 franchise continuing, we here at CinemaBlend will let you know about it. For now, you can learn what's hitting the airwaves this summer with our handy premiere schedule.
Connoisseur of Marvel, DC, Star Wars, John Wick, MonsterVerse and Doctor Who lore. He's aware he looks like Harry Potter and Clark Kent.
Your Daily Blend of Entertainment News
Thank you for signing up to CinemaBlend. You will receive a verification email shortly.
There was a problem. Please refresh the page and try again.