How Star Trek: Discovery Fits Into The Star Trek Timeline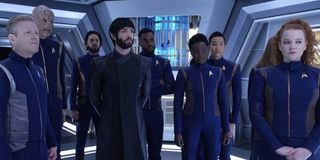 Star Trek: Discovery is one of CBS All Access' most popular shows, but it caused some drama amongst Star Trek fans very early in its run thanks to what it did to the Star Trek timeline. With Michael Burnham introduced as a foster child of Sarek and Amanda in addition to various other changes, some fans were vocal about believing the showrunners were blatantly ignoring Star Trek canon for the sake of entertainment.
Many have since learned that's not the case, and for those still curious as to where Star Trek: Discovery falls in the Star Trek timeline, I've broken down the entire Star Trek timeline (barring some outlier episodes that fall elsewhere in the timeline), where Discovery falls within it, and how it may impact it going forward. Dive in, and get ready to binge your favorite Star Trek series all over again.
Star Trek: Enterprise
Until another prequel series comes along, Star Trek: Enterprise is the start of the Star Trek timeline. Set between the years 2151 and 2161, Star Trek: Enterprise followed the adventures of Scott Bakula's Jonathan Archer and his Starfleet crew who roamed space a full century before the original Star Trek. For those unfamiliar with Trek, this is one of the more recent shows to air, with its first season premiere happening in the year 2001.
The series itself chronicled the early moments in Star Trek canon, such as early relations with species like the Vulcans and Klingons. Episodes at first primarily focused on Jonathan Archer, his Commander Charles "Trip" Tucker III (Connor Trinneer), and Sub-commander T'Pol (Jolene Blalock), but branched out into other stories in later seasons. Its cancellation in 2005 marked the first time in 18 years a Star Trek series was not in production, which continued up until Star Trek: Discovery.
Star Trek: Discovery (Season 1 and 2)
Sonequa Martin-Green led the 2017 Star Trek's series that doesn't revolve around a captain, and played the daughter of famous Star Trek figures Sarek and Amanda. The decision seemed controversial considering neither figure nor their son Spock mentioned Michael, and the Discovery ship featured a lot of tech that seemed out of place. It led some to wonder if the series was really set in 2255, or if something else was happening.
Thankfully, all became clear in Star Trek: Discovery Season 2, which was set in the Star Trek timeline between the original series' pilot and the Star Trek episode "The Menagerie." At the season's end, it was revealed the Discovery crew jumped into the future to thwart a time-traveling threat capable of destroying all life. Now, they're thought dead by Starfleet's most elite and their names have been expunged from records and forbidden to be mentioned by survivors to protect humanity.
Star Trek
Though it's the series that got this whole franchise started, Star Trek is now officially the third series entry in the Star Trek timeline. William Shatner's Captain Kirk took control of the Enterprise after Captain Christopher Pike, and went on adventures with a ship full of capable crew members. Among them was Leonard Nimoy's Spock, George Takei's Sulu, and Nichelle Nichols' Uhura, who were just some of the standouts in a talented cast.
Star Trek takes place between 2265-2269, which is not long at all after Star Trek: Discovery. In the real world, however, Star Trek is several decades the elder of Discovery and first began back in 1966 before it ended in 1969. That's quite a long stretch of time to gather fans, which may be why so many were up in arms when they saw all the supposed changes happening with Discovery.
Star Trek: The Animated Series
Creator Gene Roddenberry could've hung it all up after Star Trek's cancellation, but he persisted upon learning the series was very successful in syndication. In fact, he was back with another series in 1973. Star Trek: The Animated Series was a continuation of the original series, with more stories and a series that made it the first series in the Star Trek timeline to gain an Emmy.
Star Trek: The Animated Series was set in the Star Trek timeline between 2269-2270, which was the year following the original series. Now, there has been some debate regarding whether the series was actually canon, with official word at one point that it was not. Despite that, successive Star Trek series and films have referenced it in one way or another, so it's seemingly up to the viewer how they decide to acknowledge it.
The Original Star Trek Movies And Generations
From 2273 to 2293 The Star Trek crew appeared not on television, but in a variety of movies. Star Trek: The Motion Picture (1979), The Wrath of Khan (1982), The Search for Spock (1984), The Voyage Home (1986), The Final Frontier (1989), and The Undiscovered Country (1991). All of these movies revolved around William Shatner's Kirk and Leonard Nimoy's Spock and, like the animated series, continued to profit on the success of Star Trek.
This brings us to 1994, which was the year the last film centered on the original Star Trek crew aired. Generations started in 2293 but then jumped to 2371 in a movie that mashed together some of the original Star Trek crew with the wildly successful crew from Star Trek: The Next Generation. The movie wasn't as well received as the concept would imply, but the movie did give us a conclusion to Captain Kirk's arc, which was worth seeing.
Star Trek: The Next Generation
Rewinding back from 1994 to 1987, when Star Trek launched a series that would revamp the franchise and make it as popular as its ever been. This was thanks in no small part to Patrick Stewart's Captain Jean-Luc Picard, who took command of the Enterprise in 2364. Together with his crew, they ventured across the galaxy in search of people they could help and conflicts they could resolve.
Star Trek: The Next Generation ended in 1994, but its impact on the Star Trek franchise continues. Jonathan Frakes, who played Riker, became a frequent presence in front and behind the camera following the series' end, and movies like First Contact, Insurrection, and Nemesis kept the franchise in the minds of fans up until 2002. Now, it's set to become as relevant as Star Trek: Discovery is now with a sequel series called Picard which premieres later this year.
Star Trek: Deep Space Nine
Star Trek: Deep Space Nine kicked off in 1993, when Star Trek: The Next Generation was approaching the end of its run. Set from 2369 to 2375, it centered on a space station strategically placed next to a big wormhole connected to the Gamma quadrant. Avery Brooks starred as the series' commanding officer Benjamin Sisko, who led the crew while also navigating wife as a single father after losing his wife to the Borg.
Star Trek: Deep Space Nine strayed a bit from the traditional Star Trek formula, in that it began to sneak in arcs that lasted episodes on end and defied the traditional episodic format. It paved the way for others like Star Trek: Discovery to do so, and led to a seven season run that came to an end in 1999.
Star Trek: Voyager
Much like Star Trek: Deep Space Nine interwined with Star Trek: The Next Generation, Star Trek: Voyager popped up on the scene in 1995 right as DS9 would start Season 3. At this point change was the only constant in the Star Trek timeline, so the series kicked things off by introducing Kate Mulgrew as the Star Trek timeline's first female series lead.
Captain Janeaway and her crew were positioned in another part of the galaxy, so while the series ran alongside Deep Space Nine for a good majority of its run, new species could be created for the show. At a timeline date of 2371 to 2378, it's one of the latter entries in the timeline, and was the latest up until Star Trek: Discovery changed the game.
Star Trek (Kelvin Timeline Movies)
Technically, the Chris Pine-led Star Trek films are a part of an entirely new timeline that was created following the events of the movie Nemesis in 2002. These movies started in 2009, and run from the alternate timeline years of 2233 to 2263. This would technically put these films higher up in the Star Trek timeline, but at the risk of confusing folks, I feel it's best to leave it here where the timeline was originally split.
For now, the Kelvin timeline Star Trek films aren't imperative to understanding the Prime timeline, although Star Trek: Discovery and Picard may change that. We still haven't seen a lot about how the destruction of Romulus affected the prime timeline, and with each series set to occur at or after that time, it remains to be seen how impactful these movies will ultimately be.
Star Trek: Discovery (Season 3)
So here we are, back at Star Trek: Discovery, which is set to take place 950 years into the future. That puts it at around 3205, well beyond where any Star Trek series has gone to date. Talk about boldly going where no one has gone before!
What's most interesting about Star Trek: Discovery Season 3, is that there's really no idea of what's on the horizon. The Discovery crew already changed the future with their actions, so they could be popping into a brave new world where Control is the least of their problems. Wouldn't it be a real kick in the teeth to learn last season's enemy was actually trying to do the galaxy a favor in wiping out mankind?
So, this is where Star Trek: Discovery stands in the Star Trek timeline, although there's a chance that could change with the ship's time-traveling capabilities, and more spinoffs headed to CBS All Access. Stick with CinemaBlend for all the latest on the Star Trek franchise, as well as for the latest in movies and television.
Your Daily Blend of Entertainment News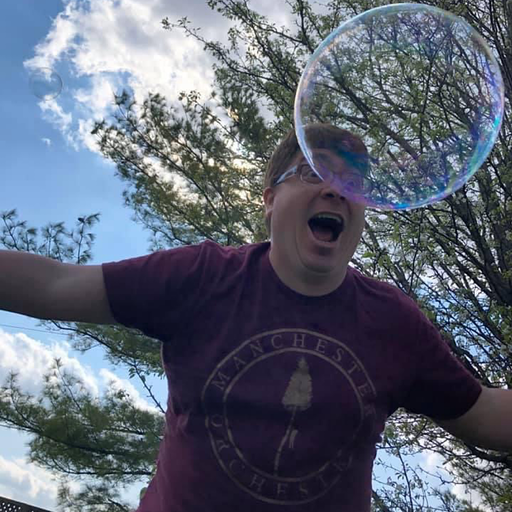 Mick contains multitudes and balances his time reporting on big happenings in the world of Star Trek, the WWE, reality television, and other sci-fi shows.