Why One Of Good Omens' Best Scenes Almost Didn't Happen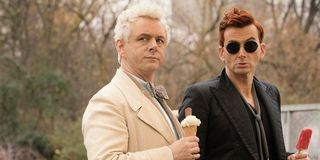 Spoilers ahead for Amazon's Good Omens.
The long-awaited Amazon adaptation of Good Omens has finally made its streaming debut, and the six-episode series was a wild ride through history, the apocalypse, and literal planes of existence as an angel, a demon, and a handful of humans tried to avert the apocalypse.
Based on the book of the same name by showrunner/writer Neil Gaiman and the late Terry Pratchett, Good Omens stars David Tennant and Michael Sheen as the demon Crowley and the angel Aziraphale, respectively. The show actually fills in some blanks in the characters' histories from the book.
In fact, the whole first half of the third episode is devoted to showing some pivotal scenes of Crowley and Aziraphale's relationship through the millennia. The scenes ranged from hilarious to heartfelt to downright goofy.
As it turns out, one of those scenes wouldn't have happened at all if not for a certain twist in the production process. Good Omens director Douglas Mackinnon and writer/showrunner Neil Gaiman spoke to CinemaBlend and other press outlets at a recent junket, and they said this about one of the best scenes of the series:
The Globe Theatre is an iconic location in London thanks to being featured in various high-profile productions as well as the history books. While many projects have at least had characters visit the Globe (or a set constructed to look like the Globe), filming at the actual Globe Theatre is clearly still a very big deal.
In the third episode of Good Omens, Aziraphale and Crowley visit the Globe circa 1601. Despite modern expectations that a show like Hamlet would draw huge crowds, Good Omens revealed a reality in which folks of 17th century England didn't care for Shakespeare's tragedy. Crowley, for one, was not a fan of the "gloomy" plays and preferred Shakespeare's comedies.
As originally scripted, the scene was evidently packed with people dying to see the young Prince of Denmark, whereas the finished product had only Shakespeare, an actor playing Hamlet (and feeling unappreciated), Aziraphale, Crowley, a concessions seller, and a few random and bored theater-goers.
Packing the Globe with more than a thousand people in period costume for a 21st century production in less than five hours just wasn't going to be possible. So, we didn't get Crowley and Aziraphale blending in with the packed house at the Globe Theatre in the first week of Hamlet.
Instead, we got Hamlet as a flopped production, with pretty much only Aziraphale as a fan. If the production was allowed to continue without any supernatural interference, the Hamlet of the Good Omens universe might have been one of Shakespeare's least memorable plays.
Instead, after Aziraphale lost a coin toss that meant he had to go to Scotland to do a blessing for Heaven and a temptation for Hell to spare Crowley the trouble of riding north, Crowley agreed to perform a miracle and turn Hamlet into a hit while the angel was away. The Arrangement saved Hamlet in a very unexpected (and quite hilarious) way. Can anybody really argue that the original scripted scene in the Globe Theatre would have been better than the finished product?
Neil Gaiman went on to explain why the scene was such a success and why his late Good Omens co-author Terry Pratchett would have been pleased with the adaptation that never quite got off the ground before he passed away. Gaiman said this:
Not many shows have the advantage of the same writer and the same director handling every single episode, to the point that it feels more like an extended movie split up into sections rather than a season made of disparate parts. Neil Gaiman was clearly pleased with what Douglas Mackinnon brought to the table as director of all six episodes, and the Globe scene is an example of a potential disaster turning into something wonderful thanks to some tweaks.
It was a collaboration between the two, and it resulted in one of my favorite scenes of an episode packed with wonderful sequences developing Crowley and Aziraphale. Of course, for fans who have already watched all six episodes of the season, it may come as a surprise that the show had to stretch to stay within its budget. After all, everything from David Tennant's supply of wigs (which can be terrible on TV) to Heaven and Hell to the literal apocalypse looked great.
Douglas Mackinnon and Neil Gaiman weighed in on the challenges of putting together such an ambitious series as a Good Omens adaptation with the available resources:
Fortunately, Neil Gaiman, Douglas Mackinnon, and the rest of the Good Omens team were able to figure out ways to adapt without entirely altering the message and plot of the source material. Of course, it had to help that the co-author of the source material was literally on board as showrunner and writer, so even tweaks to scenes like the Globe sequence felt like they fit the tone and flow of the rest of the series.
Did everything go as originally planned? No. Did that make the show any worse? Definitely not. If you haven't caught Good Omens yet (or just want to rewatch), you can find all six episodes streaming on Amazon (opens in new tab) now.
Resident of One Chicago, Bachelor Nation, and Cleveland. Has opinions about crossovers, Star Wars, and superheroes. Will not time travel.
Your Daily Blend of Entertainment News
Thank you for signing up to CinemaBlend. You will receive a verification email shortly.
There was a problem. Please refresh the page and try again.