Who Is Once Upon A Time's Jennifer Morrison Playing In This Is Us Season 4?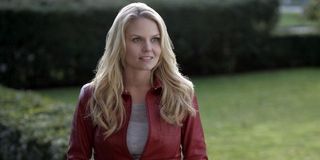 This Is Us and Once Upon A Time fans, rejoice! Jennifer Morrison has joined the acclaimed NBC drama in a major recurring role, which is described as a "substantial" presence on the show. It goes without saying this was already a stacked cast, but with Morrison now attached, Season 4 is looking pretty damn star-studded. So, who will this talented actress be playing?
Well, some people are pretty sure they know who she's going to play, but we have to keep in mind that This Is Us is notorious for subverting expectations and introducing twists that seem to come from nowhere. Jennifer Morrison may be playing exactly who many assume she is playing in Season 4 of This Is Us, but until then, there are plenty of other options worth considering.
Kevin's Future Wife
This Is Us' Season 3 finale revealed Kevin had a son in the flash-forward, and yet Kevin and Zoe also officially ended their relationship in the present day in that same episode. It's highly doubtful that was her kid, and more likely that Kevin found the woman he's going to marry not long after this bad breakup took place. Is Jennifer Morrison's incoming character the one?
Perhaps for a time, as we've also learned that Kevin isn't the best when it comes to relationships. His addiction struggles definitely play a part in that, but he also ended things with Sophie on pretty rough terms before that really became a factor. Perhaps Jennifer Morrison's character and Kevin have a child and maybe even get married, but this romantic affair ends in a divorce like marriages sometimes do. As stated earlier, always expect a twist from This Is Us.
Rebecca's Doctor Or Caretaker
We don't know exactly how many years This Is Us' flash-forward is into the future, but given Tess' general look 10-15 years seems like a pretty safe estimate. While a lot of health problems can happen in a short amount of time, the series has dropped a couple breadcrumbs that could mean Rebecca's health could start heading downhill in Season 4. For example, remember her brain cancer scare that was mentioned in "The Car?"
If Rebecca's health is in question she may be in constant contact with a doctor, or require a caretaker with skills beyond Miguel's capabilities. We got love for This Is Us' favorite second husband, but medical conditions can be rough to deal with and there's no shame in bringing in a certified professional to help out in these cases. Of course, something pretty drastic would have to happen to Rebecca this season, as she looked mostly healthy throughout Season 3.
Toby's Future Wife Or Lover
While This Is Us managed to successfully dissuade all speculation that Randall and Beth were split up in the future, the verdict is still out on Toby and Kate. Are they still a thing, and if so, why was Toby acting so weird about showing up to pay his respects to Rebecca? There's something going on there, and perhaps Jennifer Morrison's incoming character has a part to play in all this.
There's no doubt the pregnancy and Toby's medical issues put a strain on their marriage. Kate has been understanding, but she was reaching a breaking point when they were in the hospital. Don't be surprised if things don't get any easier with baby Jack in the house and Jennifer Morrison's character comes in as a shoulder to cry on for Toby. Or, she's someone he'll meet after their marriage and will make a surprise appearance at Kevin's house in the future.
Philadelphia Politician
With the major marital drama between Beth and Randall seemingly done, This Is Us is going to have to find a way to keep things fresh for their story in Season 4. Luckily, Randall's political career is taking off, and there's some tension that can be created there as he works to try and do right by the district he campaigned so hard to represent in the city council election.
Jennifer Morrison's character could be a politician Randall has to negotiate with or perhaps work alongside to make some policy or improvement project he's looking to bring to his area happen. It doesn't sound like the most exciting storyline This Is Us Season 4 could explore, but with Beth and Randall's relationship shown to be solid in the future, it would be hard to pull any more tension from that plot thread in the present.
Tess' Future Lover
So much crazy stuff happened in This Is Us Season 3 that it's easy to forget that Tess Pearson came out to her family. "Adult Tess" was one of the characters featured prominently in the flash forward timeline, so perhaps Jennifer Morrison will make her debut as Tess' future lover and/or partner?
It's possible, but there's quite an age gap between Jennifer Morrison and the actress who plays adult Tess, Iantha Richardson. Age differences between couples isn't all that uncommon of course, but with Morrison closer in age to the Big Three actors than she is Richardson, it seems more likely she'll have ties to them rather than a younger character. Nothing is impossible though, and perhaps the age gap between Tess and Morrison's character could be a talking point.
Rebecca's Sibling Or Relative
This Is Us hid Jack's brother Nicky from audiences for a good while before telling us he was dead, and then later revealing he was alive. We haven't met many of Rebecca's family members, but would it be the craziest thing for a sibling to suddenly emerge with no prior mentions considering how this show operates? It's definitely possible, especially with Rebecca's father entering the picture in Season 4.
Rebecca doesn't have a ton of story lines on This Is Us, but every one she's had so far Mandy Moore has knocked out of the park. Put her alongside someone like Jennifer Morrison, and there's potential for some real greatness that either sheds more light on Rebecca's past, or maybe even the years between Jack's loss and her re-connection with Miguel. Lets get Rebecca a big storyline as we continue this slow march toward her death.
This Is Us' Most Heartbreaking Moments
Got any guesses as to who Jennifer Morrison will play in This Is Us Season 4? Drop all suggestions down in the comments and be ready for the new season to land on NBC Tuesday, September 24.
Your Daily Blend of Entertainment News
Mick likes good television, but also reality television. He grew up on Star Wars, DC, Marvel, and pro wrestling and loves to discuss and dissect most of it. He's been writing online for over a decade and never dreamed he'd be in the position he is today.