This Is Us' Most Heartbreaking Moments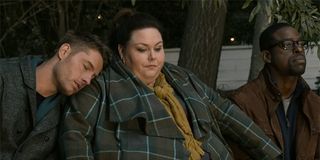 In these days of Peak TV, dominated by prestige cable networks and the ever-expanding list of streaming services, it's rare for a TV show on a broadcast network to truly break out and become part of the conversation. NBC's This Is Us managed to do just that with the kinds of shocking twists usually reserved for serialized genre shows and emotional family drama that leaves the audience in tears week in and week out.
That above all else is This Is Us' calling card. The show might as well have Justin Timberlake's "Cry Me A River" as its theme song because that seems to be its raison d'être. Over the course of three seasons and with consistent regularity, This Is Us has made audiences cry. There have been heartwarming moments that produce tears of joy, bittersweet moments that have left viewers misty-eyed and then of course there are the truly heartbreaking moments.
These are the moments that make you ugly cry, brutal gut punches that absolutely wreck you and leave you wondering what sort of perverse masochism is compelling anyone to continue watching this show (Answer: The desire just to feel something). This Is Us has no shortage of heartbreaking moments, you could probably cite multiple from every single episode, but these are the ones that are the most tragic, produce the most tears (measured in milliliters per minute) and are the most heartbreaking.
Kate Receives A Devastating Note (Season 1 Episode 4)
For the most part, Kate seemed to be a cheery and optimistic kid until this one day at the pool signaled the beginning of a lifelong struggle. When the Pearson family went to the community pool together, the young Kate wore a new two-piece bathing suit. She felt good about herself, making what happened all the more crushing.
Kate's friends wrote her a note that said "We don't want you to play with us anymore. You embarrass us." It was a heartbreaking reminder of how cruel kids can be to one another and perhaps the first moment where Kate found out that although she is perfect and beautiful in her father's eyes, her weight means she isn't in everyone else's.
Dr. Katowski Speaks To His Wife (Season 1 Episode 12)
Gerald McRaney's Dr. Katowski is the obstetrician that delivered the triplets at the beginning of the series, and throughout he has provided wisdom and comfort for the Pearson family. After they lose Kyle, Dr. K tells Jack about how he lost his wife, and in the back half of Season 1, we see the pain of that loss. Dr. K goes to visit his wife's grave and begins talking to her. He momentarily breaks down, telling her that he doesn't know if he can or even wants to continue on without her.
It is devastatingly sad and reminiscent of the beginning of Up in some ways. It's also a reminder that like the Pearsons in This Is Us, we are the main characters in our own stories. Other people are the main characters in theirs, and they are all going through their own struggles and heartache.
Randall's Breakdown In Kevin's Arms (Season 1 Episode 15)
At this point in the show we know that Randall and Kevin have never been as close as you might expect brothers to be. Randall is cracking under the weight of family issues, including his recently discovered biological father's terminal illness. So on the opening night of Kevin's big play, when Randall tells Kevin he can't make it, Kevin can tell something is wrong.
He thinks about what his father would do in this situation, ditches the play and literally runs to his brother and finds him having a panic attack, sitting on the floor of his office. Kevin comforts his brother as best he can, but that doesn't take away from how heartbreaking it is. Randall had been the one who seemed to have it most figured out and to see him in this state is jarring and tear-jerking.
William's Death (Season 1 Episode 16)
Let's be real, pretty much all of "Memphis" is like being punched in the nose while having onions ground into your eyes, and it all builds to the dam-breaking death of Ron Cephas Jones' William Hill. We knew this was coming because he had cancer and all of "Memphis" acted as a swan song for the character, with Sterling K. Brown's Randall getting to see places and people from William's past.
It's a glimpse at the wonderful person his biological father is, making his death all the more excruciating. On his deathbed, William tells Randall that he hasn't had a happy life, but meeting his son made the end of his life special. He also gives Randall poems he wrote for him. At the end, when he says to Randall "I'm a little scared", it is absolutely gutting.
Jack Tells Kate About His Drinking Problem (Season 2 Episode 2)
Milo Ventimiglia's Jack Pearson is basically the perfect TV dad; a shining example his children worship and aspire to be like into adulthood. But Jack isn't perfect; like his father before him, he is an alcoholic. In season 2, after he had been kicked out of the house by Rebecca, he comes home and comes clean. Jack tells Kate, who more than anyone adores and reveres her father, that he has a drinking problem.
He says "I really didn't want you to know that about me." It breaks your heart in this moment to see Jack have to tell his daughter this fact and shatter her illusion of him. Parents are meant to project strength to their kids and in this moment, Jack has to do that by admitting his weakness. It is terribly sad.
Kevin Hits Rock Bottom (Season 2 Episode 8)
In the midst of a major bender, Justin Hartley's Kevin Pearson heads back home for an alumni award ceremony at his high school. He winds up sleeping with another alumni Charlotte who had a major crush on him in high school. She's a doctor and he snags her prescription pad to get some more pills. After chickening out at the pharmacy, he realizes he has lost his necklace, his father's necklace and the last thing he has left of Jack.
Kevin goes back to Dr. Charlotte's house to look for it and she is none too pleased and won't let him in. This leads to him breaking down on her lawn, begging to be let in, saying how much pain he is in and desperately pleading, "I just need somebody to help me." He is truly helpless in that moment and it is heartbreaking to watch.
Kate's Miscarriage (Season 2 Episode 9)
The Pearson clan can't catch much of a break, and that is especially true for Chrissy Metz' Kate who wanted a baby more than anything and miscarries after a fall in the second season. "Number Two" deals with the fallout of that, and it is just one wave of sadness after another for the characters. This isn't limited to just one moment but several. The look on Kate's face while speaking to the doctor is one of complete despair.
Kate lashes out at Toby for getting her hopes up about having a child and tells him that the miscarriage didn't happen to him, which while biologically true, is a brutal thing to say to the would-be father. Rebecca also comes to be there for Kate and relays the sad story of her own miscarriage. The episode ends on a hopeful note, but it's an emotional gauntlet to get there.
Jack's Death (Season 2 Episode 14)
This is the big one. The entire series had been leading up to this point ever since we found out that Jack was no longer around in the present timeline. We saw the fire start in the kitchen thanks to a faulty Crock-Pot in the previous episode, and in "Super Bowl Sunday" it engulfs the Pearson family home. The family all make it out okay thanks to Jack, with Jack going back to rescue the dog and get the family mementos.
That decision proves costly though, because while at the hospital, Jack suffers a heart attack from smoke inhalation. Mandy Moore gives a brilliant performance as a shocked Rebecca, in disbelief that her husband is dead when he was fine just moments ago. It's a moment that lives up to the hype of the tragedy and totally crushes you even though you knew it was coming.
Jack and Nicky Part Ways (Season 3 Episode 11)
The entirety of the Vietnam storyline with Jack and his presumed dead brother Nicky is like a Greek tragedy. Nicky's addiction and PTSD, leading to him accidentally killing a kid is unfathomable, but it is the culmination of all those events that I think feels the most heartbreaking for the characters. After years of ignoring his postcards, Jack visits Nicky and tells him about his family. Nicky tries to explain that what happened in Vietnam was an accident, but Jack won't hear him out, he's already decided to sever ties entirely.
These are brothers, who protected their mother from their father and went to war together, and to see them end in this way is immeasurably sad. And because we know Jack's fate, we know it is truly the end. This scene is heavy with the regret that comes with loss, regret over things that were said and all the things that weren't.
Beth And Randall's Blowup (Season 3 Episode 17)
Throughout This Is Us, Beth and Randall have been the perfect couple, seemingly able to take on any challenge and always have each other's backs. Season 3 put a huge strain on that though, between Randall's campaign for City Council and Beth losing her job, their relationship was bending. In this moment, it seemed to truly break. Beth tells Randall that he has swallowed her up, with her always putting her dreams on hold for him and being asked to sacrifice for him.
Randall rejects her assertions and she goes for the jugular by bringing up his anxiety attacks, which prompts him to leave. Unlike some of the other entries on this list that deal with tragic losses of life, this moment is heartbreaking because it deals with the near-loss of a love that the audience truly cherishes.
These are just a small sampling of the countless heartbreaking moments This Is Us has managed to pack into 54 episodes, and there are plenty that I left out. With the show already renewed for 3 more seasons and the introduction of a future timeline for the Pearson family with the tragedy of "Her", the story is hurtling towards, This Is Us shows no signs of finishing its relentless game of putting our hearts back together, only to shatter them anew again.
This Is Us returns for its fourth season on September 24 at 9 p.m. ET on NBC. For all the latest TV news, stay tuned to CinemaBlend.
Your Daily Blend of Entertainment News
Nick grew up in Maryland has degrees in Film Studies and Communications. His life goal is to walk the earth, meet people and get into adventures. He's also still looking for The Adventures of Pete and Pete season 3 on DVD if anyone has a lead.