Sounds Like The Flash Will Introduce A Major Crisis On Infinite Earths Moment Early In Season 6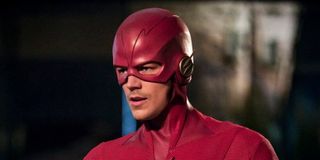 (Image credit: the cw press)
This fall will bring one of the biggest comic book storylines to live-action television when the Arrow-verse dives into its take on the classic "Crisis on Infinite Earths" arc. Arrow and The Flash already started dipping their toes into that multiverse-reforming narrative, and now star Grant Gustin has (perhaps inadvertently) revealed an early episode title that hints at a humongous "Crisis" moment coming early in Season 6.
Going into the weekend, Grant Gustin got busy on social media, where he shared an Instagram story documenting the cast's first Season 6 table read, for which the first two Flash episodes were on the docket. The front page for the Episode 2 script could be seen, with some of the text able to be recognized, and here's what it's called:
Those who are familiar with "Crisis on Infinite Earths" are likely experiencing a feeling that's a mix between confusion and disbelief. Especially since the episode is hitting the Season 6 schedule just less than two months ahead of when the mega-crossover is set to air. Let's go over what makes this episode title so important and potentially devastating to the DC shows.
Where Does 'A Flash of the Lightning' Come From?
On the one hand, it's half of a line in William Knox's poem "Mortality," and on the other, it's the eighth issue of the "Crisis on Infinite Earths" miniseries, in which Barry Allen's Flash essentially loses his physical form and dies. Yeah, that's right, The Flash is seemingly hinting at its main character's death right there in the second episode of the new season.
Without getting too deep into comic book spoilers, the "Flash of the Lightning" issue saw Barry using his speed like never before in order to neutralize an antimatter weapon. But while his good deed did end up saving million of people and heroes within the Multiverse, Barry's physical body could not handle the influx of energy, and it soon phased out of existence. Freaky stuff for young comic book fans who aren't used to heroes getting completely wiped out of timelines.
No Hope For Barry Allen's Beard As The Flash's Grant Gustin Prepares For Season 6
Fortunately for fans of The CW's Arrow-verse shows, the team of producers working to make the "Crisis" crossover happen necessarily have to change a lot of things up when adapting the massive storyline for network television. For instance, I doubt we're going to see a lot of Darkseid and Apokolips on The Flash or Supergirl in the fall, and it's likely that Wonder Woman and Aquaman will be sitting this one out for TV.
So, if I had to make any grand assumptions at the moment, I would guess that Grant Gustin's Barry Allen isn't going to be erased from the continuity. (Especially not after he just got that sweet tattoo honoring the show.) Still, though, the name connection has to mean something huge, since these writers aren't going to land on the "Flash of the Lightning" title purely through coincidence.
Interesting to note in that respect is that "A Flash of the Lightning" was preceded by the issue "Beyond the Silent Night," which features the sacrificial death of Supergirl as her super-cousin watched. Clearly, The CW will need to deliver some high-stakes action when the "Crisis on Infinite Earths" crossover kicks off, but killing off two of the titular characters is just crazy, right? RIGHT? Also, we're still not sure if Tyler Hoechlin's Man of Steel will be around for the crossover.
So what could new showrunner Eric Wallace deliver to fans so early in Season 6? Might this be a reference to another big speedster making a fatal sacrifice, such as Keiynan Lonsdales's Wally "Kid Flash" West or John Wesley Shipp's Jay Garrick? That would be a huge way to bring back one of those fan-favorite heroes, if not the most positive one.
Or could this be how Carlos Valdez's Cisco Ramon makes a permanent exit from the franchise? It was rumored that the actor was seeking a way out of the show in Season 6, although that hasn't been officially confirmed or denied. While fans would likely go berserk if Cisco got killed off two episodes into Season 6, it would be an undeniably effective way to prove how real the stakes are as the shows head to the "Crisis" arc. (Would it be better or worse if Danny Trejo's Breacher killed Cisco?)
Considering Arrow is ending with Season 8, Oliver Queen himself would hypothetically be a good candidate for a character who could get killed off in the near future. However, it would be pulling the plug a little too soon, and a little too "not on his own show" to slay the Green Arrow in the second episode of The Flash. It'd be an unpredictable twist, if nothing else.
As previously revealed, this year's crossover will incorporate all five of the Arrow-verse shows, bringing Legends of Tomorrow back into the fray alongside newcomer Batwoman. (The Ruby Rose-starring series debuts in October.) It'll not only be the biggest of the crossovers in that respect, but "Crisis on Infinite Earths" will also span five separate episodes, with three airing in 2019 ahead of the winter hiatus, and two airing in 2020 when midseason schedule kicks off.
That's right when Legends of Tomorrow should be bringing forth its Season 5 premiere, so fans will likely get to learn exactly how the events from the Season 4 finale affected The Monitor's plans for the Multiverse. Assuming all of that exposition doesn't come out during one of the other shows, that is.
How do you guys think The Flash is going to handle its "A Flash of the Lightning" episode? Will we see a major death, or some slightly less lethal set dressing for what's to come later?
With a brand new big bad causing havoc in Central City and possibly beyond, The Flash will return to The CW this fall for Season 6 starting on Tuesday, October 8, at 8:00 p.m. ET.
Assistant Managing Editor
Nick is a Cajun Country native, and is often asked why he doesn't sound like that's the case. His love for his wife and daughters is almost equaled by his love of gasp-for-breath laughter and gasp-for-breath horror. A lifetime spent in the vicinity of a television screen led to his current dream job, as well as his knowledge of too many TV themes and ad jingles.
Your Daily Blend of Entertainment News
Thank you for signing up to CinemaBlend. You will receive a verification email shortly.
There was a problem. Please refresh the page and try again.