The Bachelorette's Jed Wyatt And 5 Others Who Were (Obviously) There For 'The Wrong Reasons'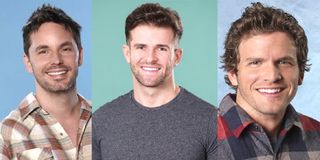 It was shocking when Jed Wyatt told Bachelorette Hannah Brown he only came on The Bachelorette 2019 to promote his music career. Who does that?! Admit you're there for the wrong reasons, I mean.
Going on The Bachelor or Bachelorette for "the wrong reasons" vs. "the right reasons" has become such a habitual talking point, it even got its own (painful) "Right Reasons" rap song in Bachelorette Desiree's season.
It's pretty much a given that at least half the people on The Bachelor/ette only signed on for self-promotion. After all, it's a miracle if you can fall in love with someone within the space of two months, while that person is also dating two dozen other people. But to admit it? Jed won some points for his honesty, although he's lost a few more points for other "wrong reasons."
It's not always blatantly obvious when someone is on The Bachelorette for "the wrong reasons." But in a handful of cases it has been flashing-light-in-the-face obvious, with one guy literally wearing a shirt that basically spelled out his bad intentions. Here are just five (actually six if you count Scott) examples of Bachelorette suitors who were clearly just there for themselves.
Jed Wyatt (and Also Scott), Hannah's The Bachelorette Season 15
Bachelorette Hannah's Season 15 is still currently airing, but Jed's off-screen reputation has taken a dive. He got points with Hannah, and most fans, for admitting he came on the show to promote his music career. He said it in the context of admitting he was developing real feelings for her. It felt like an honest moment. But off-screen, things are looking worse for Jed. His alleged ex-girlfriend, fellow Nashville musician Haley Stevens, has been speaking out to sites like People on their relationship.
Haley claims she and Jed were still together when he went on The Bachelorette and he said when he returned it would make their relationship stronger. She said they had only been together for four months, but The Bachelorette only films for two months. We have yet to hear Jed's side of this, but Haley showed off notes reportedly from him and photos together.
Making things worse, The Bachelorette 2019 premiere made a production out of Hannah kicking out Scott Andersen for having a girlfriend back home. He admitted they were dating up until he left but it wasn't serious. He also made a comparison to Hannah just dating Bachelor Colton. Hannah was not sold, and his premiere night ouster set a precedent for her season. She even asked the rest of her men if they had girlfriends back home. No one spoke up, including Jed. It's hard to imagine she'd rationalize what Jed did if she got so mad for Scott doing what sounds like the same thing. (Side note: Apparently Peter the pilot also had a girlfriend back home right before filming. Sigh. Will that hurt his Bachelor chances, if he still had any?)
Wes Hayden, Jillian's The Bachelorette Season 5
Ah, the original musician with a girlfriend back home, who's obviously just on The Bachelorette to promote his career! The second Jed Wyatt started playing his guitar, I smiled and thought of Wes Hayden on Bachelorette Jillian Harris' season. He's the original bad boy to pull this exact move -- come on the show to promote his music, with a girl supposedly waiting back home.
The difference is, 10 years ago it was brand new for a guy to be so brazen about promoting himself. When Wes was called out about having a girlfriend, he denied it, but made a sarcastic comment in his limo ride home that he was the first guy to go on The Bachelorette with a girlfriend. Some fans took his comment literally, like the villain was confessing, but it was more like an eyeroll acknowledgement that it's the same case for many people who go on the show.
Wes Hayden went from The Bachelorette to Bachelor Pad -- playing the same song for Jillian and then our dearly departed Gia -- and he's now embraced in Bachelor Nation. He even got to promote more of his music on ABC's recent reunion special. Plus, it worked for him, 'cause I can still play his "It Don't Take That Long" song in my head from memory a decade later.
Justin Rego, Ali's The Bachelorette Season 6
I'm never going to forget watching Justin Rego hobble across a lawn in Turkey, trying to escape the wrath of ABC's cameras and Bachelorette Ali Fedotowsky. It was hilarious.
Entertainment wrestler Justin had broken his foot just prior to going on Bachelorette Ali's season. But his real problems started later in the season when Ali got a phone call from Jessie, a fellow contestant from Jake's season of The Bachelor. Jessie said she knew Justin had a girlfriend back home because she was sitting right next to her. The girlfriend, Jessica, got on the phone with Ali and said Justin told her that when he got back they would be together. Jessica also claimed she found out a couple of days after Justin left that he had another girlfriend for the past two months. So Justin supposedly had two girls back home. Ali confronted Justin and he tried to make a run for it.
Justin became a villain of the season, but it was Frank Neuschaefer who really seemed to break Ali's heart. He too had a (semi ex-) girlfriend back home, and when he was back home in Chicago before overnight dates, he reconnected with his ex. He not only dumped Ali at final 3 for that ex, ABC's cameras actually taped Frank with his girlfriend, as if he were the Bachelor. It was an odd decision, and didn't make Frank look that great either. But he came off a bit better than Justin since it seemed like he really did give love with Ali a chance and he was honest about still being in love with his ex.
Bentley Williams, Ashley's The Bachelorette Season 7
You know someone's a villain when even Chris Harrison will blast them. Bachelorette Ashley was warned that Bentley Williams was on her season for "the wrong reasons," but she was warned by her fellow Bachelor Brad contestant Michelle Money, and Ashley and Michelle were never close. Michelle was friends with Bentley's ex-wife in Salt Lake City and said Bentley just wanted to promote his business.
Ashley was still into Bentley, but it was clear from Bentley's in-the-moment camera interviews on The Bachelorette that he was not into Ashley. He openly told the cameras, behind Ashley's back, that he was not attracted to her and wished Emily Maynard was the Bachelorette. That led Chris Harrison to write in his EW blog that Bentley's comments were "out of line and disrespectful":
Sound familiar? That does seem to happen a lot on The Bachelor and Bachelorette, that the rosegiver just wants to defend the person who is being singled out. You could argue that's the case for Luke P. on Bachelorette Hannah's season, but he doesn't seem to be there to promote his career or himself. He's maybe a little TOO into her and thinks he owns her.
Whaboom (Lucas Yancey), Rachel's The Bachelorette Season 13
It was obvious Whaboom guy was not there to find love with Bachelorette Rachel Lindsay, and it was obvious Rachel was not into Whaboom guy. The fact that he even survived the first rose ceremony stank to high heaven of producer intervention. By 2017, fans were savvy to that kind of thing and did not appreciate the open cynicism of keeping this clown on TV to help him promote his brand.
After the show, Lucas Yancey said on The Domenick Nati Show that his interest in love/fame was probably 50/50, and he said the Bachelorette's suitors "B.S." their way through the show.
Lucas also said he had his Whaboom catchphrase trademarked for three years and came out with a song that he thought would be "a huge summer hit." Case closed.
You can still find love on The Bachelorette, The Bachelor, or even Bachelor in Paradise without being there for the "right" reasons. What are the right reasons for going on a reality TV dating show, anyway? This franchise does not have a great track record for lasting love, but I'm shocked that anyone has managed to do it. It has actually happened several times, and it could happen again. Maybe not for Bachelorette Hannah Brown, but we'll have to wait and see.
The Bachelorette Season 15 continues Mondays at 8 p.m. on ABC and will be followed by Bachelor in Paradise Season 16 as summer 2019 programming rolls onward.
Your Daily Blend of Entertainment News
Gina grew up in Massachusetts and California in her own version of The Parent Trap. She went to three different middle schools, four high schools, and three universities -- including half a year in Perth, Western Australia. She currently lives in a small town in Maine, the kind Stephen King regularly sets terrible things in, so this may be the last you hear from her.