11 Controversial Bachelorette And Bachelor 'Winners'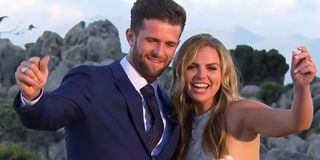 The Bachelorette 2019 just finished, with Hannah Brown adding her own "winner" to this list. It wasn't even Luke Parker, despite so much of Season 15 focusing on Luke P. as the bad guy. Nope, it turns out Wrong Reasons Jed Wyatt was worse all along. Poor Hannah, but it was far from the first time a Bachelor or Bachelorette picked someone who ruffled feathers in or out of the house.
Sometimes The Bachelor or Bachelorette "winners" are controversial because of their on-screen behavior. Other times they're controversial for things that played out in the tabloids or social media off-screen, or for fights that happened with their ex after the breakup.
Here are 10 (actually 11 now that we can add Jed) stars of The Bachelor and The Bachelorette whose appearances resulted in some form of controversy or another. They also happen to be the ones who were picked in the end.
Mary Delgado, The Bachelor Season 6
Here's a throwback the kids won't remember. Bachelor Byron Velvick's season played out in 2004, starting with two Bachelors. The women in the house voted on which guy they wanted to stay, and they picked fisherman Byron. Byron picked Mary Delgado, and they got engaged.
I was a big fan of Byron and Mary. Things got rough after the show, though. She was arrested and charged with domestic battery against Byron in 2007, allegedly punching him in the mouth. They still stayed together after that. In late 2008, she was arrested again, this time for public intoxication, resisting arrest, and disorderly conduct at a Texas bar.
Mary and Byron ended up splitting in December 2009. According to TV Guide, she was later arrested again in 2010 and charged with DUI in Tampa. Still, despite the arrests, Mary and Byron were together for five years before they split, which was a huge success for The Bachelor franchise up to that point.
Shayne Lamas, The Bachelor Season 12
Bachelor Nation newbies also won't remember British Bachelor Matt Grant and his "monkey" Shayne Lamas, who got engaged in 2008. Shayne introduced herself as an actress and the daughter of Lorenzo Lamas, which left some fans suspecting she was on the show for exposure. Still, they were pretty cute on the show. It was only after their breakup, when Matt dissed her on E!'s 2010 The Bachelor: Then & Now special, that the drama claws came out. Here's what he said:
Shayne Lamas did not appreciate that, and posted her own blog post response, wondering why her ex-fiancé decided to trash her when they "ended very amicably" and she hadn't said anything about him since they split. That's when it got ugly.
Wow. Since then, Shayne Lamas had two children with husband Nik Richie. In December 2017, Matt Grant married Rebecca Moring.
Ed Swiderski, The Bachelorette Season 5
Jillian Harris' 2009 season of The Bachelorette was one of my favorites. It was packed with great guys and great drama, and one of the most dramatic moments was Ed Swiderski quitting the show in Week 5.
Ed said he was given an ultimatum by his job -- leave The Bachelorette or lose your job. Ed went for the same move Ali Fedotowsky would make when faced when the same call on Bachelor Jake Pavelka's season. He left. But he was only gone for one episode before deciding to return. Jillian was thrilled and they got engaged in the end.
However, tabloid stories quickly came out about Ed allegedly sleeping with other women while he was back home in Chicago, and even after he proposed to Jillian. Ed admitted to being a frat boy at heart, and after the couple split in 2010, he went on Bachelor Pad and admitted there was some truth to the tabloid rumors. He said he wasn't prepared to be in a serious relationship, despite proposing to Jillian in the end.
Vienna Girardi, The Bachelor Season 14
Bachelorette Jillian & Ed's split flew under the radar a bit in summer 2010, because Bachelor Nation was so busy reeling from the drama from Jake Pavelka and Vienna Girardi.
Vienna was not popular with Bachelor fans or housemates -- especially future Bachelorette Ali -- during Jake's season. While the 2010 season was airing, tabloid story after tabloid story came out alleging, among other things, that Vienna lied to Jake about a boyfriend back home. Jake and Vienna denied all rumors on After the Final Rose, but things got ugly between them after the show, while he was on Dancing With the Stars.
When they split, Vienna said she was the one who ended it, in part because he wouldn't be intimate with her. Other reports claimed Jake ended the relationship because he suspected she was cheating. The whole thing came to an ugly head when The Bachelor aired a sit-down breakup special with Chris Harrison, Jake, and Vienna. Vienna entered that special as the "villain" of The Bachelor 2010, but Jake's hand-chop interrupting made him look controlling and (as she put it) "mean."
Jake and Vienna reunited on Bachelor Pad Season 2 where the tables seemed to turn once again. Jake tried to make amends (at least for the cameras) while Vienna and her boyfriend at the time Kasey came off as more negative. Overall, neither one ended the experience looking that great. But time heals all wounds, and enough has happened since then that no one really talks about Jake and Vienna anymore.
Emily Maynard, The Bachelor Season 15
Emily Maynard was America's Sweetheart at the start of Bachelor Brad Womack's second season, and America's tabloid target by the end of her own season of The Bachelorette.
Brad Womack was the "villain" coming into The Bachelor Season 15, since he had infamously chosen no one -- beyond himself -- at the end of Bachelor Season 11. In his second chance at love, he picked single mom Emily. However, as the season played out, unflattering tabloid stories came out from sources alleging Emily was just there to be the Bachelorette. During the After the Final Rose special, it was revealed that Brad and Emily had already broken up while the show aired, only to reconcile. They ultimately decided to split, with Emily sitting down to talk about it with Chris Harrison. Emily talked about lifestyle differences, since Brad seemed to expect Emily and her daughter to move to Texas to be with him.
When Emily became the Bachelorette in Season 8, she surprised many fans by picking Jef Holm. Fans were even more surprised when cheating rumors came out. Tabloid reports in 2012 allege she was caught sending explicit text messages to Oakland Raiders quarterback Matt Leinart, leading to a fight with Jef during a family vacation in South Carolina. Jef's brother later confirmed the story. Three months after the Bachelorette finale aired, Jef and Emily announced they had split.
Courtney Robertson, The Bachelor Season 16
Like Vienna before her, Courtney was the "villain" of her season, which aired from January to March 2012. Bachelor Ben Fljanik was pretty low-key, but he was drawn to free spirited Courtney, who clashed with the other women in the house. Her in-the-moment confessionals were pretty hilarious, but also trash-talking and negative. She was bold and took every opportunity for herself.
Courtney and Ben ran off to go skinny dipping at one point in the season, and she also went topless during one group date. It turned the women off, but turned Bachelor Ben on. He picked Courtney in the end, then said he was shocked to watch Courtney's behavior back on the show. (Bachelorette Hannah B. is having a similar experience watching Luke P.'s behavior back on her 2019 season; there's so much the rose-givers miss in the house.) Ben also got caught in a cheating scandal when he was allegedly seen kissing another woman.
Courtney and Ben first broke up while the show was airing, then took steps to repair their relationship. They ultimately called off their engagement in October 2012. Courtney later dated future Bachelor Arie Luyendyk Jr. and wrote a book called I Didn't Come Here to Make Friends: Confessions of a Reality Show Villain. She said the only negative feedback she got from the book was from Ben himself.
Josh Murray, The Bachelorette Season 10
Josh Murray had two ugly Bachelor Nation breakups. Bachelorette Andi Dorfman's 2014 season was initially controversial for Nick Viall being the unpopular guy in the house. Nick also went on to accidentally spoil the finale, revealing Andi picked baseball player Josh over him. Andi and Josh ended their engagement in January 2015. In 2016, she wrote a tell-all book called It's Not Okay: Turning Heartbreak into Happily Never After. In the book, she had a lot of negative things (opens in new tab) to say about Josh, claiming he could be controlling and "often behaved like an emotional abuser," calling her a "whore" if she talked to other men, and calling her expletives if she defied him.
Josh also had another dramatic breakup with Bachelor in Paradise's Amanda Stanton. They both said not-so-nice things about each other, with Amanda echoing Andi's assessment of Josh as "controlling." She also said everyone had warned her about Josh and she wished she had listened. Josh recently made waves when he (jokingly) posted a photo of his Bachelorette proposal, covering Andi's face with a devil emoji.
Cassie Randolph, The Bachelor Season 23
Cassie Randolph must've mentioned 100 times that she didn't know, she wasn't sure, she had doubts, she wasn't ready to get engaged to Colton Underwood on The Bachelor. Her name came up early on Bachelor Colton's 2019 season when Caelynn and Cassie were reportedly overheard saying they weren't ready to be engaged at the end of the show. Cassie denied saying she wasn't ready.
And yet later in the season -- especially after her father wouldn't give his blessing -- Cassie revealed it was true. During the overnight dates, Cassie said she wasn't ready to get engaged. So she quit. Colton was so upset, he did his now iconic fence jumping move to get some space and let off steam. Ultimately, though, Colton tracked Cassie down and asked for a second chance -- without the two getting engaged. They are still together as of June 2019, but it was the first time since infamous Bachelor Juan Pablo Galavis that a season had ended without a proposal.
Bryan Abasolo, The Bachelorette Season 13
Bachelor Nation seems fine with Bryan Abasolo now that he and Rachel Lindsay are still together and planning a summer 2019 wedding. But he was raked over the coals during the 2017 season for coming off as "smarmy" and "fake." It didn't help Bryan that fan favorite Peter Kraus put him on blast, saying, "I don't like Bryan. He has his Miami swagger. But in Miami, they have fake hair, fake asses, and fake cheeks." Rachel's own family questioned Bryan's sincerity, which "low-key annoyed" Rachel.
When Bryan was picked in the end, the fandom was split between thinking Rachel was crazy and being thrilled that Peter might be the next Bachelor (which didn't happen). Peter and Rachel even had a spat, with Rachel defending Bryan from Peter's accusation that she'd be settling for a "mediocre" life with him. She countered that she was living her best life. Rachel & Bryan got the last laugh since they set a wedding date for this August. It will not be a TV wedding, since Rachel said they weren't offered one.
Garrett Yrigoyen, The Bachelorette Season 14
Bachelorette Becca Kufrin and Garrett Yrigoyen just got engaged on last year's 2018 season. She came into the role hot off the dramatic mess that was Bachelor Arie Luyendyk Jr.'s season. He picked her in the end, then dumped her for runner-up Lauren -- who is now his wife and the mother of his child. Right before Becca's season premiered, though, posts started making the rounds capturing controversial things one of her upcoming bachelors had liked on Instagram. Those posts were from Garrett and, by that point, spoilers had come out suggesting Becca would pick him. One post accused school shooting survivor David Hogg of being a crisis actor, and several others mocked more left-leaning subjects, including insulting leftist women.
It may not have been controversial to any right-leaning people who agreed with his viewpoints, but Becca was known to be a leftist woman who supported Hillary Clinton in 2016. She posted about standing with Planned Parenthood, writing "Keep your politics away from my lady bits." It was surprising to see Becca had picked someone with Garrett's views, and some fans wondered if she even knew he had those views during the show. On the After the Final Rose special, Garrett said he was sorry if he offended anyone, saying he didn't realize the effect of a double tap or like on Instagram.
Jed Wyatt, The Bachelorette Season 15
So much of Bachelorette Hannah's 2019 season followed The Luke P Show, but it was off-screen news that ended up dominating the Season 15 finale. Right around the time when Reality Steve's spoilers came out that Hannah would pick musician Jed in the end, instead of popular Tyler C., news reports came out about Jed having a girlfriend back home. Jed had already told Hannah he went on The Bachelorette to promote his music career. But Jed didn't tell Hannah about his girlfriend Haley until after they got engaged -- and he left a lot out. Hannah had to learn the truth from People magazine reports.
The second night of The Bachelorette 2019 finale showed Hannah confront a bored-looking Jed, who didn't really seem to see the problem. He played down his relationship, but couldn't deny the facts of telling his "ex" he loved her, and sleeping with her the night before he left for The Bachelorette. Considering Hannah kicked out a guy named Scott on her Bachelorette premiere for having a girlfriend back home, it was an especially bad look for Jed and especially frustrating and humiliating for Hannah. Hannah dumped Jed, and asked her runner-up Tyler out for drinks on the "After the Final Rose" special. Based on social media reports, it doesn't look like Jed feels too upset about what happened:
Sadly, Hannah didn't find her happy ending on The Bachelorette Season 15, and both Jed and Tyler will be remembered as two of Bachelor Nation's most controversial contestants. Here's hoping the 2020 Bachelor has better luck.
Your Daily Blend of Entertainment News
Gina grew up in Massachusetts and California in her own version of The Parent Trap. She went to three different middle schools, four high schools, and three universities -- including half a year in Perth, Western Australia. She currently lives in a small town in Maine, the kind Stephen King regularly sets terrible things in, so this may be the last you hear from her.