Watch A California Earthquake Hit During A Live News Broadcast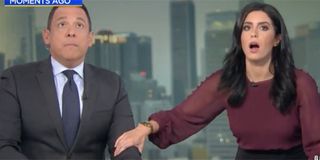 Live TV is still good for an unexpected moment or five, and the local news can be a great source of spontaneous moments. Often these happen when someone is doing something odd in the background of a local news shot; however, every once and awhile something unexpected happens in the studio.
That was the case this week in California, when the earthquakes we've all been reading so much about in the news interrupted a local CBS broadcast. You can take a look at the chaotic clip, below.
In particular, the 7.1 magnitude earthquake that shook southern California late last Friday occurred during the 8 p.m. broadcast ( at 8:21 local time PT specifically) for local newscast station CBS Los Angeles. In the video shot at CBS Studio Center, anchor Sarah Donchey asked viewers to be patient with the broadcast as the earthquake unfolded live on TV. She spoke to the audience about what was happening as the studio shook, noting,
Other anchor Juan Fernandez also looked visibly freaked out, as well. Strong shaking was shown onscreen and finally Sara Donchey told her co-worker she felt they needed to get under the desk while the earthquake continued to rage on. So, they did step away from the camera's view and the broadcast cut to a break.
Doubtless, most of the people watching the broadcast had hopefully also sought shelter at that point and were not still watching the event unfold on TV. Regardless, what was caught on camera should be a strong reminder for those of us who live in parts of the country where earthquakes aren't often apparent, that this is the kind of damage an earthquake of high magnitude can do, even miles away.
The 7.1. quake wasn't the only earthquake to hit SoCal last week; however, it did do a lot more damage than Thursday's 6.4. magnitude earthquake. Multiple fires broke out as a result of Friday's earthquake and countless damage was done to businesses and homes. No deaths were reported in the quake, which saw its epicenter in Ridgecrest. Ridgecrest is closer to 2.5 hours away from Los Angeles by car.
In Los Angeles, no notable damage was caused, although as you can see in the video, the earthquake was still an event. Plenty of other footage has shown hardships and crazy moments that also occurred during the quake, as can be seen below as well.
Reports from seismologists studying the event have indicated there is a chance there could be another earthquake to come, although the probability that an earthquake of a 7 magnitude or higher is only 3%. Our thoughts go out to the Ridgecrest area as it recovers from the quake.
Amazing Race & Top Chef superfan with a pinch of Disney fairy dust thrown in. Theme park junkie. If you've created a rom-com I've probably watched it.
Your Daily Blend of Entertainment News
Thank you for signing up to CinemaBlend. You will receive a verification email shortly.
There was a problem. Please refresh the page and try again.