A Solid Percentage Of Netflix Users Think The Service Is Too Expensive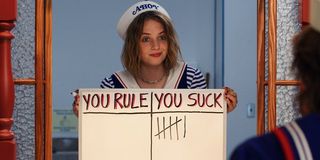 (Image credit: Netflix)
Netflix is king of the streaming game, and despite the field getting wider with new streaming platforms like Disney+ and the stacked WarnerMedia streaming service on the way, it's likely to remain on top for the foreseeable future. Well over 10 million people subscribe to the service, which introduces new shows on an almost shockingly regular basis. That said, there's one thing some Netflix subscribers aren't happy about: the price hikes.
According to a new study by Kill the Cable Bill, 1 in 4 Netflix subscribers said that Netflix has gotten too expensive. Considering that Netflix reportedly has around 14.6 million subscribers at the time of writing, 1 in 4 is not an insignificant figure. The exact percentage of displeased subscribers from the survey who believe "It's too expensive" is 24.3%, which is nearly twice as high as the 14.3% who said that Netflix is "a great value." 61.4% of people consider a Netflix subscription to be "reasonably priced."
While the majority of consumers are satisfied with what Netflix charges, nearly a quarter of dissatisfied customers isn't a good thing with the Disney+ streaming service only months away from debut.
Although Hulu and Amazon have become competitors with Netflix over the years, Disney+ has already amassed a huge library of popular movies and TV shows, with new projects under the Star Wars and Marvel umbrellas set to debut, including the first ever live-action Star Wars TV show. And more Loki, on the Marvel front! Disney+ will also be significantly cheaper than even the cheapest current Netflix plan. Could some of those dissatisfied Netflix subscribers jump ship to Disney+?
That said, Netflix has one of the biggest non-reality shows on television now that Game of Thrones has ended, thanks to Stranger Things, although seasons of Stranger Things have been few, far between, and somewhat divisive since the first. How much have the prices for Netflix changed in recent years? In 2014, the Basic plan was $7.99, the Standard plan was $8.99, and the Premium plan was $11.99. 2015 would see Standard bump up to $9.99, and 2017 saw Standard at $9.99 and Premium at $13.99.
Earlier in 2019, prices jumped yet again, which raises the question: what will the price difference be when Disney+ launches, assuming Netflix doesn't bump its costs again before then?
Well, Disney+ launches in November at a price of $6.99 per month, with the option to pay for a full year at a lower cost over 12 months. Netflix's cheapest plan as of July 10, 2019 is the Basic plan, which costs $8.99/month to watch on one screen at a time in standard definition, with the option of downloading videos on one phone or tablet. Next up is the Standard (HD) plan for $12.99/month, which allows viewing on two screens at the same time with HD available, with the option of downloading videos on two phones or tablets.
The priciest option is Premium (Ultra HD) plan for $15.99/month, which involves watching on four screens at the same time in HD and Ultra HD, with the freedom to download videos on four phones or tablets. That's nearly $10 more than Disney+, and if Netflix does embrace advertising as some in the industry suspect, subscribers could be even less happy with the bang they get for the buck. The prices reportedly do not reflect inflation since 2014, but rather likely the billions of dollars Netflix has borrowed and invested in recent years.
While the price hikes may seem relatively minor year-to-year, not everybody can or is willing to put up with those hikes, especially if there are other options on the market, and Netflix has lost some of its biggest properties as well as fallen into the habit of cancelling shows pretty quickly. Unlike traditional broadcast television, it can't count on its biggest hits returning every fall after every spring. For example, Stranger Things' release schedule has been more similar to Game of Thrones than anything on the big 4 networks. Seasons generally run for far fewer episodes as well, for an interesting reason.
Now, before anybody panics that Netflix is going to lose a quarter of its subscribers because they're not happy about the price hikes, there are some variables in play with this data. The survey polled only 1,004 current Netflix subscribers to get these figures, which is a very small percentage of the people who shell out money each month for access to Netflix's library. Fewer than 250 people in the survey stated that they considered Netflix "too expensive." It's difficult to definitively say that the responses of a thousand people 100% accurately represent the 14+ million people who subscribe.
That said, Kill the Cable Bill took some measures to guarantee that the small sample size was widely representative. The people selected had "an appropriate distribution across age categories for streaming video users," with 51% male and 49% female respondents. And that's not all! The fastest 4% of the group had their answers removed prior to data analysis, as it was possible that they sped through the survey without paying duly close attention to the answers they were giving. The initial group was larger, with the drop of 4% taking the sample size down to that 1,004 total.
So, while it's technically impossible to gauge subscriber opinions precisely without a sample size in the millions, the people who put the survey together put a lot of detailed work into making sure that their findings were accurate and representative despite the relatively small group of people who answered the question. The data shouldn't be discounted just because a very small percentage of Netflix's total subscribers weighed in.
Still, I wouldn't count on Netflix suffering terribly from the launch of new streaming services. People may be more inclined to stick with what they know and what has proven successful rather than investing in other services, especially those like WarnerMedia without the big name recognition, although that could change once the WarnerMedia service actually gets a name. Disney+ definitely feels like the biggest threat in my book.
Do I wish that Netflix was cheaper? Sure, but I've subscribed for years, and I won't be jumping ship, although I probably will wind up going for Disney+ as well. Perhaps the larger question now is how many streaming services people are actually willing to pay for.
Only time will tell. Netflix does have a lot to offer now and in the not-too-distant future, so subscribers certainly aren't wasting their money. The new season of Stranger Things alone should fuel speculation for a while, and there are plenty more options on the way.
Resident of One Chicago, Bachelor Nation, and Cleveland. Has opinions about crossovers, Star Wars, and superheroes. Will not time travel.