The Bachelorette Spoilers: Did Luke's Meltdown Guarantee That Hannah Picks Jed?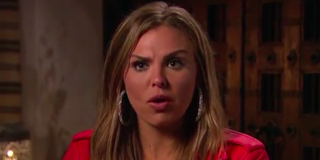 Spoilers ahead for Hannah Brown's season of The Bachelorette on ABC.
The highly-anticipated fantasy suites episode of Hannah Brown's season of The Bachelorette has finally aired, and it was packed with as much drama as viewers could expect of an episode featuring Luke Parker. The first hour and a half or so of the episode was pretty happy for Hannah, with sexy romps throughout Greece only slightly marred by Jed Wyatt bringing up Luke. Then, Luke finally showed his true colors to Hannah herself, had a meltdown, and the result may be that Hannah picks Jed. Here's why.
Jed has been the most reluctant of Hannah's remaining suitors, even though she's been quite enthusiastic about him. Despite his infatuation with her -- or what seems like infatuation -- he hasn't been able to get over the fact that she's kept Luke around. He doesn't think that reflects well on Hannah's judgment, and he thinks Luke will break her heart. That, and he's offended that Hannah thinks he and Luke belong in the same category, but he didn't exactly mention that to Hannah.
When their date became awkward due to a Greek woman suggesting that Hannah should have known which guy was meant for her at first sight, Jed pulled her aside and tried to get some clarity on why Hannah hadn't gotten rid of Luke yet. She tried to say that Luke had a side of him that none of the guys got to see, which of course didn't fly with Jed after everything he'd seen of Luke that Hannah hadn't, and he clearly wasn't convinced that her rationale about their connection was completely sound.
Still, it didn't ruin their date, and Hannah happily spent the night with him for their fantasy suite experience. Pilot Pete was the one with Hannah for the infamous night of windmill sex, and Hannah decided that she and Tyler should just spend their night hanging out, but she was clearly happy after her night with Jed. He gave her a lot to think about in their conversation with Luke, and she ended their fantasy suite experience happy with him.
Normally, that wouldn't be enough to suggest that Hannah would definitely get rid of Luke and choose Jed. In fact, she's disliked pretty much every instance of the guys talking about each other to her. But she appreciated Jed's concerns for her, and then Luke had a meltdown that seemingly sealed the deal.
Because Hannah hadn't been watching The Bachelorette for all these weeks, she still hadn't seen Luke's particular brand of bonkers for herself other than the few times his true colors shone through while with her. They had a great date in Santorini, which was one of her bucket list locations and may have been ruined for her by how the night ended.
At dinner, things got ugly when Luke got back up on his high horse about sex, saying that he would take himself out of contention if Hannah was having sex rather than saving herself for marriage. I'm not sure if he thought he was before the other guys in the fantasy suites lineup and would be able to guilt her into not sleeping with anybody or if he thought applying pressure about sex would be the way to keep himself in the game, but she didn't react well the first time he brought it up.
Luke was able to talk himself out of trouble in the past; that wouldn't be the case this time around. Hannah was appalled that he was continuing to try and claim her and judge her for sexual activities, which at the time he didn't even know for sure had gone down. When Hannah went off on him and told him not to interrupt (several times), he tried to backtrack and sell that she had misunderstood his exact words again. His eyes bulged wider and wider by the moment.
The Bachelorette's Jed Wyatt Asks Fans To Stop Harassing His Family
Still, Hannah was having none of it, and sparks practically flew from her head when he tried to say that she "owed" him an explanation. Watching him melt down after week after week of talking and flirting and smoldering his way back into Hannah's good graces was weirdly satisfying, but also unnerving. I was pretty happy that Hannah had producers, cameramen, and a driver on hand to make sure that he actually would leave.
He dragged his feet leaving even as she lost more and more of her patience in trying to get him into the car and out of her sight. When he still wouldn't go, she just went ahead and announced that she'd had sex in a windmill, and Jesus still loved her. Luke's very Luke response was to ask if he could pray over her, but Hannah had enough. FINALLY, Luke left, and Hannah flipped off the car that drove him away. Finally, Hannah saw the truth about Luke!
Now, why does that mean Jed could be the guaranteed winner? Well, now that Hannah is under no illusions about Luke, she may think more kindly about Jed's attempts to talk to her about Luke. What seemed like a guy being frustrating and wanting to talk about his competition before Luke's meltdown may seem more like a genuine attempt to prevent her from being hurt by a guy who definitely wasn't right for her. Jed also told Hannah that all the guys had seen Luke's other side, which means that neither Tyler nor Peter felt they should tell her the truth about Luke.
Jed took a big gamble when he talked about Luke's darker side -- which, up until Luke started digging his own grave during their dinner date, Hannah did not want to hear -- during fantasy suites week, when they could have just partied their way across Greece. While her dates with Tyler and Peter may have been easier and less awkward, she could definitely feel more strongly about Jed taking that risk and less happy about Tyler and Peter not trying to intervene.
What would the situation be if Luke hadn't had his meltdown? I'm not sure. Hannah still had Luke-shaped stars in her eyes up until that dinner, and she's been known to short-circuit a bit when Luke turns on the charm. Still, the stakes are higher than ever now, and Hannah isn't overlooking things she might have earlier on in her season. At this point, Jed's odds feel pretty good to take the final rose at the end.
Spoilers ahead for the rest of Hannah's season of The Bachelorette. If spoilers are correct and Jed does win the final rose from Hannah, that may not mean a happily-ever-after. Reports indicate that Hannah broke off her engagement once her season started airing, suggesting that she didn't like what she was getting to see went on among the guys. Then, a bit later, rumors began to circulate from a generally reliable source that Hannah had broken up with him entirely... on camera. Oh, Hannah! What would Becca think? End spoilers for the rest of Hannah's season.
The "Men Tell All" special is coming up, and the guys may finally have their chance to unload on Luke without fear of losing Hannah. Tune in to ABC on Mondays at 8 p.m. ET for more Bachelorette drama.
Your Daily Blend of Entertainment News
Laura turned a lifelong love of television into a valid reason to write and think about TV on a daily basis. She's not a doctor, lawyer, or detective, but watches a lot of them in primetime. Resident of One Chicago, the galaxy far, far away, and Northeast Ohio. Will not time travel, but will sneak references to The X-Files into daily conversation.