Star Trek: Picard Is Bringing Back A Bunch Of Next Generation Characters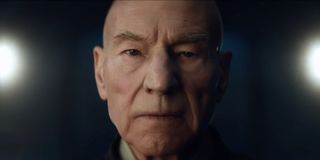 Well, Trekkies everywhere can rejoice! It turns out that several characters from The Next Generation will be stopping by Star Trek: Picard as we'd hoped, and there are some surprises in the choices.
San Diego Comic-Con always brings big news when it comes to science fiction and fantasy, and this year was no different. The convention played host to the cast and crew of the highly anticipated CBS All Access series Star Trek: Picard, and not only did they show off the first full trailer (after giving us a brief tease a couple of months ago) of the latest entry in a long line of Star Trek series, but they also surprised the audience by revealing who we can expect to see reprising their roles from TNG in Picard. Looks like LeVar Burton was right.
First up? This, honestly, isn't that much of a surprise, but it's good news, nonetheless. Jonathan Frakes (Commander William T. Riker) and Marina Sirtis (Counselor Deanna Troi) will be hopping on board the Picard train for appearances on the show. Of course, Frakes (who will also be directing a few episodes of the freshman series) posted a tweet back in early June that many took as a hint that he'd be reprising Riker on Picard, but now we have confirmation.
Seeing as how the film Star Trek: Nemesis (which was the last time the full TNG cast had an adventure on screen) showed soon-to-be Captain Riker at the wedding reception for his marriage to his longtime love Deanna Troi, it makes sense that they would both be seen on Picard. Unfortunately, fans didn't get to see Frakes or Sirtis show up on stage, but that's not the case for the next two stars from The Next Generation.
Do not adjust your screens, folks. You are, in fact, looking at Brent Spiner, who appears to be reprising his role as Commander Data from this glimpse of him we see in the Star Trek: Picard trailer. I say that he "appears to be reprising his role" because the panel at Comic-Con only confirmed that Spiner will be on the show, not that we'd see him as Data again. Well, that, and the fact that Data died saving his crewmates at the end of Nemesis, so it's possible that Spiner could appear as Data's brother, B-4, or even show up as both characters.
Here are where two truly big surprises came in during the Comic-Con panel. One actor who appeared on stage and was also a veteran of The Next Generation was Jonathan Del Arco. Who?, you might be asking. Well, correct sound but wrong name. Del Arco played (get ready for it) the Borg, Hugh, all those years ago, and will be back for Picard.
The addition of Hugh (who may or may not be the unplugged Borg we saw in the trailer, and is pictured above) comes as a special surprise because he was only seen in three episodes of TNG. But, the character is iconic, because he was a Borg who eventually regained a sense of individuality and managed to maintain it. Instead of staying with the Enterprise crew, he went back to the crash site where they'd found him, knowing that the Borg would never stop looking for him and he'd put the Enterprise in jeopardy.
Again, Del Arco wasn't confirmed as Hugh, but it would seem to be a shame to have a sympathetic Borg who's still alive in the Star Trek timeline and not bring that specific character back for Picard, especially considering how those assimilating assholes have impacted Picard's life.
And now we come to the biggest surprise of the panel, when it was announced that Jeri Ryan, who starred on Star Trek: Voyager as the former Borg Seven of Nine, would be appearing on Picard, as well. Because we can see her in the trailer with Seven of Nine's distinctive Borg facial plate, there's really no doubt that Ryan will be showing up as Seven, which is surprising because she never appeared on TNG or in any of the movies led by that cast.
As you can see, there will be a lot of fan-favorite old faces showing up on Star Trek: Picard to join Patrick Stewart and the new cast as he continues Picard's adventures. We don't know for sure how much we'll see of each of these actors, or how important their parts will be, but it seems like Picard is shaping up to be quite the ride.
Star Trek: Picard will hit CBS All Access in early 2020, until then you can stay tuned to CinemaBlend for the latest on that show as well as everything in TV, movies and pop culture!
Your Daily Blend of Entertainment News
Yennefer's apprentice, Gilmore Girl; will Vulcan nerve pinch pretty much anyone if prompted with cheese...Yes, even Jamie Fraser.