Bad News For Those Hoping Amazon Will Start Releasing Streaming Numbers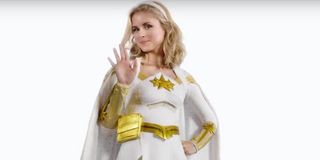 The world of TV has entered new territory. In the past, viewers, networks and critics have all known where their favorite shows stood thanks to Nielsen ratings, which are used by advertisers to determine how much to pay for ads. Subscriber services like Netflix have disrupted this process by not really releasing numbers for their programming. So, where does Amazon fit into all this? If you ask Amazon head honcho Jen Salke, the service doesn't need to release the numbers.
That's right, if you were hoping to know how many people streamed The Boys during its first week on Amazon or if you wondered how many other Marvelous Mrs. Maisel fans are hiding in the woodwork, you may have to rely on just a vague gauge of how well your show is doing.
Obviously, there are buzzy shows on Amazon, just as there are buzzy shows on other subscription services like Netflix and Hulu. I'm assuming Amazon isn't going to cancel The Marvelous Mrs. Maisel tomorrow because it gets good reviews and has been an awards contender and winner. Stranger Things on Netflix is unlikely to go anywhere soon and The Handmaid's Tale was just renewed for Season 4 on Hulu.
Still, there are a lot of programs that are up on the air anytime a new season wraps on a streaming service. If you were hoping that Amazon might start giving you hints about whether or not your favorite show is popular, it looks as if you're out of luck. Although it should be noted, the subscription streamer has vaguely alluded to shows dominating on the streamer in the past, as happened when The Grand Tour first aired.
The main way this is an inconvenience to viewers is because it makes cancellations all the more shocking. I remember a few years ago, I loved watching the then-newbie ABC show Forever. Regardless, even though I faithfully watched each week, I was very well aware that Forever was a bubble show, right on the cusp between cancellation and renewal. The point is, I wasn't shocked when Forever was cancelled at the end of Season 1.
I was still a little sad when it happened, but I also sort of saw it coming and braced myself for the impact. That really hasn't happened with Netflix or Amazon programming. When my favorite shows on streaming get cancelled or "end"—however the service chooses to spin it -- it's almost always a shock. (Perhaps House of Cards was an exception.)
Ultimately, a few months ago Netflix started letting viewers know if a show or movie on the streamer was doing really well, probably to help boost the positive narrative around said show or movie. So far, from what Jen Salke said at TCA (via The Wrap), Amazon won't be taking the same route, although she did mention Amazon could "change over time."
Oh, and in case you wondered, this news comes directly after Amazon cancelled a slew of shows over at the streamer. So, if you are a fan of Patriot, Amazon's Forever (not to be confused with the aforementioned show of the same name), Lore, The Romanoffs or Too Old To Die Young, you're out of luck for new episodes.
On the bright side, unlike network TV, you should be able to continue streaming old episodes of these shows whenever you want.
Your Daily Blend of Entertainment News
Reality TV fan with a pinch of Disney fairy dust thrown in. Theme park junkie. If you've created a rom-com I've probably watched it.
Your Daily Blend of Entertainment News
Thank you for signing up to CinemaBlend. You will receive a verification email shortly.
There was a problem. Please refresh the page and try again.