Marvel TV Shows Are Getting Their Own Crossover, Here's What We Know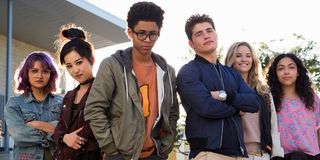 We know from both previous movie and TV projects that crossing over properties and teaming up characters works. Now, it looks as if Marvel TV will be getting into the action with an epic crossover event teaming up the Marvel's Runaways and Marvel's Cloak & Dagger shows, which is pretty crazy, given the former airs on Hulu and the latter airs on Freeform.
News broke this week about the big crossover, with Marvel itself confirming the event episodes will happen later this year. Regardless, right now Marvel isn't even saying how Runaways and Cloak & Dagger will cross over. Given that Cloak & Dagger has wrapped its current season and Runaways is heading back to Hulu for Season 3 this December, that seems to be the route the crossover event will be taking, however.
Luckily, in a video, the cast of The Runaways say they will "need some help" in Season 3, introducing the cast of Cloak & Dagger sitting near them on a stairwell, so that's at least one mystery confirmed.
The Freeform team says they are "excited" to join up with the Hulu cast, which is not shocking, as this sort of crossing over should bring a few more eyeballs both to The Runaways but also to the Cloak & Dagger team. Plus, I would assume it's just fun to change things up and do something different every now and then.
Jeph Loeb, who is the head of Marvel Television, also confirmed the two shows will be crossing over, explaining that the fanbase has been asking for it, so Marvel will be giving it to them. He said:
Marvel's The Runaways will officially be heading back to Hulu for Season 3 on December 13. The upcoming season will feature 10 episodes and will feature the Runaways searching for their captured friends.
I'd love to say this news is an out-of-the-blue surprise, but as everyone is noting in this announcement, Marvel has striven to tie these shows into the same universe as the MCU and connect them in ways that could lead to the shows crossing over. The fanbase has been waiting for something of this ilk for a little while now.
Now that it's all happening, it's very exciting though and I can't wait to hear more about this team up as we wait for Marvel's The Runaways to return in December. After all, great things have come out of the arrow-verse thanks to crossovers and I'd expect the same thing could happen here.
Your Daily Blend of Entertainment News
Reality TV fan with a pinch of Disney fairy dust thrown in. Theme park junkie. If you've created a rom-com I've probably watched it.