How ABC Picks The Bachelor And Bachelorette, According To Chris Harrison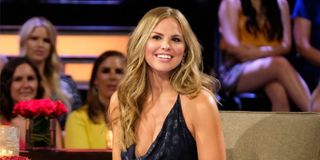 Whenever ABC chooses a new lead for The Bachelor or The Bachelorette, fans always wonder how they decide who's right for the top spot. Of course, this is especially true if the good people of Bachelor Nation decide they dislike the latest Bachelor or Bachelorette. Well, now franchise host Chris Harrison has let us in on the secrets behind deciding who will next be chosen to date 30 sometimes-not-so-wonderful singles all at once.
You hear that Bachelor Nation? Tyler Cameron might not be the reality dating show hero we need right now! OK, now that you've all composed yourselves (or fired off angry missives to ABC, Chris Harrison and Bachelor producers) we can break down what Harrison told E! News with clear heads.
As you might imagine, it's not just one thing that leads the producers to choose every Bachelorette and Bachelor, as there are a host of qualities and circumstances that are needed to make a person right to step into the role of lead in the franchise.
Obviously, pretty much everyone who shows up on either show is physically attractive, so that never has to be a real consideration, but that doesn't mean that every good looking man and woman who has graced the franchise is fit to lead. The first thing Harrison mentioned as something they look for in potential leads is "television," and I'm going to assume that he means two things here, which actually also encompass the "story" and "layers" portions of his explanation.
First, the audience needs to have some connection to the person they choose. On a show like Bachelor in Paradise, it's pretty easy to pick out anyone from past seasons, because there are so many cast members, and everyone has their own storyline. But, being the lead means being able to really drive the main story of the season, and that's always the search for love. If the fans don't feel a connection with the lead, then they won't care whether or not that person finds love and the whole idea of the series is sunk.
The idea of this connection is probably why leads are typically chosen from the previous seasons. Hannah Brown, for example, started her Bachelor journey on Colton Underwood's season of The Bachelor, and Colton, in turn, was plucked from Becca Kufrin's Bachelorette season to act as lead. This way, there's already built-in interest from at least a portion of the audience, meaning that people will be invested in each lead's story right away.
Secondly, and this one is way more straight forward, the producers have to look for someone who would make for good television, in general. If you've watched either show (And I know you have. I mean, come on, you're reading this article.) you'll know that not every pretty person who shows up in Bachelor-land turns out to be comfortable being open with their feelings in front of cameras. And, this makes sense, because the cameras are on these people all the time for several weeks.
Once they find a few people who fit these requirements, the producers need to branch out and consider other aspects of each potentials' life. Chris Harrison used the perfect example of Tyler Cameron, who made a wonderful showing on Hannah's recently completed season of The Bachelorette. I don't have any firm numbers on this, but as a part of Bachelor Nation who happens to pay attention to what people say about the show online every season, I'm going to guess that about 90% of female America is in love with Tyler right now, so he clearly fulfills those top two requirements.
But, as Harrison so deftly pointed out, while a lot of people would love to see him as the next Bachelor, Tyler might not be into the idea, mainly because he seems to be getting kind of serious with supermodel Gigi Hadid.
If you can date a supermodel (Not that everything is about looks, but…come on!) then why waste your time by heading back into the drama-filled environment that is the Bachelor franchise? Not only are you cut off from all your family and friends for weeks at a time, but you have to date a lot of people at once, break up with most of them on camera and expose a lot of yourself (No, not like that. Minds out of gutters, people.) with soooo many people watching.
Sure, you might find real love in the Bachelor franchise, but most people would probably prefer to find it without going through the deep scrutiny that comes with looking for their person on national television. And, as we all know, that spotlight doesn't immediately go away once your time on the show is over.
When you add up the ability of someone to capture people's attention and get them invested in their quest for love, and the timing of that quest compared to when the franchise needs a new lead, well, Chris Harrison is telling us that that's the perfect storm that gives us The Bachelor and The Bachelorette every season. And, so far, they seem to be doing a pretty good job of choosing folks. You don't get to Season 24 and 16, respectively, and have a franchise that is bad at picking leads.
Right now, you can watch a lot of also-rans from the Bachelor franchise try to find love in Mexico, when Bachelor in Paradise airs on ABC, Mondays and Tuesdays at 8 p.m. EST. If you're just biding your time until The Bachelor starts airing again, you can watch a whole host of fall TV premieres in the meantime.
Your Daily Blend of Entertainment News
Yennefer's apprentice, Gilmore Girl; will Vulcan nerve pinch pretty much anyone if prompted with cheese...Yes, even Jamie Fraser.