The Bachelorette's Hannah Brown Reveals How Much Her Life Has Changed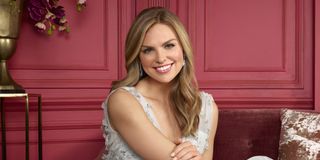 Hannah Brown's season of The Bachelorette has been over for a couple of weeks now, and she's recently come forward to let everyone know just how much has changed in her life. While many people can easily guess that going back to a regular life after having your heart laid bare while looking for love on national television would be difficult, the past few months have not been easy for Hannah.
It turns out that the process of coming down off of Hannah's experience has been a lot trickier than most of us could have assumed, and the now former Bachelorette is in the middle of a rough time as she tries to adjust to all the changes in her life. Here's what she had to say:
Wow. Hannah Brown went all the way there in her Instagram post, and she makes it very clear that she is definitely going through some things now that her year long journey of being in the Bachelor franchise has come to a close. In her post, Hannah appears to really lay all the challenges involved in this new chapter of her life on the line, so let's try to break down all her major points.
Obviously, the focus of this past year for Hannah Brown has been trying to fall in love. She started by becoming one of Colton Underwood's many girlfriends on The Bachelor, and then moved on to leading The Bachelorette a short time later. So, in just one year she's found herself falling in love with several different men. And, it was just a few weeks ago that we saw Hannah struggle to choose between her final four men: Peter Weber, Tyler Cameron, Jed Wyatt and Luke Parker.
That's a lot to go through in the romance department in less than a full year, and it would be difficult enough to choose between four good guys, but it turns out that Hannah ended up not making the best decision. She got engaged to Jed, but found out about the allegations that he had a girlfriend waiting back home during the filming of their season once she had already accepted and finished the show. So, she had to break off that engagement when she spoke to Jed and was unsatisfied with his answers.
Part of the reason Hannah ended up with Jed was her decision to finally dump Luke during fantasy suites week, leaving her with three potential fiancés. In the fight heard around Bachelor Nation, Hannah sent Luke home after he instigated a conversation about sex, saying that if she'd had sex with any of her remaining men he'd want to leave. Luke's many revelations during this conversation infuriated Hannah to the point where she felt the need to tell him that she had, in fact, had sex in a windmill with one of her other suitors, just to finally get him to leave.
And, as Hannah mentioned in her post, that conversation, and admission of pre-marital sex, has led to her being branded "promiscuous" by many people who feel her unabashed actions shouldn't represent someone who claims to be a woman of Christian faith. But, those very same actions have led others to see her as a role model and opened up conversations about sex and faith in positive ways. I don't know about you, but I think having millions of people bad mouth me for the same exact thing that millions of others are admiring me for would cause some severe mental whiplash.
So, we can already really see why everything that Hannah's been through lately would make her feel that she's "struggling." Just going through all of her romantic entanglements would lead most folks to want a year long vacation where they only speak to people they have no interest in dating. But, when you add in the fact that millions of people watched that journey, and have had their say publicly about what Hannah did or didn't do, you can see that her struggle right now is very real.
On top of all this, Hannah has admitted that it's been difficult to even take solace in the friends and family who support her. Not only is she living alone for the first time in her young life, she's also been living in Los Angeles, which is far away from her the people who know her best, most of whom are still back in her home state of Alabama.
Hannah also noted that she simply doesn't have the "time or emotional capacity" to fill those people in on what things are like for her right now, and she feels "guilty" about it. But, she's also feeling as though she can't keep up with her own life and how everything has changed for her, which makes a lot of sense. Can you imagine going through all of these things on camera, and having people continue to talk about you and your love life even once those cameras have stopped rolling.
While Hannah admits that she's "overwhelmed" by everything that's happening, she also seems to have hope that this time will make her stronger, much like actually being on The Bachelor and becoming The Bachelorette have. Hannah, whatever some people might think about her faith, has decided not to pretend she's not feeling the struggle right now, and has made the choice to "give over the keys to my main man Jesus and let him bless me through this ride."
Hannah's going through a lot right now, but at least is sounds like she's gotten some perspective on the past year and realizes not only that her new life is going to take quite a bit of getting used to, but that there is a way through this hard time. All we can do is hope that she gets through this in the right time and in the best way for her.
Hannah Brown is currently done with dating reality shows, but you can watch some of her former suitors try to find love again on Bachelor in Paradise, which airs Mondays and Tuesdays on ABC at 8 p.m. EST.
Your Daily Blend of Entertainment News
Yennefer's apprentice, Gilmore Girl; will Vulcan nerve pinch pretty much anyone if prompted with cheese...Yes, even Jamie Fraser.