The OA Won't Be Getting A Series Finale Movie At Netflix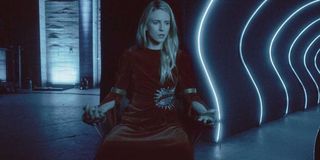 Netflix has saved many shows, like Lucifer and Designated Survivor, but that doesn't mean that it's done the same for its own shows. After all, the streaming giant has also canceled just as many of its original shows, like One Day At a Time, in a manner that felt far too soon. Most recently, The OA, which boasts a strong and passionate fanbase, was canceled by Netflix after just two seasons. Unlike Sense8, which got a series finale by way of a 2-hour movie, Netflix has decided against giving The OA the same treatment.
Fans were understandably upset when the news of The OA's cancelation was confirmed. This is a show that was meant to go on for five seasons, but was short-changed just as it was starting to pick up. Fans had a hard time believing it had been axed and one theory even posited that the cancelation was a fake-out.
Still, all hope wasn't lost. There could still be a movie, right? Well, according to Variety, any potential plans for a movie have fallen through. It seems like series creators Brit Marling and Zal Batmanglij were ultimately uninterested in making a series finale film because they had a lot more story to tell and the movie wouldn't have provided enough time to wrap any storylines up the way they wanted to. It seems that sticking to the five-year plan may have been too hopeful when there was no confirmation that Netflix would keep The OA around for that long.
The film would have been a great way to tie things up and offer fans some closure before saying their farewells forever. Unfortunately, the series didn't get the same sort of fate as NBC's Timeless, which was canceled, then uncanceled for Season 2 and then given the chance to wrap up its storyline in a TV movie that aired last December.
This news of no movie is a major blow for fans of the show, which became a cult hit, though they continued fighting for The OA to be rescued. Brit Marling, who also starred in the show, expressed her love for the fans and their dedication to the series. There was a sense of finality to her words, though, which were written before the news there would be no movie was released. Marling mentioned that she felt the cancelation was "unfair," but that everything must go on.
The OA isn't the first show to be canceled in its second season and likely won't be the last. The TV landscape is rough and, unlike other shows that Netflix has saved, the series was completely produced by the streaming service and so plans for a movie were fans' last hope to see the beloved characters one last time.
If you're feeling a bit blue after hearing this news, there are plenty of shows left to watch, both on streaming and through regular TV, so be sure to sift through our detailed fall TV schedule. With any luck, there might be another show that will capture the hearts of fans the way The OA did.
Your Daily Blend of Entertainment News