MythBusters' Jessi Combs Honored Through Boyfriend's Heartfelt Memories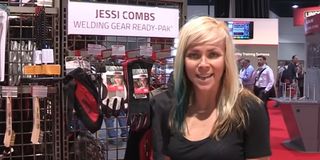 MythBusters star Jessi Combs died from an unexpected car accident on August 27, and family, friends, and fans alike have shared their love in social media posts. Combs' boyfriend and teammate, Terry Madden, had confirmed her death after being the one to find her after the fatal accident. Combs, known as "the fastest woman on four wheels," died while trying to best her own driving speed record, and Madden has since taken to Instagram to post photos and memories to honor the late professional racer.
The death of a loved one is always hard, and the grieving process is different for everyone. For Terry Madden, it seems that posting emotional tributes to Jessi Combs on Instagram is how he needed to "start sharing the stories" to go along with the memories that others are sharing, which is helping him cope. It's also giving their followers a sneak peek into what their lives were like together, and having fans being a part of that seems incredibly therapeutic. Madden shared a Halloween memory from last year about the former MythBusters star, when they'd gone to Vegas and made a pact to go without speaking, which Madden believes brought them closer together.
Check out that post below, complete with mime makeup.
In another post, Terry Madden posted about a specific hashtag he shared with Jessi Combs to cue up memories of times when they would do something "epic" together. Such as trying to watch the sun rise over what they thought was the Grand Canyon, with Madden getting erroneously overconfident about their whereabouts.
There are likely plenty of couples out there whose relationship might have taken a wrong turn after such an ordeal, but it seemingly only brought Jessi Combs and Terry Madden closer. Check out the whole story in the post below.
Terry Madden also shared a lovely story about a time when he and Jessi Combs were meant to take the stage for an awards ceremony, only to get doused by a big wave a few minutes ahead of time. Combs, feeling no pressure, simply dunked her head and hair into a nearby beach bar's beer trough to get the sand out, and then took the stage to accept their award as if nothing troublesome had occurred.
Jessi Combs appeared on MythBusters for 12 episodes starting in 2009, prior to the Discovery Channel's cancelation of the series in 2016. She also appeared on other shows such as Overhaulin' and Xtreme 4x4. On the day of her death, she was attempting to break her own land-speed record.
Though we lost the MythBusters star too soon, Jessi Combs filmed a movie called Interviewing Monsters and Bigfoot prior to her death, and the film will pay tribute to the late racer when it gets released on September 13.
Your Daily Blend of Entertainment News
Your Daily Blend of Entertainment News
Thank you for signing up to CinemaBlend. You will receive a verification email shortly.
There was a problem. Please refresh the page and try again.