What Chicago P.D. Season 7 Premiere Photos Tell Us About The 'Doubt' Ahead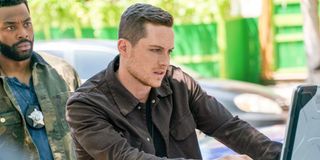 (Image credit: NBC)
Chicago P.D. closed Season 6 on a cliffhanger that could spell big trouble for the Intelligence Unit. The newly-elected Mayor Kelton was found shot and murdered in his own home, not too long after Voight dropped by for a visit with Kelton. With Kelton out of the picture, the Intelligence Unit's odds of sticking together were improved, but if one of their own killed Kelton, even more trouble would likely be on the way.
Fans have been stuck only being able to vaguely speculate about what's to come to pay off on the cliffhanger in Season 7, but now some photos from the Season 7 premiere have released to tell us some interesting thing. Keep on scrolling for a look at Chicago P.D.'s Season 7 opener, called "Doubt," and what the images mean moving forward:
Well, just because the Intelligence Unit had a motive to want Kelton out of the picture doesn't mean they won't be called in to investigate! Jay Halstead and Hailey Upton are on the scene of the crime and are seen chatting with somebody who is probably either another cop from another unit or a witness. Considering Kelton seemed to be alone when he was shot and this guy seems pretty snazzily dressed for a crime scene, my money is on a cop from Homicide.
Considering the murder of Kelton is bound to be a very big deal on Chicago P.D., I have to wonder if the full Intelligence Unit (except for Antonio Dawson, who won't be around in Season 7, and possibly Adam Ruzek, who was thrown behind bars in the Season 6 finale) will be on scene. Hailey and Jay are definitely there, but what about the others? Could enough suspicion be on Intelligence that the rest of the CPD wants to limit their involvement in the investigation?
Well, if suspicion does fall on Voight, as one would expect, it won't stop him from turning up at the scene of the murder himself. Check him out:
Yes, Voight will be present at the crime scene, although it remains to be seen if he'll be there as an investigator, as a suspect, or a little bit of both. Since Intelligence cops aren't the only ones there, Voight could be in some hot water with the CPD. And, judging by the look on Halstead's face in the photo, the rest of CPD may not be the only ones demanding answers.
A trailer for the Chicago Wednesdays teased some conflict between Halstead and Voight in Season 7, and I'm guessing that the pic of Halstead eyeballing Voight with more than a little suspicion means that the confrontation will come sooner rather than later. If the conflict is something that isn't resolved by the time the episode ends, then the Intelligence Unit could be in for some trouble from within in Season 7.
They may not be quite as solid as before if they're dealing with the absence of Antonio, any changes that may come to Ruzek's status, the introduction of a new cop, and possibly a new inter-team romance, and that could be good news for the bad guys of Chicago. We do already know that a new crime boss is on the way.
If there is a rift or two within Intelligence in Season 7, it's possible that Upton will be siding with Halstead. They're close as partners, and they're seen together in several pictures from the Season 7 premiere, including the one below:
Whatever Hailey and Jay are talking about here, it looks pretty confidential. At the very least, they've stepped away from any other cops present and Voight. Hailey hasn't been part of the Intelligence Unit full-time for nearly as long as everybody, having signed on to fill in the void left by Erin Lindsay, who pretty definitively isn't coming back after how Sophia Bush checked out of the show.
Could her perspective keep her objective when it comes to a potential Halstead vs. Voight split? Or will she be as conflicted as any others, perhaps between loyalty to her partner and faith in her boss? Or are Hailey and Jay just have a standard confab here that doesn't hint at any internal strife that could impact the whole seventh season?
We won't know for sure until "Doubt" airs later this month, but they certainly don't look like they're messing around in this conversation. Whether or not Voight (or somebody else in Intelligence) killed Kelton, this is a big case, and the entire CPD will probably be under scrutiny from the public eye and politicians.
However the investigation goes, the whole thing won't be limited to Jay and Hailey, and Voight won't be benched from contributing, as revealed by another image:
Most of the Intelligence Unit will be out in the field together at least once in "Doubt." Kim Burgess and Kevin Atwater are in the mix on the street along with Halstead, Upton, and Voight. Voight's presence suggests that either he's not serious enough of a suspect to be kept out of the investigation or there's just not enough evidence against him yet to justify benching him.
Then again, maybe Voight is exonerated in the first five minutes of the episode, and the whole hour is devoted to tracking down a one-armed man-type of suspect. The Intelligence Unit will likely need all hands on deck now that they're already down at least one member.
Chicago P.D. hasn't yet revealed why Antonio won't be around in Season 7 (although P.D. isn't done with his story yet), and there's no sign of Ruzek in any of the official episode pictures. He is still part of the official art of the full cast, so I don't think we have to worry that P.D. is going to end "Doubt" with shocking news that Ruzek is behind bars for the long term.
So, what exactly is Chicago P.D. going to pull off to start Season 7? Find out when the show returns on Wednesday, September 25 at 10 p.m. ET on NBC. That's a big night of Chicago action on the Peacock Network, as Chicago Med returns for Season 5 at 8 p.m. ET and Chicago Fire returns for Season 8 at 9 p.m. ET. Be sure to tune in to find out what happens on all three shows after hiatus and ahead of the big multi-show crossover!
Your Daily Blend of Entertainment News
Laura turned a lifelong love of television into a valid reason to write and think about TV on a daily basis. She's not a doctor, lawyer, or detective, but watches a lot of them in primetime. Resident of One Chicago, the galaxy far, far away, and Northeast Ohio. Will not time travel, but will sneak references to The X-Files into daily conversation.
Your Daily Blend of Entertainment News
Thank you for signing up to CinemaBlend. You will receive a verification email shortly.
There was a problem. Please refresh the page and try again.