Is Chicago P.D. Dividing The Intelligence Unit In Season 7?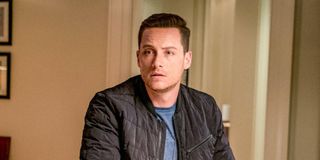 (Image credit: NBC)
All three Chicago shows are returning to Wednesday nights this fall, with Chicago P.D. closing out the lineup with the Intelligence Unit fighting the good fight against the criminals of the Windy City. They've been known to cross lines on many occasions, and one of those instances may be what led to the departure of an original series character ahead of Season 7. New footage for the new season of P.D. raises an even bigger question than what happened to Antonio, however; will the team be divided?
Of the three Chicago season finale cliffhangers in the spring, P.D. is the only one that didn't end with one or more characters actively in danger of dying, although Antonio looked like he would be making a bad decision shortly after the credits rolled. So, the suspense over the summer has been more about who killed the newly-elected Mayor Kelton. All signs seemingly point toward Voight "taking care" of the Kelton problem.
We'll have to wait until the Season 7 premiere reveals what Voight did or didn't do to Kelton, but a new promo for Chicago Wednesdays suggests that the case is going to lead to strife within the Intelligence Unit. For all that the cops of the unit cross lines and are known to disagree, they tend to close ranks against outside threats. Could they be divided from the inside in Season 7?
Take a look at the trailer that raises the question:
Unsurprisingly considering how Chicago Med and Chicago Fire ended their seasons in life-or-death situations, P.D. doesn't get the most attention in the Chicago Wednesday promo. Still, what footage is featured suggests that Voight and Halstead could be on opposite sides of a vital argument in Season 7, and both men have very strong wills.
Halstead is looking for answers as the evidence apparently mounts against Voight, who definitely was at Kelton's house before the murder, and Voight doesn't look like he's being very forthcoming with Halstead. As to be expected, Voight intends to "handle it" himself, and he's yelling in Halstead's face. For his part, Halstead doesn't look intimidated so much as frustrated and angry. Is Jay going to be sick of Voight's tendency to handle things first and answer questions second?
Admittedly, it's difficult to say at this point, as the tension in the Chicago shows is generally higher in premieres and finales than during cases of the week, so Halstead and Voight may be just fine for the rest of the season, and there won't be seeds of discontent sown in the Intelligence Unit. That said, Halstead has been going along with Voight's methods for a long time, and there are big changes coming to the unit that could have everybody and everything off-balance.
For one thing, Antonio is going to be gone. Aside from a temporary stint on Chicago Justice before it became the first Chicago series to get the axe, Antonio was a constant presence on P.D. In fact, he was introduced as a member of the CPD before P.D. even premiered, debuting on the first season of Chicago Fire. His absence -- no matter how it's explained when P.D. returns -- will leave a hole in the dynamic.
The addition of a gritty new cop may at least balance out the numbers, but it's possible the rest of the unit won't receive her too well after spending so much time with Antonio. If there's strife in the ranks, a newcomer could only complicate things. There's also the question of how much Ruzek will be allowed to do in Season 7.
He was arrested at the end of Season 6 for his part in the cover-up of Antonio's drug-fueled mistake, and that issue probably didn't just go away over hiatus. Olinsky is proof that cops don't do well behind bars in general population. If Ruzek is allowed back on duty, will he be stuck behind a desk? Whatever happens, will he be able to handle it as he would have normally, or will he be making different decisions?
And then there's the reality that the cops of the unit at the end of Season 6 had to face the likelihood that Intelligence would be shut down, and Halstead at least seemed determined to go wherever Hailey Upton went.
Sounds Like Chicago P.D. Is Setting Up Another Romance In The Intelligence Unit
Throw in the fact that my money is on Halstead/Upton as the pairing that could be getting romantic in Season 7, and they may be more inclined to back each other up than stick with Voight. Alternately, if one would decide to stand by Voight while the other doesn't, that would definitely upset their partnership and/or relationship.
The one thing I'm really confident about at this point is that Voight isn't going to be arrested and imprisoned for Mayor Kelton's murder, whether he did the deed or not. Surely Chicago P.D. wouldn't kick off a season with the lead character behind bars, especially if Ruzek is in trouble with the law himself.
Did Voight kill Kelton? Honestly, I could see him snapping and killing the man after the ordeals of Season 6, but I feel like the death revealed in the Season 6 finale was too sloppy for Voight. If Voight murdered somebody in cold blood, I think he'd know better than to leave fingerprints behind. Then again, it could have been committed in the heat of the moment. What really matters may be whether Halstead believes that Voight did it and isn't even telling the unit about it.
With Halstead apparently lashing out at Voight, Antonio leaving the unit, a romance brewing, a new cop entering the mix, Ruzek dealing with whatever consequences lie ahead for his Season 6 arrest, and Voight having maybe killed a high-profile man in Chicago, it's entirely possible that the tease in the footage of conflict within the unit will turn into a full-fledged divide, and these are dangerous people to have divided. Hey, at least Burgess and Atwater might be relatively conflict-free!
The good news is that Chicago P.D. is finally weeks rather than months away from premiering. NBC kicks off all three Chicago series on Wednesday, September 25, with Med at 8 p.m. ET, Fire at 9 p.m. ET, and P.D. at 10 p.m. ET. For some viewing options set elsewhere than the Windy City this fall, check out our 2019 TV premiere schedule.
Your Daily Blend of Entertainment News
Laura turned a lifelong love of television into a valid reason to write and think about TV on a daily basis. She's not a doctor, lawyer, or detective, but watches a lot of them in primetime. Resident of One Chicago, the galaxy far, far away, and Northeast Ohio. Will not time travel, but will sneak references to The X-Files into daily conversation.
Your Daily Blend of Entertainment News
Thank you for signing up to CinemaBlend. You will receive a verification email shortly.
There was a problem. Please refresh the page and try again.