Why Chernobyl Won't Continue Into Season 2, Despite Emmy Wins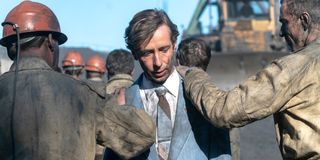 It wasn't that long ago that Chernobyl creator Craig Mazin expressed interested in returning for a potential Season 2 on HBO. Of course, it wouldn't exactly be a traditional second season, but more of an anthological follow-up to the successful (and now Emmy Award-winning) series. However, it seems Mazin may have changed his mind about another season of Chernobyl altogether.
At Sunday night's 71st Primetime Emmy Awards, Craig Mazin won in the category of Outstanding Writing for a Limited Series, while Johan Renck won for Outstanding Directing, and Chernobyl itself won in the Outstanding Limited Series category. Following his win, Mazin made his way backstage to speak with press and he was quick to shut down any ideas surrounding a second season of Chernobyl (via Deadline). According to Mazin, it still stands as a "relevant" piece of work, but it's now time to explore other creative avenues. In his words:
This is an interesting turn of events, considering that the show had just won several Emmy awards, was critically well-received, had high ratings at HBO, and Craig Mazin himself had openly discussed the possibility of another season. Sure, it would have been a different take than Season 1 of Chernobyl, which is a limited series and therefore doesn't necessarily need a Season 2, but Mazin seemed so sure that something in that realm could happen only a few months ago.
TV creators have often wrapped many a story by claiming they wouldn't do more. However, it's easy to forget that Hollywood is often a machine, and even limited series aren't excluded from the system. Just look no further than Big Little Lies, the HBO limited series that did return for a second season after previously winning the Emmy for Outstanding Limited Series. Though Craig Mazin sounded confident that there would be no Season 2 in his post-win comments, his words don't necessarily invalidate his earlier ideas for an anthology-style second season.
Craig Mazin went on to compare the events of Chernobyl with current political problems, explaining that he was able to connect with the material because it allowed him to understand the shared similarities across continents.
As such, fans can still hold out hope that Craig Mazin, or perhaps some other talented filmmaker, might return to this complicated and detail-rich point in history for further storytelling. For now, though, those plans seem to be as active as the power plant's reactors.
Chernobyl is available to stream on HBO Go and HBO Now. Fall TV is in full swing this week, so be sure to check out our complete guide for the premiere dates and times of all new and returning shows.
Your Daily Blend of Entertainment News
Your Daily Blend of Entertainment News
Thank you for signing up to CinemaBlend. You will receive a verification email shortly.
There was a problem. Please refresh the page and try again.