How The Rookie Wrote Off Afton Williamson's Talia Bishop In Season 2 Premiere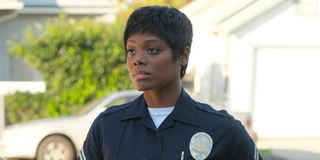 Spoiler warning for the Season 2 premiere of ABC's The Rookie.
The Rookie has gotten a lot of attention lately, but not necessarily for any of its storylines. Over the summer, Afton Williamson announced she was quitting the drama series, alleging she had faced racial discrimination by the head of the hair and makeup dept., as well as sexual harassment from recurring guest star Demetrius Grosse. With the investigation officially ending (not in the actress' favor), the writers were faced with writing off Williamson's Talia Bishop during the Season 2 premiere, and not a lot was said about it.
Season 2 of The Rookie premiered Sunday night and, as expected, Afton Williamson didn't actually appear in the episode. However, that doesn't mean her character wasn't mentioned at all. After all, Talia Bishop had served as the training officer for Nathan Fillion's John Nolan throughout all of Season 1, so she was a major player in Season 1. In the premiere, which took place two weeks after the events of the Season 1 finale, John said that the LAPD won't "be quite the same without Talia."
John's girlfriend, Jessica (Sarah Shahi), remarked that Talia was smart for "taking that job over at ATF." She then remarked about how lying about her brother likely would have kept her from having the job she wanted within the LAPD. Beyond one other reference to her character later on in the episode, that's all The Rookie had to say about Talia's (and Afton Williamson's) untimely exit. Considering how integral Talia was to The Rookie, the character's departure happened with little fanfare.
At the end of Season 1, Talia Bishop was facing some serious consequences after it was discovered that she had lied about her foster brother's felony charges on her application to the police academy. Recently, The Rookie showrunner Alexi Hawley revealed that it's because of these complications to her future with the police academy that she moved to a different federal agency in Season 2. And that's how it essentially played out on the show, just without Talia stopping by to share the news herself, relegating any and all goodbyes between her and her colleagues offscreen.
Earlier this month, The Rookie's parent company, eOne, publicly released the results of its investigation into Afton Williamson's allegations. In a statement, the company concluded that "those identified in Ms. Williamson's allegations did not conduct themselves in an unlawful manner or demonstrate behavior inappropriate for the workplace."
After the release of the results, Afton Williamson took to Instagram to express her disappointment with the investigation and that it's "heartbreaking for everyone on that set." No other cast member has publicly commented on the allegations or the investigation.
Despite the Season 2 shake-up, and Afton Williamson's departure from The Rookie, Talia's transfer to another federal agency will allow John Nolan to engage with others before someone else is introduced to take over his training. Here's hoping everything goes smoothly on that front.
The Rookie Season 2 airs Sunday nights on ABC at 10 p.m. ET. For more information about when your favorite TV shows will return this fall, be sure to check out our complete list of premiere dates and times.
Your Daily Blend of Entertainment News
Thank you for signing up to CinemaBlend. You will receive a verification email shortly.
There was a problem. Please refresh the page and try again.